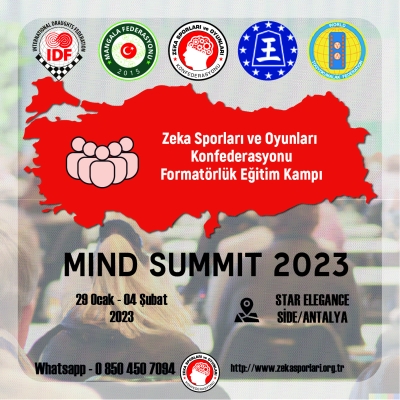 After returning from Kazakhstan, I hope that I won't have to travel much, but I have no chance to rest and we're going to the tournaments in Turkey. I've been trying send there someone else, but everybody have other activities planned and no one has the time. So at the end, it is me and David, who is going. It will be a lot of fun again...
I check with the main organizer and our long-time friend that it is still possible to sign up with sponsored accommodation and as soon as it is confirmed, I book the plane tickets. I have a choice between a ticket on the specified arrival and departure days, which is with a transfer in Istanbul, and between returning a day later, a direct flight, which is much cheaper. The price difference is higher than the hotel price for the extra night, so I definitely choose the second option. David's knee has not yet fully recovered from the amount of stairs in Kazakhstan and so I arrange airport assistance. There is absolutely no time for training in the middle of a busy work period. So it is another tournament where I go, but I am not going with expectation of medal. I think I've arranged everything, it's the day of departure, I just have everything planned according to the expected flight time, our grandmother arrives and asks what time we will leave home and I report that the flight is at 4, so we need to leave a little after 12 o'clock. Wait, at 4? Didn't you say last week that you fly at 6? What? I'm looking at the ticket and our flight is really at 6. I guess I need a vacation :-) Every time I look at the ticket, I perceive the time in the middle of the paper, but that is the return. Well, I'm lucky. Two more hours will pass like nothing. We leave home at the last minute. David forgets the cane, I forget the slippers. This is not a good start...
We are at the airport about 15 minutes before check-in opens. Baggage packing service is closed. But I simply have to pack the suitcase, so I need to run to the other terminal. As soon as we see check in open on the main board, we go to the counter, it is right next to it, just on the other side. It is just few steps to get to counter, but there is somehow a dangerously long queue when we get there. So I seat David near the counter and I run to the other terminal. Meanwhile, David manages to check in. The assistance person is already there, so they push me forward in front of the entire queue, I get my boarding pass and we go to passport control. Red lights up when checking cabin baggage. There is water somewhere. David feels there shouldn't have been one, but the workers will get through all parts of the backpack to find it, because the devices clearly show it. They put the bottle into a special machine, probably some sort of spectrum analyzer. It's pure water it is ok, you can take it on board. Wow. I thought it would go in the trash right away.
I try to relax on the plane. We will arrive just before midnight, I do not expect we will be able to get to bed before 2 in the morning and the tournaments will definitely start at 9. David refuses to climb the stairs from the plane, but since we booked the ticket with assistance, they count on that. And so while all passengers climb out on the left by default, a special platform by the door on the right will take us down. The assistance service drops us off at the exit and I go to look for a ride. I should connect via free wifi and contact the driver. First of all I climb out to see someone with a sign with my name on it, but I don't see anyone. They don't want to let me back in, I have to use the entrance about 200 meters to the right. So it takes long time to get there, find the box with codes and make call. Well, I counted with an hour at the airport. We get into a luxury car and drive to the hotel. Fortunately, it is not yet so deep night, so members of the organizing team are waiting for us. The Time Out bar has something to eat all night so we go for a late dinner. There are two cats in the restaurant. Cuddly too much, they lurk they would obviously like to get into our food. We go for a second course and the cats pounce on the bones left on the plate. We sit elsewhere, the cats are watching over us, but we keep them away from us.
| | |
| --- | --- |
| | |
As soon as I manage to connect to wifi, I get a message that the seminar in Bestemshe starts tomorrow. So no tournament? They say no. I find out the details only at breakfast. I am looking forward to the seminar in Beshemshe, I assume that it will be more for beginners, but maybe there will be something interesting for us as well. I leave for breakfast at 7 a.m. to find out what and how and where so that David doesn't have to walk extra kilometers. I meet with Maxat and he tells me that he would like me to speak at the seminar. Ups, so he wanted to use the presentation, he asked me for less than a week ago, here. Well, I should have know that.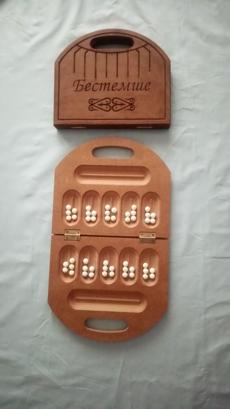 The seminar apparently starts more than an hour late. I should buy a watch. The phone is not supposed to be used. Most of the people put it in the box, I got permission just to turn it off completely. Anyway, I have no idea what time it is, and how long it takes - there are technical problems with the projector. He just doesn't want to show our great presentations. So the second one is placed on the table and then it starts. I am the third lecturer in the sequence. There are 60 teachers from Kazakhstan and Turkey in the hall. No translator. Half of the people probably don't understand english at all, but I have quite a clear picture on each slide. If someone told me, I could prepare it using google translate in multiple languages. Well, next time...
The first seminar is over, I ask what is on the program for the afternoon, but only Rauf knows the program. The teachers are told that the afternoon activity will be at 4. We are going to have a lunch. Lunch is as great as breakfast. Just five star standard. In the break between lunch and the afternoon activity, I deal with work matters. The afternoon seminar is dedicated to Toguz. The main reward for us comes during the last lecture. Maxat talks about the history of promotion. There are photos from Pardubice, it is mentioned for the second time that we hold tournaments there, that we even did the World Championship. Whenever Maxat mentions our activities in Pardubice, he makes us stand up to show ourselves to others and it always means a big applause for us. And thus we become popular personalities of this event. Maxat is asking me to make a one-minute video for TV/youtube where I tell who I am, where I am and why the game Bestemshe is great. So we try it, but I'm not very good at it. I just need a little preparation for things like this. Stand here and tell who where and why at the snap of a finger is really not a task for me. So they are not satisfied until about the sixth or seventh attempt.
In the evening, things are being prepared for the next day. Assyk Atu, (bones), will be played in the morning. So we have a free evening ahead of us. I'm dealing with work matters for a while, but main task for this evening is simply to sleep enough. During the preparations, I finally get an approximate idea of what will happen here this week. The tournaments I expected to play all week will be the last two days. Until then, there are different seminars. So I suggest that we will help with the teaching here, as we know very well everything that will be shown here. I am taking charge of Othello, and we set this lesson for Wednesday morning. Instead of just a morning activity, Assyk Atu becomes an all-day event. They learn it for a while, and then they start playing the tournament. And the tournament is played all afternoon. I would like play, but I promised to help with Othello and I have work duties in the afternoon, so I'm skipping Assyk Atu and we go explore what the hotel has to offer. The afternoon is filled with preparing the presentation for tomorrow's Othello and work. In the evening there is some meeting. I need to discuss some business matters with Rauf and we agreed that as soon as I am done with my work, I will find him. I somehow managed to finish everything necessary quite quickly, but his meeting continues and does not want to finish ... I listen to the meeting, thinking that it will surely end soon and that I will just wait for him. The meeting goes on and on... Rauf speaks all the time, of course I don't understand a word, I only catch small mentions here and there, like David, Pardubice, Nomadic games, chess... I know it's important. Our activities have they role in it too and it is clear to me that I simply must not stop with them. And that I have to finish the things I started as soon as possible. That there are more of us who are striving for the same thing in parallel. When the meeting finally ends, it's past midnight. I think Rauf is exhausted, so we leave the business for tomorrow.
It's Wednesday and I have a lecture. I have never explained Othello to the big audience and if I explained it in English, it's a long time ago. Until I declare, Play the first game, then I tell something for a strategy, it is quite fine. Othello has simple rules, and half of the people already knows the rules. However, when I start talking about the strategy I get stuck. The first strategic rule is not to play in front of the corner. In the presentation I have the cells marked. But I noticed, that ideally I need to show a few moves and that I don't have now good pictures. I try to help myself with the following picture, but it's not working. You can see that the audience is lost and me too. We overcome it by jumping to the next rule. Then we talk about a few things that I did not put into the presentation and at the end I am looking for things to comment in the only game I played on playok site while preparing the presentation. My effort to explain the strategy was appreciated. Then we just play and because several people ask for the opportunity to play with me, I play 4 people simultaneously. Of course I win all the games. But at least it is nicely demonstrated what I was talking about. The afternoon is filled with Shogi. I learned them six months ago, played two tournaments and has not played it ever since. Several people want to play with me again. For the evening there are logical tasks and Othello tournament in plan. At first someone tells me that the tournament will be at 8, so I try to find out if there would be a problem if I don't finish the tournament, because for me the main event of the evening are two online tournaments. Since Friday, the is online part of MSO, Mind Sports Olympiad. Othello tournament starts at half past ten. My tournaments are from ten, so I completely release Othello. It could have been a medal, on the other hand, I am a pro, and other beginners, It wouldn't be so fair to pick up the medal, from my point of view. In my tournaments I am doing quite well. 6th place out of 20 participants in the Frisian draughts and 27th place out of 49 in Lines of Action. Nice result. Could be better of course, if I was able to choose just one. But this was more fun.
Thursday, finally the tournaments I'm here for. It starts with Toguz. I know I have no chance in it, there are about 10 players from Kazakhstan. We play three rounds in the morning and thus tournament activity ends. I have one point, for winning with a lady who doesn't even know the rules. For the next two laps, my opponents are Kazakhs. In the afternoon there are different activities, it is possible to practice any game. I've been practicing Mangala with a few people for a while, and I simply sleep a little bit, because tonight I have another evening online tournament. David refuses to play the morning tournament, saying that there is too little time for the rapid. And he goes to the city instead of the tournament. He only comes back for dinner. His legs hurt, he said he walked back. It is quite difficult to walk from the restaurant to the room. On Friday morning, when he wakes up, he has difficulty taking a few steps to the bathroom. So I'm going to find a wheelchair. We meet a few wheelchair users and older people with walkers here, so I believe that, just like at the 1st World Championship, there will be a wheelchair here available. So he moves around in a wheelchair all Friday. In the morning, the second half of the Toguz tournament continues, due to worries with David I arrive late for the first game, my clocks already running, I lost about one third of the time. David in the wheelchair is a shock to everyone, so we have to explain to everyone what and how happened, which caused our delay. Even so, I honestly write down the first moves, luckily my opponent is a beginner so I still win. Maxat predicts me 4 points from the tournament when I only have 1 point after three rounds, but it is clear to me that a win in the 4th round means a Kazakh for the fifth and another loss. Well, it wasn't such a bad game. If I had 60 minutes like in the world championship... So I'm ending the tournament with three points. That is fine. Mangala is in the afternoon. Strangely enough, only two Kazakhs in play, so I have a glimmer of hope for a medal. I reckon there are some strong Turkish players too, so it's with a question mark, but I feel I can be maximaly fifth place with some certainty. I have beginners in the first three rounds, so in the fourth round I play with a Kazakh. She starts 55. So this is the best opening, which I need to analyze at home. Okay. Next round I have a strong Turkish player and I draw. 5 minutes with mandatory recording is quite hell. I have a second Kazakh player in the fifth round, but this time I start, so I apply opening 55 and I win. If I win also in the last round, the medal is in my pocket. It worked, although I don't really know how, because I don't have time to calculate in detail in those five minutes. But intuitively, I just play well. To everyone who asks how I did it, I say that unfortunately I didn't have time to train, so I'm only second. And I mean it very seriously.
In the evening, we will have a prize giving ceremony and, apparently, a small concert. I help a little with the preparation. This gives me the opportunity to talk to the singer and the donbyra player and to find out things I am interested in. Namely, what tones the donbyra strings play. Guitarists have EHGDAE, ukulele players GCEA, donbyra have DG. The ceremony starts at 8 o'clock. The Kazakhs have a flag in their hand which reminds me that I should have my flag here too. So I go back to the room to get it. Fortunately, the ceremony is slightly delayed. Some speeches at the beginning and then representative of each participating country is invited to the podium and receives a gift, in our case a coffee cup. I have feeling that David and I have noticeably louder applause than the others. Then there is the second round, we receive a certificate as a thank you for cooperation with the organization. David is definitely not excited about his second trip to the podium. With the help of others, he somehow managed to get to the stage. But it really wasn't easy for him. The announcement of winners begins. In the order in which the competitions were held. So I'm going to the podium for the third time, for silver medal and diploma.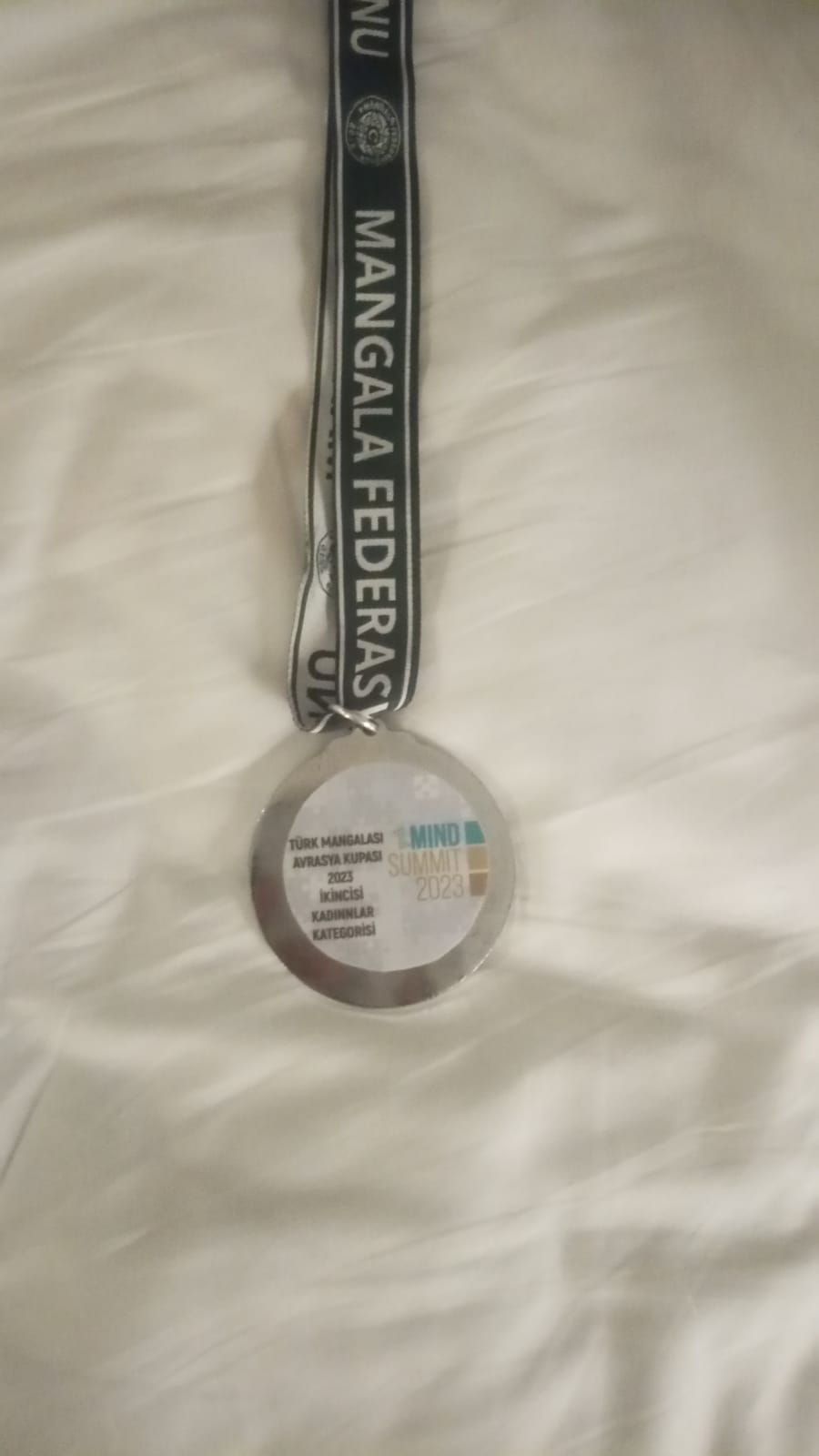 In the morning we pack and leave. Most people go to the airport, we go just to another hotel. We will fly tomorrow. The other hotel is very close to the airport. I used my knowledge from previous trips to France and so I found a 4-star hotel offer on the website of a hotel search engine, with a special discount, so we pay about as much as for a night at the dormitories in Pardubice. David would like to go to a toy store, I find a big one in a shopping center about 3 km from the hotel. But somehow we are not able to find a place to buy a bus card. In the end, we move within a radius of 50m from the hotel. Let's go eat first. We order Lamazhun and pizza, but the first things, which land on the table are bowls with salad, onion, cucumber,... They say it's free with the order. Interesting. They have some games in the grocery store just to the left of the hotel and also in the stationery shop on the right. So we didn't end up buying what he originally wanted, but we do have two other interesting pieces. Now we have to pack it all up somehow. David say I should have taken a bigger suitcase, but I counted that my suitcase would be empty on the way home. Well, everything fit, we only got rid of one piece of box. Who knows what else we will buy at the airport. From the trip in 2018, we remember a wonderful shop with games at one of the departure gates. However, when we reach the departure gates, the airport looks completely different. Ah, that time we were at the domestic terminal. We have a super pilot and a super plane. I don't notice the usual feeling in the ears during take-off, and the landing is, well, like into a blanket. We are home in perfect shape. The next morning, however, the world media is filled with news of a large-scale earthquake in Turkey and Syria. Hope all our new friends are ok.
Next Mind Summit should be in Turkey in April 2024. There is lot of work in front of me...