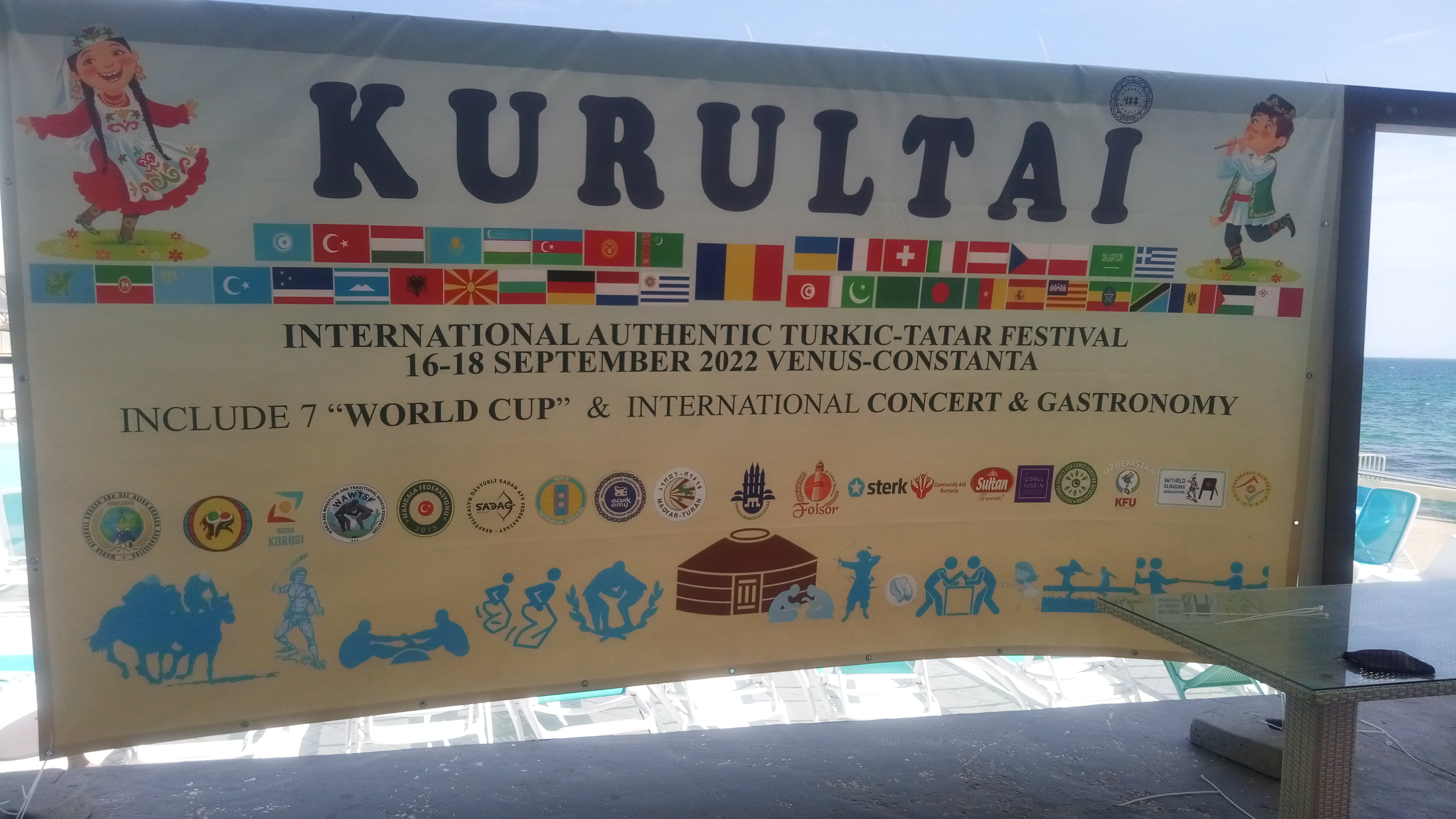 We learn about the festival called Kurultai sometime during the 4th World Championship in Togyzkumalak, where the Romanian team also came to play. We tried to invite them to the Pardubice Czech Open game festival and since then we were invited to their Kurultai festival. In 2019, after the trip to the Camel festival in Saudi Arabia and after the World Cup in Turkey, I have no vacation days left, so Romania is no longer an option. The year 2020 initially looks relatively promising, however, the traveling conditions ultimately discourage us from any travel outside the Czech Republic, and in 2021, perhaps all previously nice events have come together in September, which also does not leave much room for prioritizing foreign events. And so we are going to Kurultai first time this year. Program looks great, it is like small Nomad games, there is 17 disciplines and some more just as demostration. Our part is of course Toguz kumalak and Mangala, but I look forward to see and find details about some others, like Assyk Atu, which is played with same bones as Ordo.
Kurultai disciplines
Toguz kumalak
Traditional archery
Kazakh kures
Assyk atu
Mangala
Taiak Tartîş (Mas Wrestling)
Kurash
Aba Gures
Kol Kureş (Arm Wrestling/ Skanderbeg)
Koresh
Kuşak Kureş / Bel Baglî Kurash
Tug of War (Halat cekme / Giîp tartîu)
Horse race / At chabîş
Kok Boru / Kok par / Ulak tartysh
Audarîş / Er enîş / Kuresh on horseback
Egg in spoon race
The sack race
If I don't go, no one will go there. If I go, a bunch of other people will probably go too. That's just the rule. I didn't make it up. This is simply our reality. The festival attracts me quite a bit and I need a proper vacation like salt. In September, there should be a total of three events where we could go, the 5th World Championship in Kazakhstan, the Romanian festival and the Nomadic Games in Turkey. The World Cup is finally scheduled for the end of November and the Nomadic Games look a bit no one knows what will happen, the official website does not offer a registration button for a long time and just shortly after the website was launched there is information about the need to contact your sports ministry. No one from our sports agency answers my question, so I kind of let it float. At the end, even those who thought about it would not be able to go, so I'm quite glad that it kind of fizzled out. That left Romania as the only event to go. After notification from my employer, that they would not like to see a higher amount of unused vacation days, I definitely decide that Romania is the right place to spend one weekend in September. After a few days of planning the trip in two, regretably I'm alone for the trip. I buy tickets and then write to those who gave me contact at this year's Czech Open in Pardubice. The next day, two people are interested and asking if they still can go. So I'm buying another two tickets, a few days later I'm packing and we're leaving on Wednesday evening.
After a good experience traveling to France with Flixbus, I am first looking for the connection between Prague and Constanta by green buses. It's cheap, but reaching the place at 3 in the morning and not even an hour to transfer in Bucharest discourages me a little bit from this cheapest option. So at the end I choose the excursion option. A night yellow bus to Budapest, a walk there, and then few trains to the venue. I buy tickets for each section elsewhere. The inquiry about the price of a train ticket Prague - Constanta at Prague main train station confirms what I have known for a long time, namely that trains are expensive, many times even more expensive than cheapest air transport. But if you put in the work, the price for the train can be acceptable for any wallet, including mine. So from Budapest, just over the border to Arad I buy tickets through the Hungarian carrier and from Arad to the venue through the Romanian carrier. All together it's not much more than the cheapest Flixbus and it has a lot of bonus stops in different cities, although of course there are also some risks in the form of possible delay and missing connecting trains. A bit later I found we will need one more train, to get to Mangalia.
Wednesday evening, I attend parents-teachers school meeting, after this I take care of a some work matters, then I take my backpack and bag and leave for Florenc. We get on the bus. Kazakhs who travel to Czech Open regularly, they have one bad experience traveling by train, so I think that the task for tonight is to get a good night's sleep, because tomorrow's train ride will be a bit more adventurous and the goal, on the contrary, will be to sleep as little as possible, or to alternate somehow. I usually don't have a problem to sleep the whole way in bus, but I guess I'm so looking forward to the event that I don't get much sleep that time. We are in Budapest at 6 in the morning. We have 3 hours to get from the bus station to one of the train stations, while the journey on foot is estimated to take about an hour. We play Mangala until the train departs. After getting on the train from Budapest to Arad, the youth mainly rest and I train. Inspection at the border - I'm testing if a citizen's card is enough. Yes, it is enough. We have about 4 hours of free time in Arad. We are looking for an exchange office, and as we walk through the city, every exchange place we meet has exactly the same exchange rate for buying and selling EUR. Let's sit down for a while by the lake, and then, when the next exchange office has the same exchange rate again, we finally change a few EUR to Lei. There's an ice cream stand next door, so we buy one. Rain starts. We are waiting under the roof of the ice cream stand. Then we return towards the station and stop for pizza. Then we move to the station building. One training game of Toguz, which I can't watch for very long, because a work request comes up, which I'm trying to somehow redirect to a colleague. And then we get on the train again. We have been training again for a while.
The whole train is asleep, only I click into the silence with my special magnetic mancala kit, which I was printing on my Mini 3d printer for the whole first half of September. About the special board I thought for a long time. How to arrange it so that I have one board and can play all the games on it? Is it possible to make a good magnetic board for mancala? I thought for a long time about a combined two-row board, when using twice 2 different parts, everything could be played. Well, almost everything. Bao is 4 rows. After printing the classic magnetic board for the international draughts, using model for a 9x9 magnetic board for the Go game, the idea comes to combine the board for Bao and Toguz. The printer prints non-stop all week (says its internal statistical recorder). I really like the result.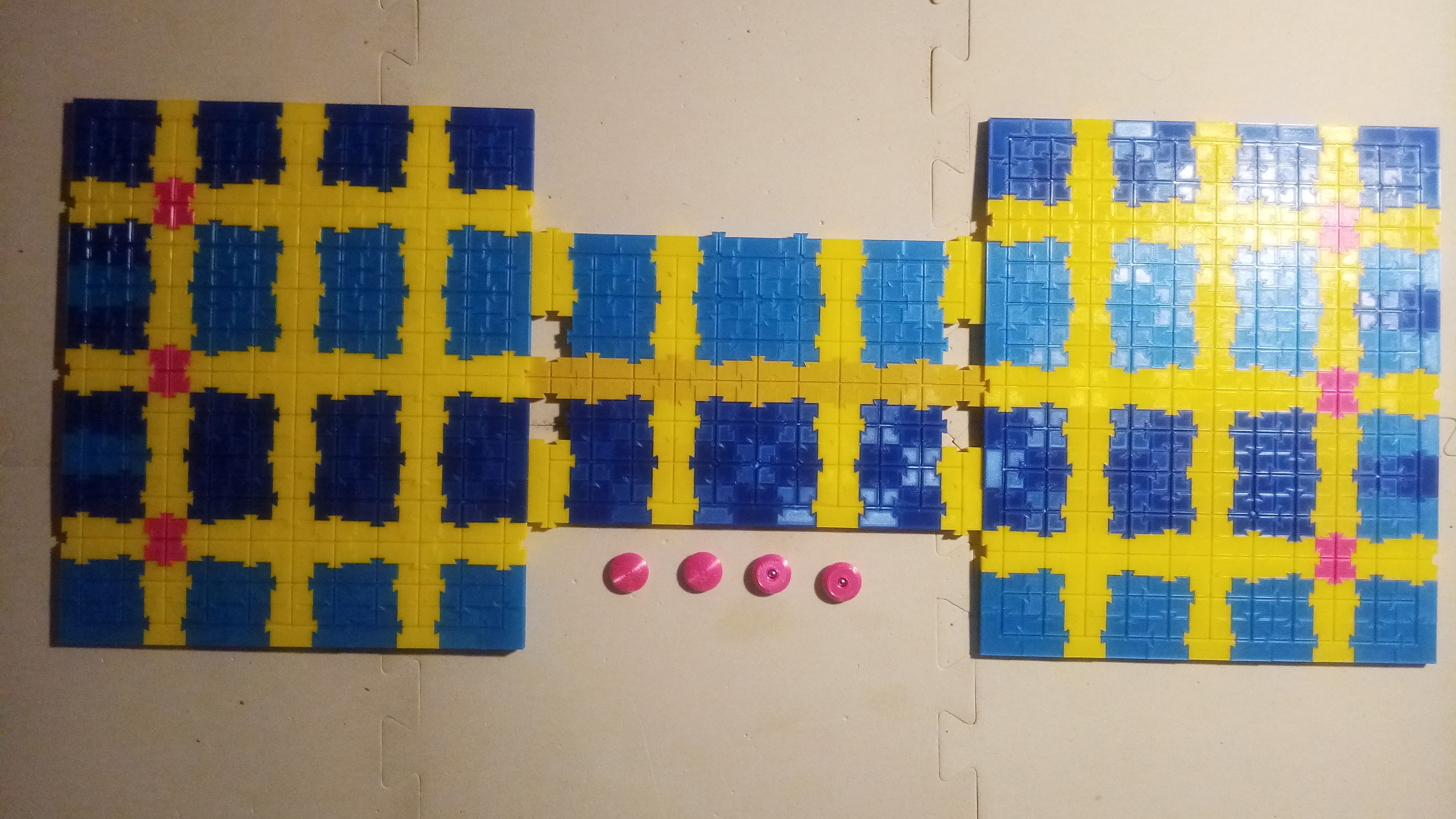 The Arad-Bucharest train is late, we were supposed to have an hour and a half break, but at the end we just jump from train to train and immediately continue our journey. The train to Constanta is full. I have to pick up tickets for the return journey in Constanta. Well, I could do it on Monday, but now will be better. It takes more than 10 minut. We just jump in the last train in the last moment. We get off in Neptune. We arrive at the hotel, we put our things down. I fond out on the train that we are not all in the same hotel, so we have one more reason to see the venue this afternoon. So we go exploring almost immediately. After a while we turn towards the sea and walk along the beach. Everything will be prepared in the evening, so we go through the right place without noticing, that we are in the final destination. So we walk around and reach the tent, which looks promising but is a boat rental. They direct us back, we walk from the beach to the road and after a few hundred meters we reach the second hotel. There I meet a Pakistani team and we train together whole afternoon. After dinner we return to our hotel, we need a good night's sleep for tomorrow.
We need to go early for breakfast, it's an hour walk to the other hotel and the tournaments are supposed to start at 10am. We definitely want to be there earlier. So shortly after 7:30 we go to breakfast, however the others are in the same situation, so the outside breakfast area is full at the time we arrive and not much food is available. But we are able to get something, we also did find free places to sit and we are getting more food as the staff adding things.
The games will be played on the terrace, there are plenty of tables and chairs, next to it there is the pool and sunbeds and a perfect view of the beach and the sea. Maxat and Florin are preparing boards, medals and certificates are already on the table with cash prizes certificates. Wow. A computer also appears - in the evening they were asking if I happened to have one with me. Sorry, I don't have any. However, the pairing software is not installed on it. I'm wondering which usable programs we can download and finally I download Swissperfect which can be used without a license for a while and I know how. And at the end, half of organizer's work is up to me. I enter the participants into the computer, write the results there and arrange the pairing of players for individual rounds. Well, I'm officially an international judge, so why not. People keeps calling me that I am needed... Happy volunteer. Hey, I'm going as an org next time, okay? You'll put an organizer tag around my neck so that I have some souvenir to remember, okay? I was hoping I will just enjoy the tournament and will not organize anything (except for the trip) and this is how it turned out :-) I play, work as arbiter, I show people other games... but I enjoy it all a lot.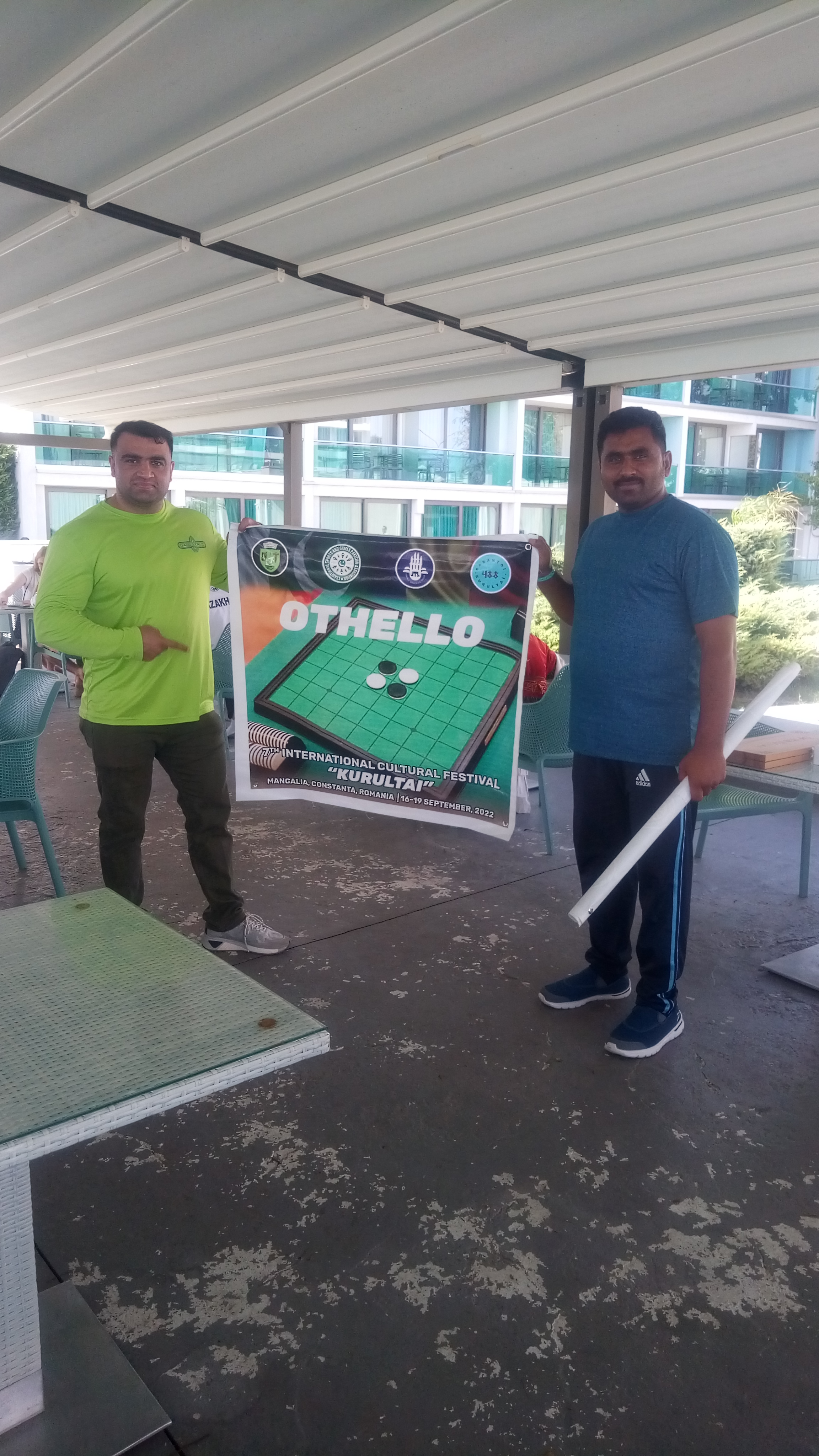 We play traditionally according to Kazakh customs, that is, men separately and women separately. There are 10 men, 8 women, and blitz is played. Later 2 more coming, 2 other leaving tournament in both categories. We play 3 rounds before lunch, the rest after lunch. During lunch break there is demonstration of Othello in the program. Lunch break is fortunately long enough to do both, eat and learn Othello. Pakistan team has big promotion poster and 3 boards for this, I took my carpet board. Some people play Othello while we continue in Toguz and with my arbiter's work, I am somehow not able to join this mini Othello tournament. During little breaks sometimes I can go watch Assyk Atu, to find out, it is game "Drapky", which I now from book of czech games collector Milos Zapletal and which I know also from Jakutia children - we played it during both Nomad Games in Kyrgyzstan (2016 and 2018).
Only two women participants are from Kazakhstan so we probably have a chance for a medal. Although, somehow I'm not here for medal. I want to rest, play and if there is a medal or not, I kind of don't care this time. Before the last round, Maxat tells us that regardless of the result, we have both medals. ??? Somehow I don't trust him. But he has the results in a table, which is usually used for round robin tournaments and table says it clearly. If Iva wins, we both have 4 points and share third place (Kazakhs have 5-6 points), if I win, I have 5 points, Iva 3, but she still stay close behind me and the medal for the third place will also be given to the one who is in the fourth place. I see. OK. Nice solution, to give 2 bronze medals, when Kazakh's skills are few levels above the others. The draw gives me the right to start, so I play my favorite nine opening. Blitz is blitz, anything can happen there. The game is great, it can be seen that it will be close. At the end, the score is 82:80 in favor of Iva. Congratulations!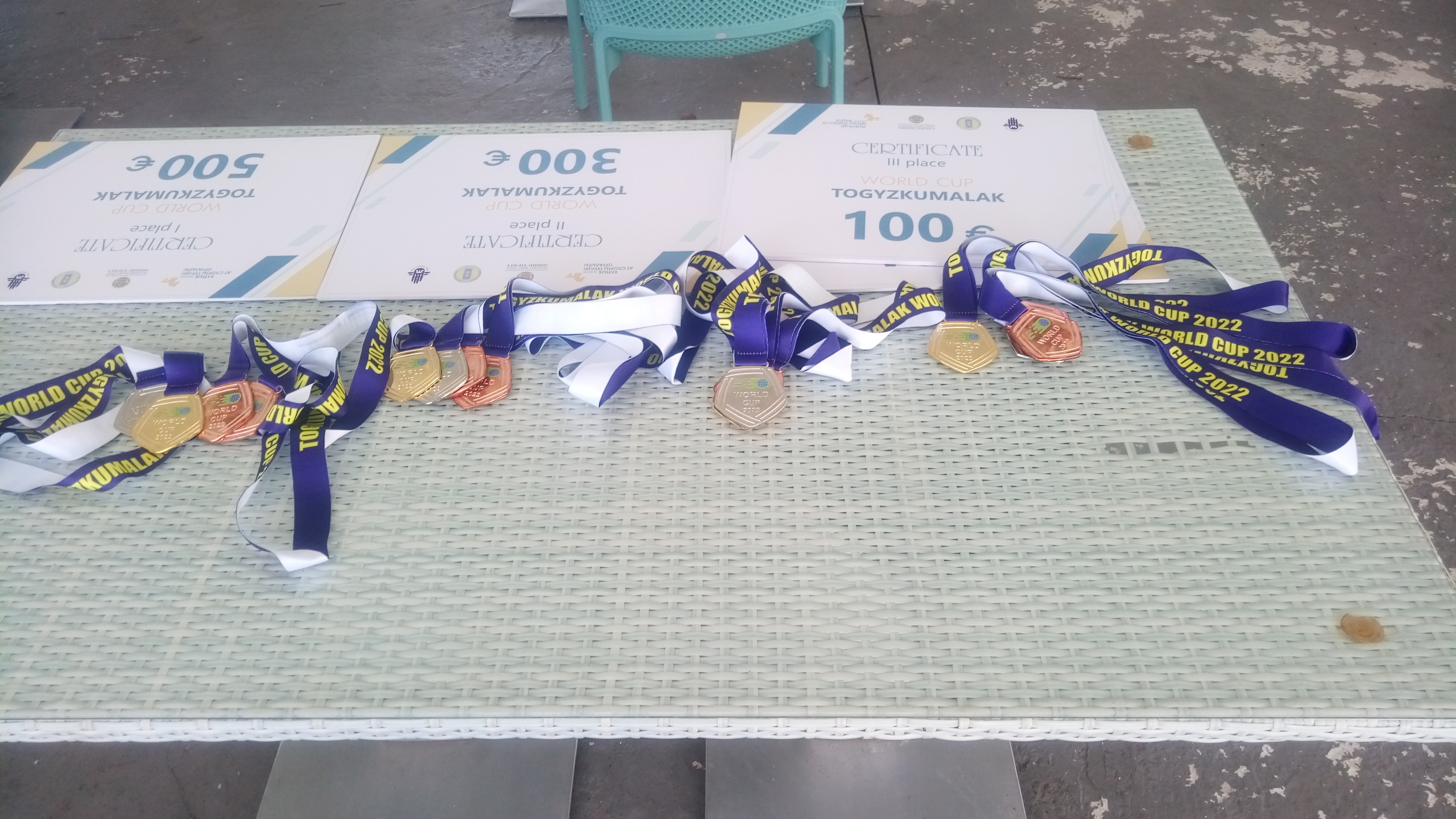 The Toguz boards are cleared and Mangala is brought to the tables. Interested players register. I also want to play, but there is a symposium at the same time as the tournament, where I should also be. After prompting via whatsapp conference I go there, I try to trace for a while how much my participation is needed. If I could choose, the first place in my priorities has the tournament in Mangala, but this is interesting too. Clone me, please! Not everyone came there. I listen for about half an hour, but then I start to think, what will happen to the tournament if only I control the pairing program and there are more than 20 people registered? So around four o'clock I go check it out. They like to see me at the tournament tables and announce the end of practice and the start of the tournament. At the end, I am again dedicated to the work of a referee, I play in the tournament and regretably I am not able to return the symposium.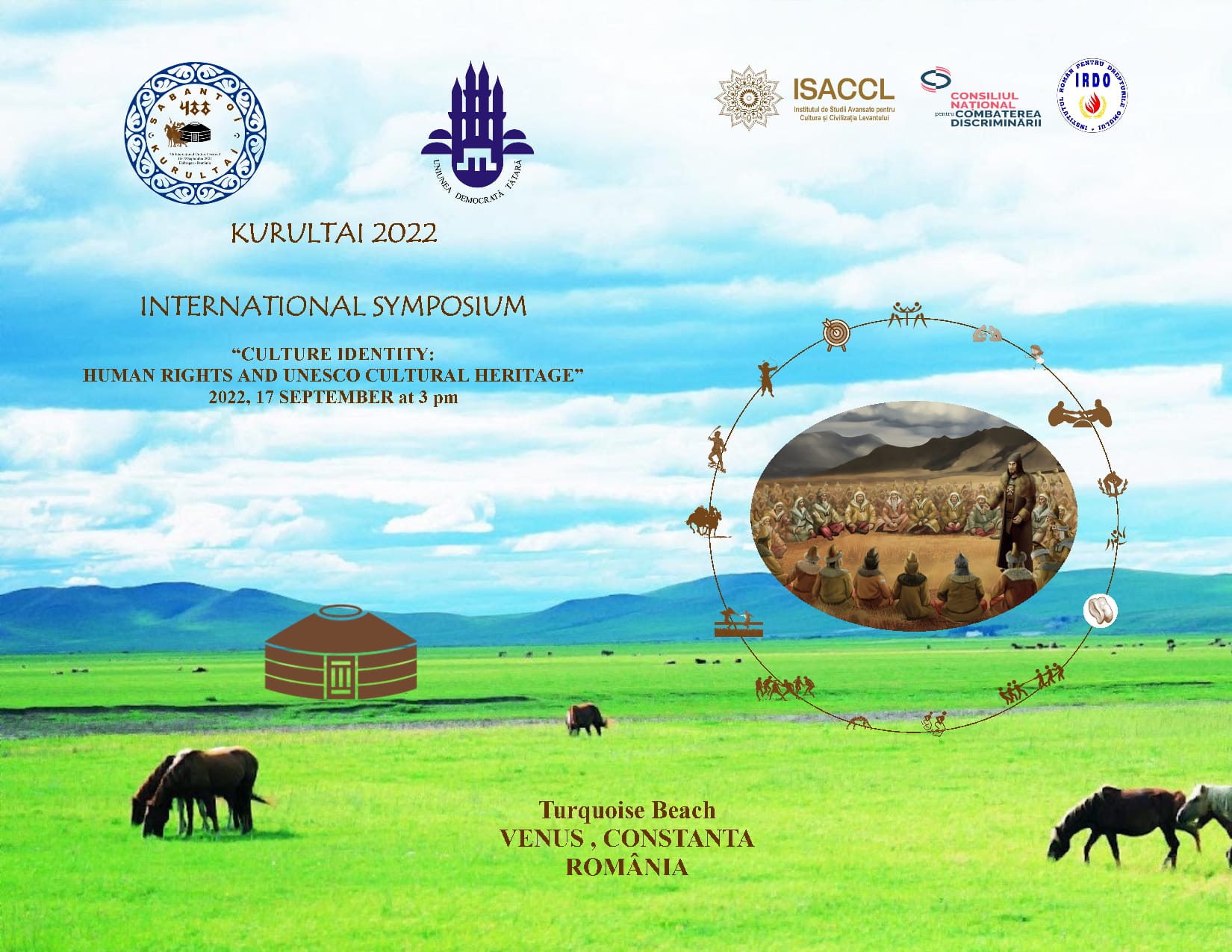 Around five o'clock there's a storm coming. Wind and rain drive everyone under our roof. But even under the roof it's not the best, it rains quite far inside and I move the computer several times and I think more about its protectection not to get wet, than about my games. We stop the tournament after finishing the round. That storm is stronger than our will to play the tournament. We'll finish it in the morning. The weather is little better for the evening concert But the wind had to get stronger again during the night, because it tore up the back of the stage.
The next day it got noticeably colder. There aren't many people here. Wind is blowing hard, so I don't even take out the Abaku game, because it would probably fly away. When playing Toguz rapid, the wind moves our balls, we try to align them to the side, but as it blows, the balls move in the direction of the wind. We are all quite cold, I expected to cool down, so I have a sweatshirt and a jacket, but somehow it is not enough. So I don't think much and basicly play the second blitz. There is more Kazakh players this time, there won't be a medal for us by any chance. I'm asking Assel to find how much they train. It is about an hour a day each working day. Um, I should start playing online a bit more. The World Championship is approaching.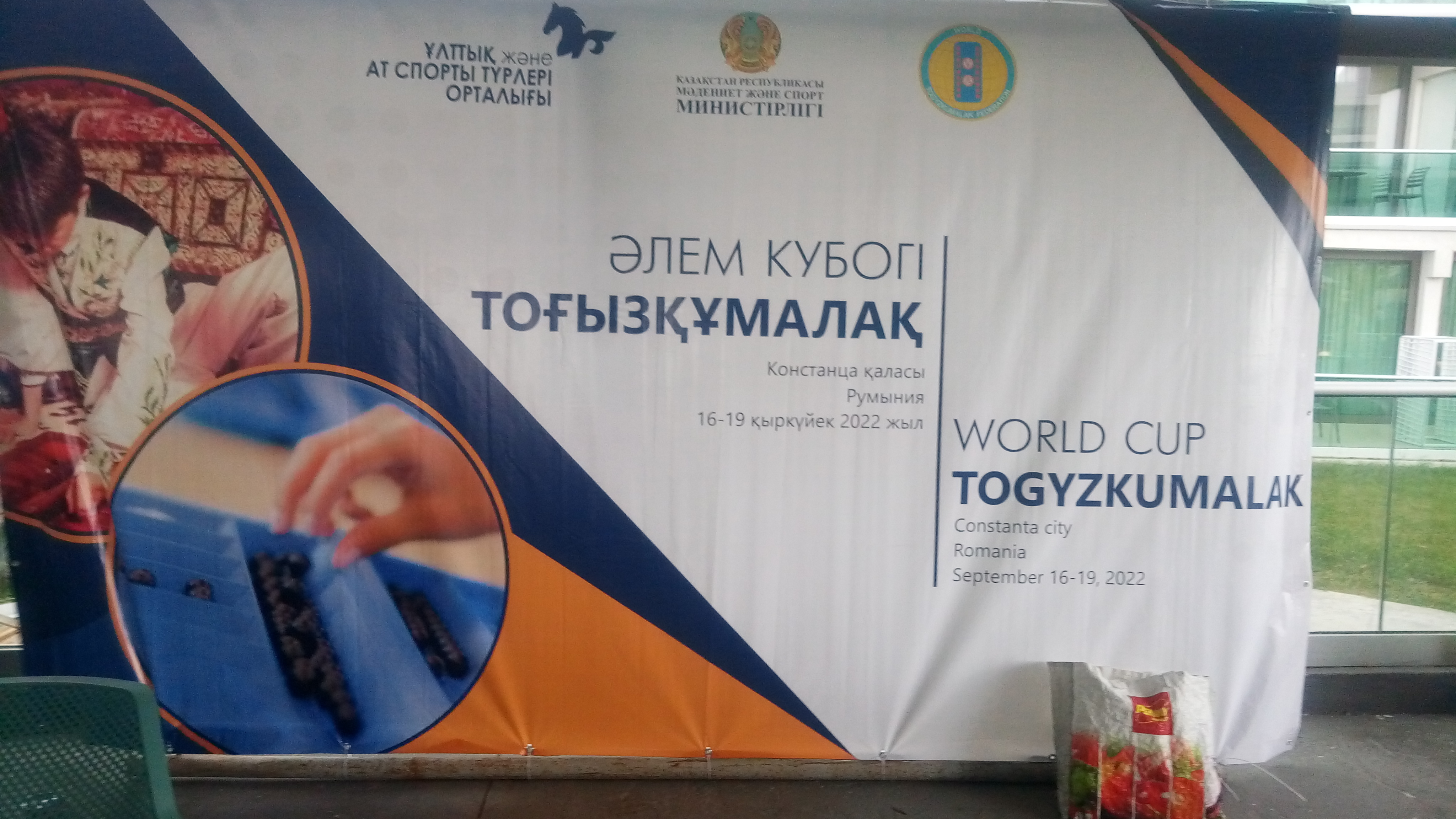 It's over. It is necessary to write names on the diplomas and announce winners. This diplomas part also somehow falls on me. Excellent. The podium is moved from the stage on the beach to our terrace. And the proclamation begins. Oh, we have medals and I didn't take the flag. Do I have it in the hotel or did I not take it at all? Well, I make a replacement in a flash, I just draw it on paper, fortunately our flag is simple. I have markers. Well, the weak blue marker is not the best. There isn't much time for it, I just cross-hatch the space on the paper in a flash. And the prize giving starts. I climb onto the yellow block, Iva next to me, we receive a medal, a certificate plate, an envelope with a banknote. I hold the drawn flag up for a while, and hide it behind the certificate for a while too. Paper flag is not the best thing, but at least something. Hurra, we won. And somehow I can't imagine this moment without the czech flag next to kazakh one.
Our results:
| Player | Discipline | Standings | Points | Number of players |
| --- | --- | --- | --- | --- |
| Hana | Toguz blitz women | 3.-4. | 4/7, buch. 24, vzáj. partie 0 | 10 players |
| Iva | Toguz blitz women | 3.-4. | 4/7, buch. 24, vzáj. partie 1 | 10 players |
| Marcel | Toguz blitz men | 3.-5. | 4/7, buch. 24 | 12 players |
| Hana | Toguz rapid women | 7. | 3/7, buch. 17,5 | 13 players |
| Iva | Toguz rapid women | 10. | 1,5/7, buch. 25,5 | 13 players |
| Marcel | Toguz rapid men | 8. | 3/7, buch. 20 | 15 players |
| Hana | Mangala women | 5. | 3/7, buch. 17,5 | 13 players |
| Iva | Mangala women | 8. | 1,5/7, buch. 25,5 | 13 players |
| Marcel | Mangala men | 4. | 4,5/7, buch. 22,5 | 15 players |
| Marcel | Othello | 2. | 2 | 9 players, (knockout system) |
Lord of the Computers, we would now need to create tables of official results. Who else should do it but me, so here I go. We adjust the tables also after dinner, but besides that Maxat found time to learn Abaku. He likes the game. When Rauf appears at the table, I show him the basics of this game too. Should we include it in the Eurasian Games? Yeah? I take it! Agreed, in March in Antalya. Our mission is over, we've got medals, I've taught the important people Abaku game, and now it is time to get on the train and go home. We only experience a slight delay between Brno and Prague. We are before seven at Florence, Prague, our end stop. I hope we will come again next year. It was great event, many thanks to organizers.
List of reports