Sports story: how we went to Kyrgyzstan to 3rd World Nomad Games
The whole story begins in 2016, when I get to the second Nomad Games and I started to be interested in sport Ordo. No time to look at it, but I get a chance to watch the training following year. As I watch, they asked me if I can find a few people who want to play it. Immediately after returning home, I write the first article for the Mensa magazine. It does not take long to get in touch with the first candidate. In few weeks few others wrote me, but it's not the whole team and so I wrote another article. Then for some time so many people want to go that I have to think how to chose the best 8 to participate. But then comes a solution. Tickets will not be paid to athletes this time. The number of members of the expedition decreases again to a number that does not allow to participate in the competition. What can I do with this? I write the last, quite desperate article, I post ads, I introduce it at children's day and I am simply looking for anybody who would go. Fortunately, after the June article is released, we are just eight. Uff.
Kyrgyz team traditionally goes to Pardubice and so we are preparing for the first training there. We send applications, looking for tickets, team t-shirts, we learn that team long trousers are also needed, eventually we add caps, we are just getting ready everything we need. At the last moment I gave echo to other national Mensa's groups and I got a few answers, for example from Malaysia or Denmark. Hopefully we will meet at some event similar to WNG or the game festival in Pardubice.
After a lot of preparation comes the day of departure. Just my departure, as everyone else flies at least a week later. The son is crying, the husband is grumpy because he cannot go with us and I look forward to rest for a while after all that busy period. An the end, Kamchybek himself picks me up at the airport, we get to his office, I help him a little with the mankala correspondence, I take care of some working duties, and afternoon, I take the bus to Cholpon Ata. This year I am finally equipped with a map, moreover, the driver has for each passenger note where he wants to go, so I just sit down and finally find a booked hotel. After putting all my stuff into room I run to find out excursions and as I run, I trip and fall. Torn shirt, map, red elbow, dirty trousers, well it all starts nicely...
Breakfast at 9 in the morning does not pleased me, I look forward to a trip to the mountains early in the morning, but I am quite tired and finally not able to get up early. After breakfast, I go. The plan is clear, I will reach the antenna where I was last year and from this place I will continue at least to the next hill. Well, last year, it was sunny all day, but this time, as soon as I get out of the hotel, I see a black sky above the mountains, and as I begin to approach the hill, I hear a thunder. I wonder if it is safe to walk under an approaching thunderstorm         near the antenna, but I am going. I am equipped to walk in rain, it will not bother me. At one point a strong wind starts to blow. I am putting on my jacket, and I am still going. I'm just below the peak, but the view from this point says the next road goes down quite steeply. Due to time I am not going to the top anymore, and I rather turn back and go for lunch. Same place where the wind started before, rain starts and there is a burst of clouds when I reach the antenna. The hill is very steep and quite slippery, so I go very slowly. In the milder part of the hill the rain stops. Local shower.         The main street seems to be dry. After lunch I take care of things for which I had no time last weeks. It starts to rain and the rain lasts until late night. Fortunately, the forecast for tomorrow is not so bad. But even if it rains all day, I will not mind, at least I will train for tournaments.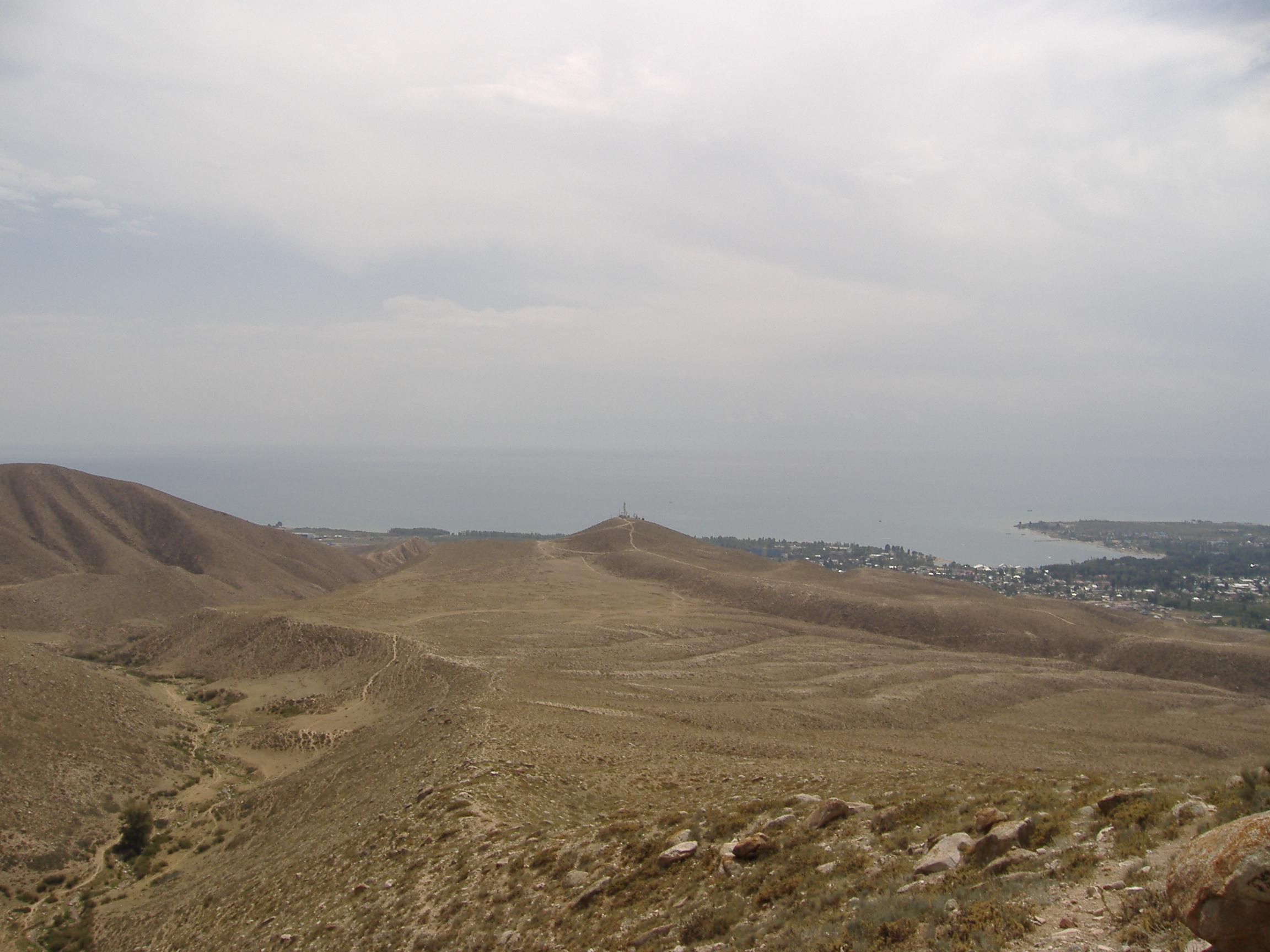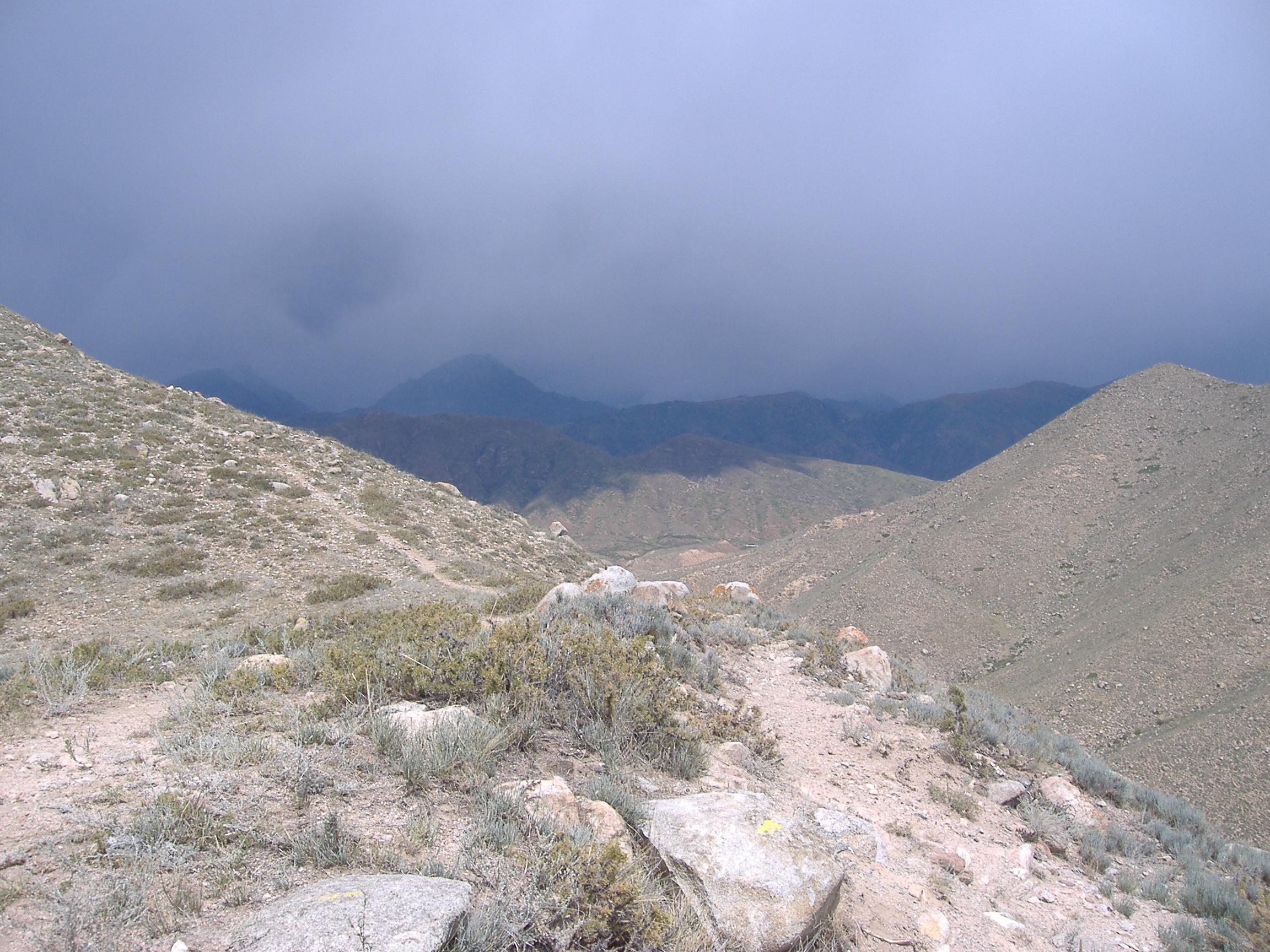 The next day Kamchybek comes and takes me to the bazaar. There we go by taxi and back by mashrutka, minibus. The bus has 12 seats and inside is about 25 people. Kyrgyz reality, we laugh, however, in the Czech Republic it can be the same, number of times, only the bus will be for 50 people and there will a hundred of them.               Then we plan my trip for the next day and finally we take the computer and solve the visas of other mankala participants. Some moment it looks like he will have to go back to Bishkek, but after a while the problems seem to be solved without going back. After lunch I have time off and I can train. In the evening, however, I find that visa problems are not solved yer, so I try to help. Well done, thanks to many hours of work about 5 people Oskar gets a visa and arrives.
The excursion day is here. The lady we talked to said that they would call at about 5 as a wake-up call and then at about 5:30 to leave. There are obviously many people to go and everybody in different hotel, so the phone rings at 6h. Within five minutes I sit on the yellow bus and go. The plan is a circuit around the lake, including a visit to the fairy-tale canyon (Skazka, Fairy Tale), Barskon waterfalls, Karakol city and hot springs. Our guide does not speak English, I rely on my knowledge of Russian and its similarity to Czech. We picked up the last participant of the trip and getting to know each other. We are an international bus, there are Kazakh, Kyrgyz, Russians and me. The first stop is for coffee in Balikči, here you have to decide if you go around the lake from the top or bottom. We came from the top and so we continue around its south coast. The restaurant, where the bus usually stops, is closed on Sunday 7am, so we go to the bus station. I am running to the toilet, the visit is worth it. The harsh Kyrgyz reality of the common people. The lady who collects a fee of 5 som sits in a shack full of junk, but with a beautiful color TV. The toilet is one long room where there are about 7 holes in the floor. Holes are separated on the sides by wooden walls, but the doors are simply not present. Hm. Another incoming colleague says something about CCCP and I quite laugh as I remember dry toilets at my grandmother and friends in small villages. After another half-hour drive we land in the canyon. From the parking lot it is beautiful, apart from the sanitary facilities - a tiny tin shed built over a dug pit, over which there are a few boards and the middle board is missing.       Well, at least it has a door. Turkish style toilet is quite common here, only the best hotels have a European style. Looks like some of people experienced the turkish style first time in their life. I am checking the departure at 9:50 am and heading for the first hill. Hana, you go alone? It is dangerous! What, we have to go in a group? Brr. Only after a while I agree that the guide is right. One can be easily lost there and a lot of hills have really steep slopes. We walk there half an hour longer than planned. I wish too have all day to see this place, if not more. But we have to continue.
The second stop is the waterfalls. We climb to the first one, stop for a while, another group of tourists tastes water and sings. Very nice. Continue along the contour line to the second waterfall. I did not close my pocket with my camera, and when climbing I skilfully kick my jacket and the camera suddenly flies down the hill, fortunately I have it in good case. I make two steps back with idea to pick it up somewhere down on way. Others think I am afraid to continue, but I explain that my camera has fallen. In a moment we can see another tourist picking it up. I call on him that this is mine and that I am going for it. Finally, the others move forward so that I can get back, but without giving me chance, a local chamois is going straight down the hill - a guy in sportswear, just running down for it and in a moment, he runs up again. Thanks, rescuer! We reach the second waterfall and the wind begins and little rain. After running down we are happy to have a driver there. He let us go into the car.       The next stop is at a group of red rocks. There is also lunch - in the yurt restaurant.
After lunch just a short distance and we arrive to Karakol. There are a few interesting buildings, we stop near a wooden church of the Holy Trinity and then see a mosque where women can only be covered by a cloak. The last stop is swimming in hot springs. I have been here last year. I use time here to study Toguz and observe the sunlit mountains. We get on the bus and after a few kilometers rain comes. Today's weather is not good. Perhaps tomorrow would be better. I am finding out Kamchybek's plans - I probably have time off, I can try a longer hike through the mountains for the next two days.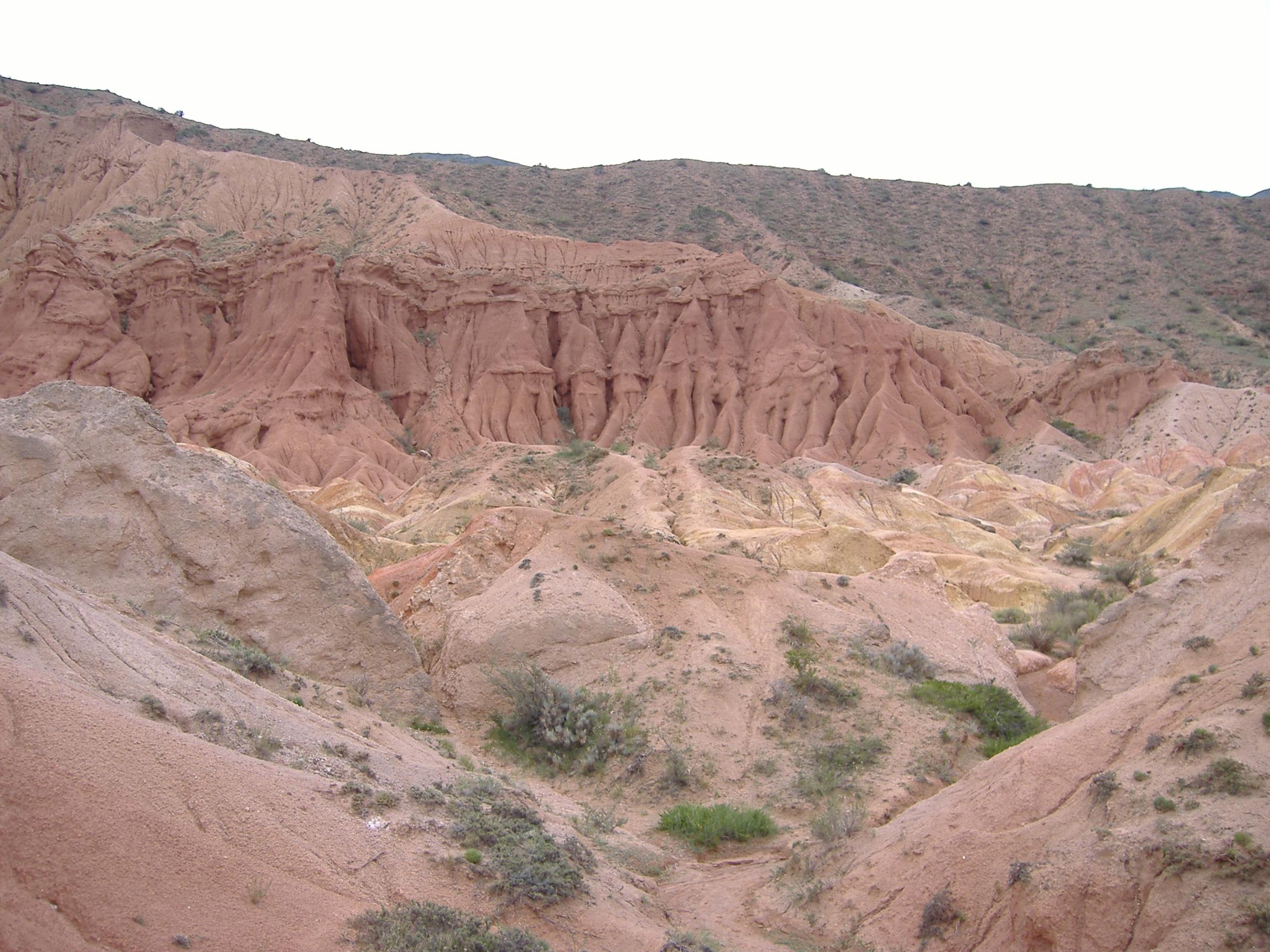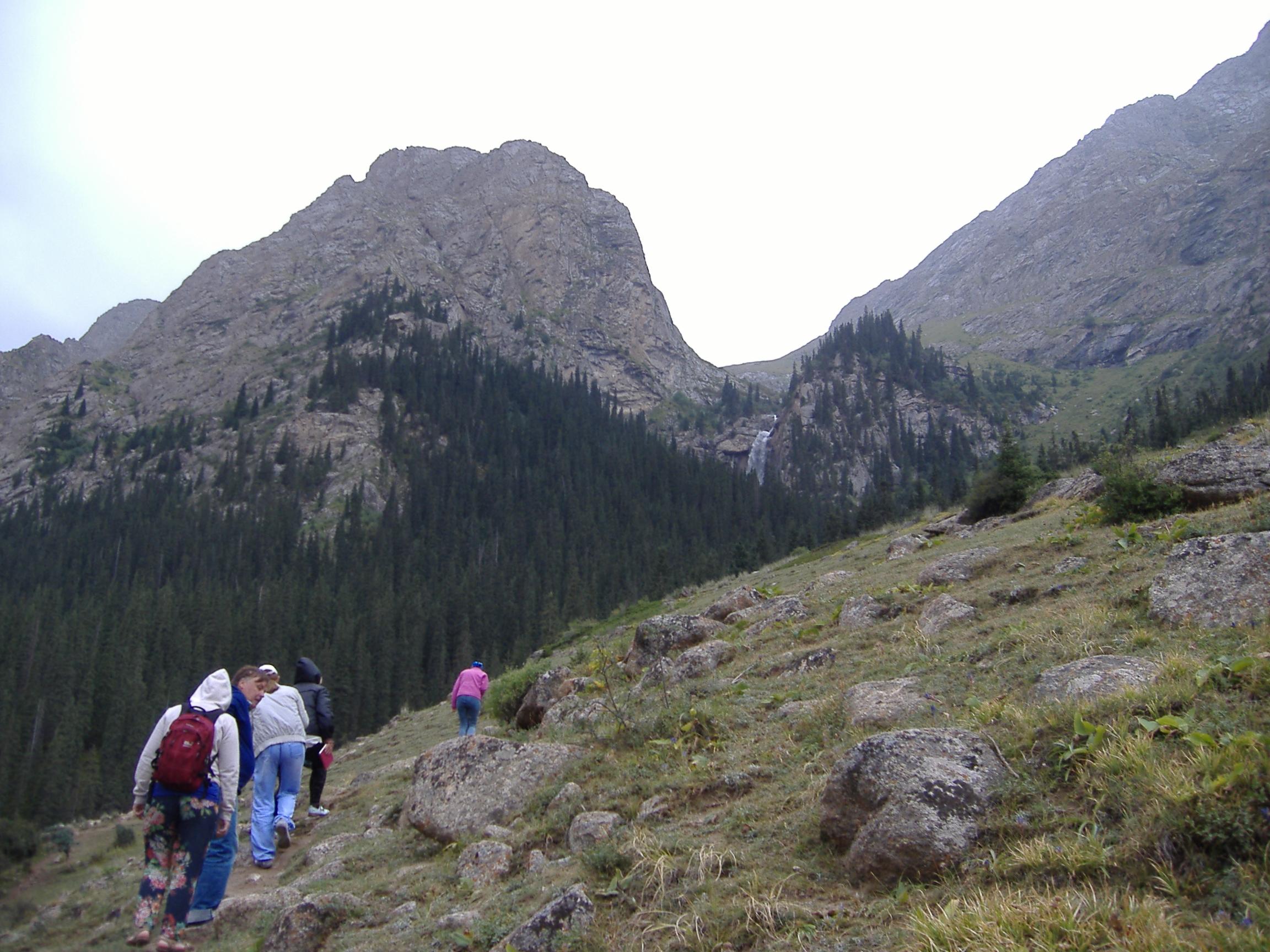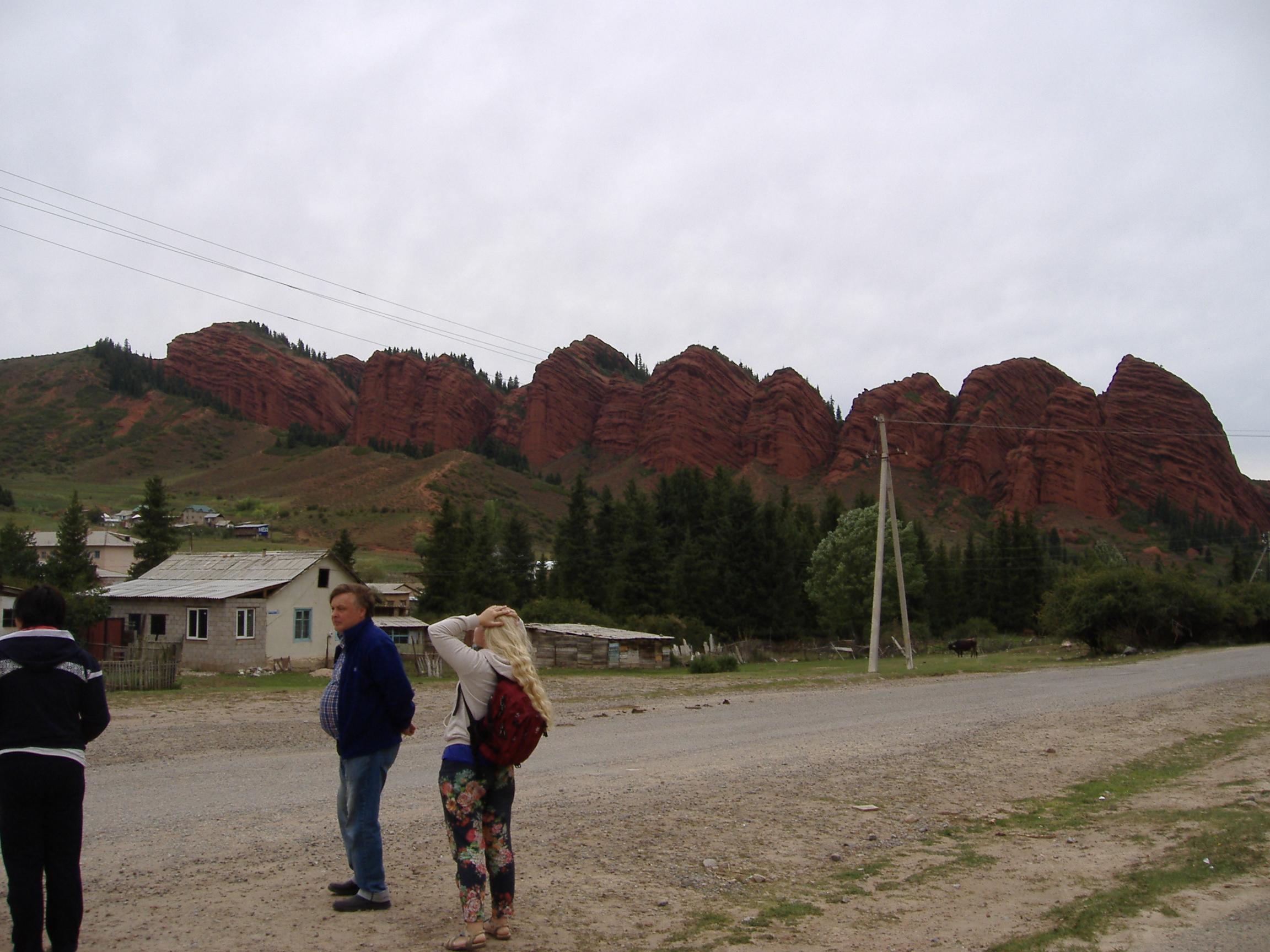 In the evening I announce to hotel lady that I will not have breakfast the next day and I intend to go to the mountains as soon as daybreak. Fortunately, I know which way is the shortest and so I am the next morning sometime around half past eight at the antenna. Wonderful weather. Kamchybek asks about my plans, I reply that if he needs help, I will come back tonight. I am finally at the peak where I stop few days ago. The journey continues not         a sharp scuffle, but just beautifully on the ridges. So I climb to the next hill. Someone stands on the next hill. No, he is not moving for so long. It is a flag. Red.         Jumbo sport 2018. I still have enough time to continue to the next peak. It is time to return, but I do not want to go the same way, I am trying to go the way between two hills, but it is not the best choice, a lot of prickly flora, and some slopes slope quite sharply and the sand glides on them. I go very slowly and it is quite miracle that I back in hotel for the lunch. After lunch we arrange my departure to Bishkek, at first it looks like I will be in the mashrutka in an hour, but at the end we arrange my departure in the morning. I have been working on the program all evening. We have a few restrictive conditions, and several of them appear later, so the program finally takes two days to come up. I leave the masrutka at the agreed place, Kamchybek is waiting for me, we go to the office and besides the program we solve other visas, game rules, medals, name badges ...
29th morning we go shopping. Laminator, papers, pens, yurt-shaped leather boxes and lots of electricity stuff. As we browse the market, we come across Gulzat, a competitor from Poland. In the evening I get other keys, which I can return in the playing room at Cholpon Ata. I am going to the airport early in the morning, to meet the Ordo team. The first part is here, the second will arrive by the next plane. With the second part there is another person who came here to take pictures and happened to find information about the Czech expedition and even more by chance he met a part of the team on the plane. So we exchange telephone contacts, and we are taking him towards Bishkek. In the middle of the journey, Kamchybek meet our bus, and give me some documents for several participants to be handed over for registration, then taking the photographer to the hotel and we continue driving to Cholpon Ata.
We stop at the hotel Evrazia, where registration is taking place. The head of the expedition, ie me, has to take passports and all documents and go for registration, the others are waiting. One of the tasks is to report who bears the flag and write his sports achievements. We have two days to make decision about it. I stay in Evrazia, Ordo goes to Ak-Danis Hotel. It is just lunch time, in the dining room I meet a group of friends, Seth, Glenda, Horst, Roman, Oscar ... I am getting a room in one of the six-room houses. After lunch, I show others photos of my sightseeing trip and then wash my clothes. In the evening there is no electricity, and we can only dream of internet in the room. I quite expected that and so I am equipped with my own Internet, others if necessary, catching the Internet connection around the registration room or at the dining room.
31st August, another member of the expedition should arrive around ten o'clock, so I am waiting near registration room. But the bus arrives only before twelve and so many people arrived that we are bearly able to go to lunch. Koffi who playing Toguz for Côte d'Ivoire needs to exchange money, so I take him to Cholpon Ata - Evrazia is in Kara-Oi, a village near by. In addition to exchanging money we try to find out if someone of those who offer a trip take us just to the canyon, but unfortunately, everyone only runs the established circuit. I want to try the same organization with which I did go few days ago, but the season probably really ends and their stall is not at the expected place.         Fortunately, on the other hand, there is other company, the owner even speaks a bit of English and offers off-road trips. Finally, we agree with him that I will call him in the evening how many people and book with him one bus for 10-15 people. Throughout the evening I address all the people in the dining room if they want to join the expedition and arrange food for the trip. Around ten o'clock the final number counts with 11 candidates. Departure is at 6 am the next day.
It is almost 6 and I am at the gate alone. Where is everyone? They slowly start to come. It is quarter to seven when they are all here. During last hour I circled the area about three times. I have enough. The expedition arrives home of course with a long delay, but everyone is as excited about the trip as I was.
First September Kamchybek is here and I am helping him in the playing room all day long. Some parts of the complex are brand new, partially unfinished, so the first thing they need to do is mount a couple of sockets. Then I unpack and install the printer and print the game recording sheets. And also a lot of signs, like not to smoke, not to enter in shoes, signs for toilets. What? Toilets are without the cabin door again? What about buying a stick and putting three curtains on it? Unfortunately, there is no time to do this. Two arrivals await me tonight. Two people should be picked up at the stadium around 6pm, and the text message where is the bus which comes 30 minuts later is not going to please me. Fortunately, Kamchybek knows where to call. The last two members of the Czech team will arrive around midnight. There are not enough places in the hotel, the possibility to choose almost zero, to get the room just for mother and son who definitely want to be together, is impossible so I change my nice house to a large three - floor building and move to the room of Altai ladies. The room is just new. New painting smells pretty strong here, instead of some drawers just wires, no wardrobe, no table. Well, I will be in the playing room most of day, no problem.
2nd September we start playing. The first three rounds of Mangala. We start with a pretty big delay, but nobody plays until the last minute, so we finish as expected. 3 rounds, 3 points. Lunch, and then quickly to the stadium for the opening ceremony. We are told to get on the bus at three, someone is able to be there on time, someone is not, I am at the bus around quarter to four, and we are leaving something after four. Another complication - not all members of my team have a name tag, and they get it in office next to the stadium. The stadium is different than two years ago. No tents for every state, no takeaway, who wants he can buy food which is available in stalls around. So we walk around the stadium, admire the costumes of other expeditions, take pictures. At seven they start to put the states in line for flag parade. The cold wind also starts to blow. The program starts at eight o'clock. Girls models, who have signs with the names of states must remain standing at given place, other participants are allowed to see the opening from the space a few steps closer. We are standing relatively close to the screen, so I stay in place. In a moment we are witnessing an attempt to exchange our girl for another, but our girl wants our group, and will not release the signs from her hand and remains to us. They start playing the anthem of nomads, in a minute we go down. Czech Republic team is announced, we go, wave, yell, viewers too. Super atmosphere. At the other end we turn right and we climb into the area in front of the stadium, only the flag bearers must go to the left to the sandy area, where they are until all the expeditions have passed through and the President's speech is over. The rest of us can put on jackets and either watch rest of the show on the screen or go home.
For the 3rd September we planned a trip to Kyrchyn - a place with a thousand yurts and all sorts of cultural and racing programs. In the morning I help in the playroom for a while, then I go. But because of the official start, which is supposed to be there at 3pm, everybody goes there, the road is clogged, buses are full. It is far from Evrazia, so I am going with the first taxi driver to the stadium and after a while I catch the second one who takes us to Kyrchyn. One minute two not-very-thin ladies get into the car, so I and the university teacher share essentially one seat. We arrive at Kyrchyn at 2pm, which is just time to go back to catch the evening rounds of the mangala tournament. So I only take some pictures from a distance, I say goodbye to the teacher, and I sit in the first mashrutka. In the evening I show Bao, someone is training for competitions, somebody playing altai shatra, somebody trying yakut games with sticks and dice.
4th September, after all, there is a small ceremonial opening of the World Championship in Toguz korgool, teams with one and two participants on one side, larger teams on the other side, flags behind us, a few speeches, group photo and we are going to play. I win both rounds easily. After lunch we planned boat trip. Small snacks and then a long debate between me, Kamchybek, Seth, Trevor and a few others interested about the rules and solving some situations. We land. After dinner we play all games available and the playing hall shines again until midnight. We agree to organize Oware Grand Masters Tournament. We will start with this tomorrow.
5th September we play one round of Toguz and the last two rounds of Mangala. In Toguz I win again, as Gulzat doesn't know the 7th opening, she beat me twice with wilder openings, so I finally give it back to her. The third win means that the next day I can look forward to an opponent from Kazakhstan or Kyrgyzstan. In Mangala I am definitely not doing well against them, and with the number of players I have to play almost all of them. However, 4 points to 5th place is enough, there are no good players from Turkey and no one else, who would play for 2 years or more is not here. The week of training of the Kyrgyz players can be seen on their game. They have explored and unnatural variants. Well I have about three quarters of a year to the next World Championship to catch up. I announce my success and I learn that the Ordo team is doing well too and last place is certainly not the position they will end up.
In all the games I have three points after five rounds, I am lucky for a draw in Toguz and I win the last two rounds, so I have 5 points, in Oware and Mangala I finish          with only four points. For mangala it is enough, but in Oware the tiebreak criteria moved me to the end of group. There is too many four-point players, more than I would expect. After the last round of Oware, we are all expelled from the hall - the judges have about two hours to prepare the announcement. No 1 volunteer is not permitted to help any more, how dissapointing... We should be in costumes again if possible. The playroom is quickly transformed, the tables disappear, the podium is set to the forefront and the chairs are set up in two blocks. Awarded sportsmen can have shoes, so I run to wash mines. Who get any prize should sit to be right. The Kazakhs are in the front and powerfully calling and waving whenever someone of their team is called.          We should leave for the stadium right after the announcement. But we have a photographer on the spot, so at least we take a team photo and then someone starts to announce competitions          in the Yakut games, and then we declare Grand Master Oware. Fortunately, not all buses missed, and we do not need a taxi. On the bus we get a ticket to the stadium,          which means things will be a little different. I meet other winners in front of the bank. They say it will be faster this year and we can withdraw the money before leaving. There is no parade of athletes, we can just have fun. There is something to look at. At one point there is a song about Kyrgyzstan and all stadium is dancing. Whoever has a flag waving it and so I finally pulling our big flag and we are waving too. Then it looks like it will be over and so we go out. We watch the program from a distance, but then it is really over. Surprisingly, dinner awaits us at the hotel. I get to the room around 1am. Roommates get up before four ... and are back around five. The bus did not pick them up. According to the paper announcement next bus comes at 7am, so I go to say goodbye to others, but then we learn that the bus will not go until 9h (but at least some people managed to get info about the change).          I'm going to the bazaar, then quickly finish packing. Next bus should go at 12 and then at 3pm, finally we decide to leave at 12. Bad luck, bus canceled at 12.          I do not want to wait till 3pm, I offer Oskar, who also received the latest information about the bus at 12, that I go to Biskekk alone using normal bus, so that he can go with me. So we ride together to Cholpon Ata on the bus and at about 1pm we are in bus for Bishkek. We get off at the place where I got off last time and because of the size of the baggage we take taxi to Kamchybek's office. We drop there the baggage and go to town. Oskar needs to pick up the money prize and to buy new glasses. I see place with lot of rubik's puzzles and I can not resist. Oskar also buys a couple. We meet a part of the Ordo team. We arrive at the office and Kamchybek is soon there too. We arrange a hotel for Oskar and after nine o'clock I sit in the car and go to the airport. Other participants are starting to appear at the airport. Seth says that everyone standing here now, got to this event thanks to me. Yeah, he is right, someone directly, someone indirectly, but it is like this. I'm glad they enjoid it. Hopefully I will meet most of them again.
Nomad games 2020 should be in Turkey, and the next ones, in 2022 in Azerbaijan.
After return I send an article to many newspaper editorial offices, but not many reactions. Exotic trips and fifth places are not as interesting, Czech Republic main topis is elections...