Mission Camel 2019 - Camel fest 2019, The Kingdom of Saudi Arabia, 9th to 19th March 2019
---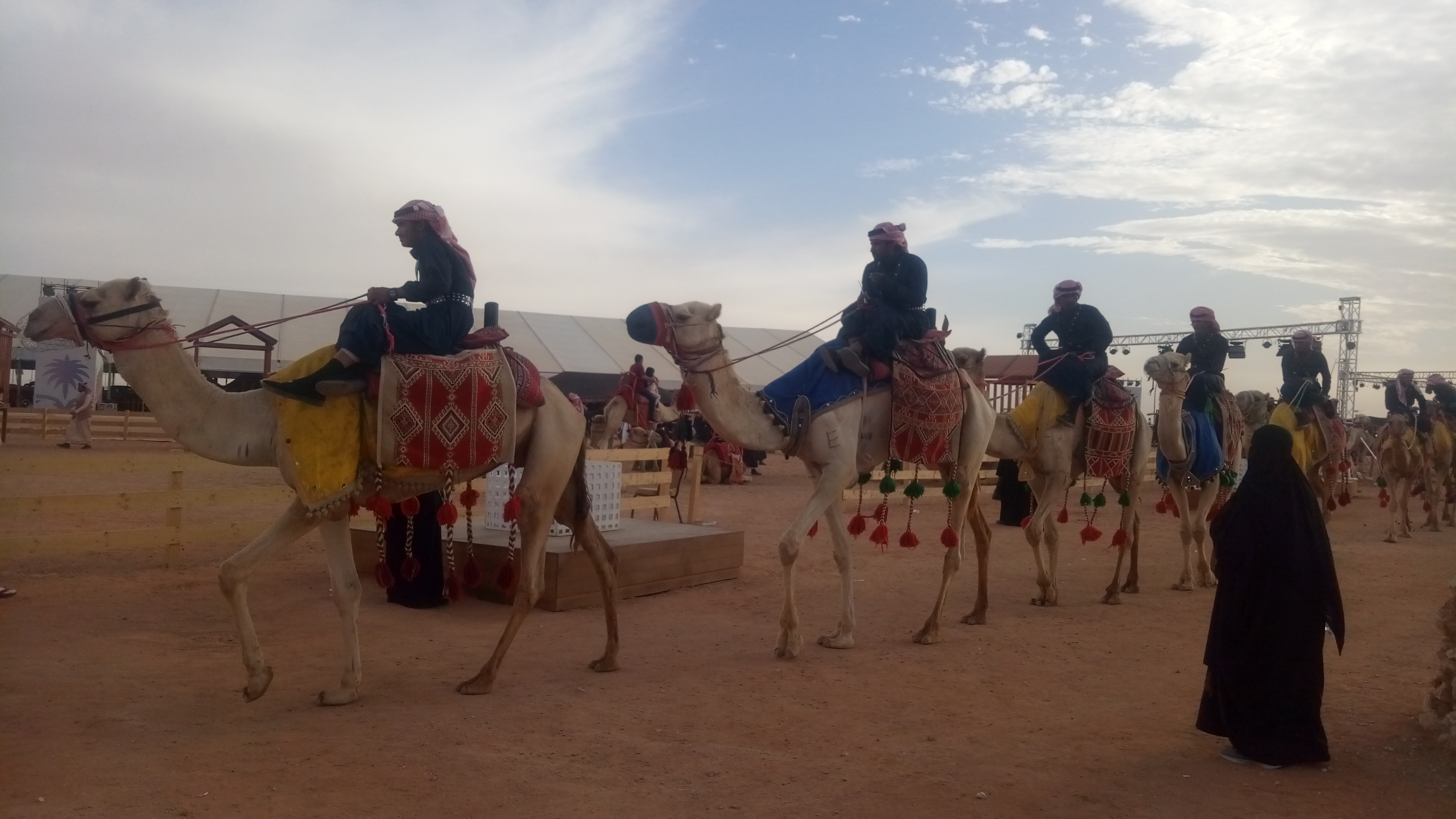 I recieved an email sometime in the middle of November: It looks like we might have a big tournament in Toguz and Oware in Saudi Arabia. Should I subscribe you? My head was still full of memories from September Nomad Games, so the first idea was like "Great, I will see all those people I met at Nomad Games..." When is it? Sometimes end of February, beginning of March. Oh, it is not going to be easy, but we will see. I start to look up the info. I see travel warning at the page of Ministry and suddenly my mood is below freezing...
I should go to country in war? Forget it. But during next few weeks our opinions, whether to go or not are changing and changing. I even found some warning about traveling to Kyrgyzstan, so there is not much choice. Around middle of December I say NO, I cannot go, I am too busy to go. But I had no choice. 23rd December I receive a call. Very desperate phone call. One judge cannot go because of passport validity, I need someone, is must be woman, you are the only one who can save me. Any time to think about it? No, tomorrow morning we have to send applications. Our grandmother does not find the warning so tragic and say go, it will be interesting. So at the end, I am sending application of Czech team, including my name, to be the judge.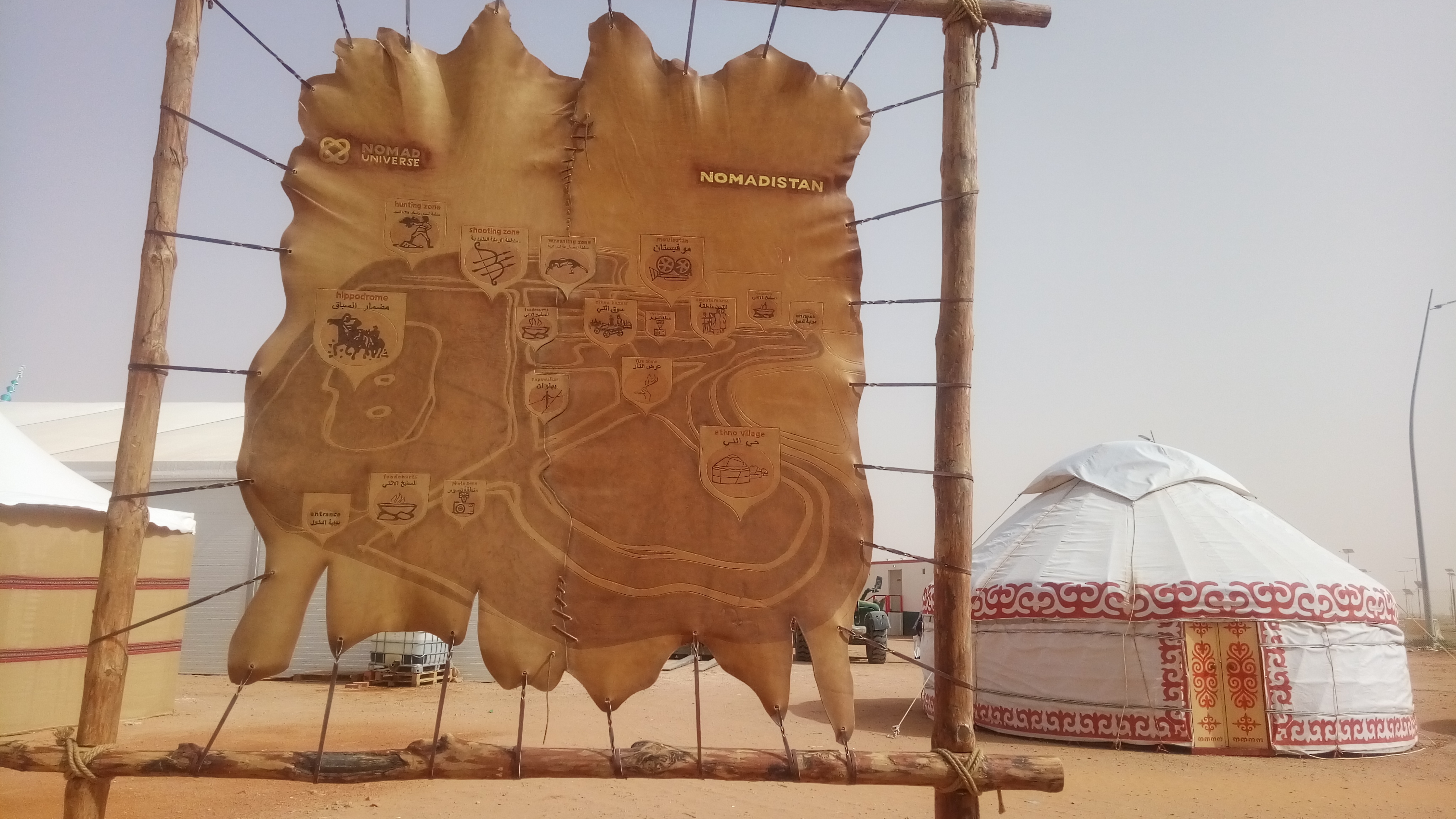 Next few weeks I am so so busy, looking for info, planinig what and when, solving costumes, arrivals, departures, working duties etc. Our very first plan was that our friend from Pakistan will come at the beginning of January and then we go to Pakistan, but then we received this info about Saudi Arabia event. Well, at the end, the worse case came true, our friend did not get visa, and David had to travel alone to Pakistan.
15th February, last call, from this moment I am giving David into hands of God and our pakistani friend. Hopefully we will meet in KSA at the beginning of March. Last plane is delayed, but the welcoming group is ready long time before expected arrival. I am getting a call, they are asking where is David? How should I know, he has no phone... but in few seconds I hear David, so he made it. Uff. He survived the flights.
Three weeks marathon of lectures at the universities about the positive things of board games. David has fun and me too. Home alone, cleaning the games, and doing things which needs to be done sometimes, but it is better to do them when David is not home. Little conflict between Pakistan and India is closing most of aiports, but at the end problem is solved and Pakistani team together with David can fly to KSA from Multan as expected.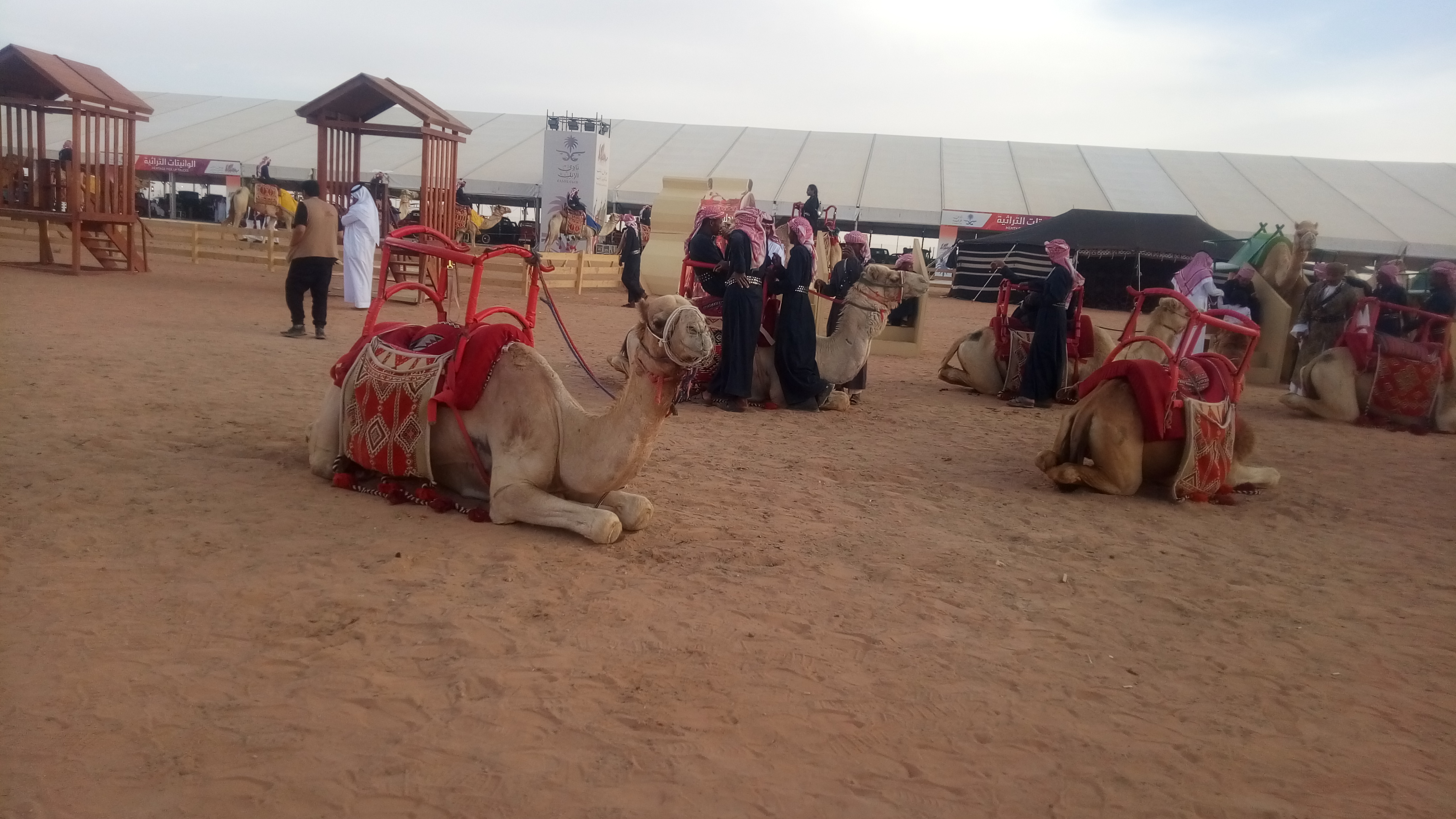 It is 6th March and I go to airport. I got boarding pass with seat 82A. I know we fly with the biggest plane ever made, but I am still a little surprised. It is even worse then I expected. Not only 90 rows, but there is 10 seats in a row, not just 6 as usual. Airplane is of course very nice and well equiped. I am trying everything during my flight, I sleep, watch films, play games on screen and play Toguz on my board. Landing on Dubai, the biggest airport. Well, it is probably good that David was using Sharja, here is really long way to walk. Entering second plane. Seeing first friends. Landing in Rijadh. All the info I found says women should leave the plane in Abaya. So I am taking outfit we made for this. Other women does not seems to care. Maybe they did not read it. Well, we should get Abaya in hotel, so it is probably not as big problem. Two volunteers are taking us to bus. But first, I must get local SIM card. It take longer than I wanted, but I have it. Holiday Inn Al Quasr, final stop, please exit the bus. Tonight, I will be with my team colleague, but tomorrow, when Pakistani team comes, I will be with David. Little sleep, breakfast, training in the reception hall. Two days lot of bad news, mostly problems of Africani teams. Their visa are not considered to be valid. But not only them. Stuff for Oskar from Colombia takes about half of space in my bag. But he did not get ticket. They are over budget. Why it has to happened to him and not to someone else?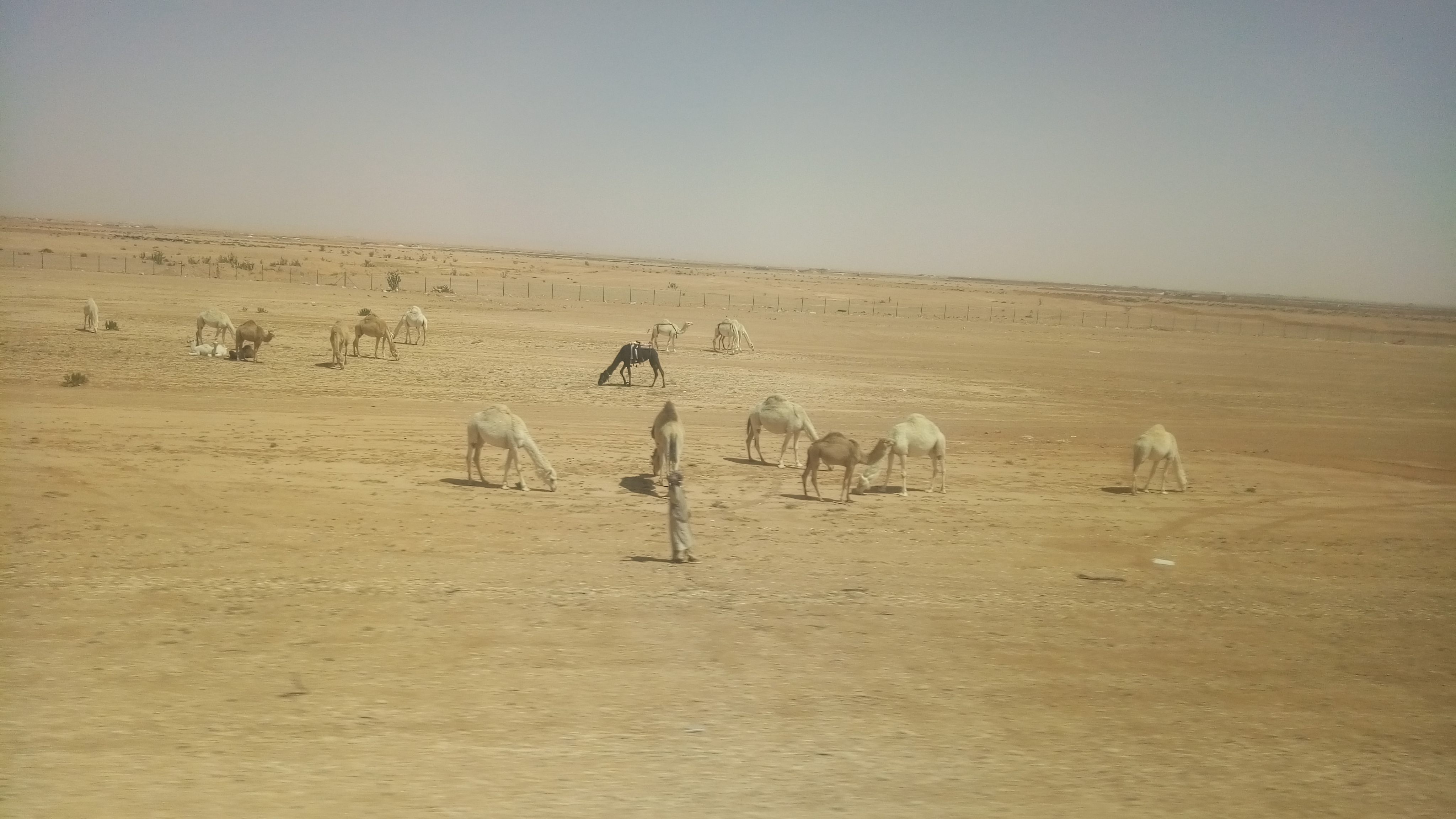 8th March - In our program is short visit of event place. Not compulsory, but I need to see how does it looks, so I go. Organizors did not lie, it is really two hours by bus. We are landing in the desert and we go into giant tent, which should serve as a dining room. There is Kamchybek so we finally solving some organizational stuff. He is without mobile phone and he is not living with us in hotel, he is somewhere here, in the tent similar to this dining room tent. He is making jokes how great is it when no one is calling and writing him. Wait, as soon as you switch you mobile on, you will get few hundreds of messages... I am getting my Abaya. It is black, I do not like it, tomorrow, I will wear my "birdy" stuff.
9th March - training day. I expect everything will be ready for us, but a tent, where we should play, is empty, just some chairs in the entrance and tables and nothing else. Thanks God, I have always board with me, so we return to dining room and we have some training on my boards there. After some time, everybody is called and we have the first meeting about organization of the event. Mostly it is me, who is speaking (in english), for french speakers Ruffin from Congo is translating. Jumping between english, french and russian makes one moment, when I simply continue explaining in Czech, but I do not know about it. Well, they stop me soon. Hopefully we said everything important. It is now time to get ready for the evening show. It will not include promenade with flags, but we can simply watch the big kyrgyz dancing show. It is very cold outside, but the show is amazing. It includes scenes from history, amazing sports performance on horseback, caravan of camels, burning riders. A drone can sometimes be heard overhead. Certainly they are filming it and hopefully we will eventually find it later on youtube. Finish, let's go to the bus, we are playing tournaments tomorrow.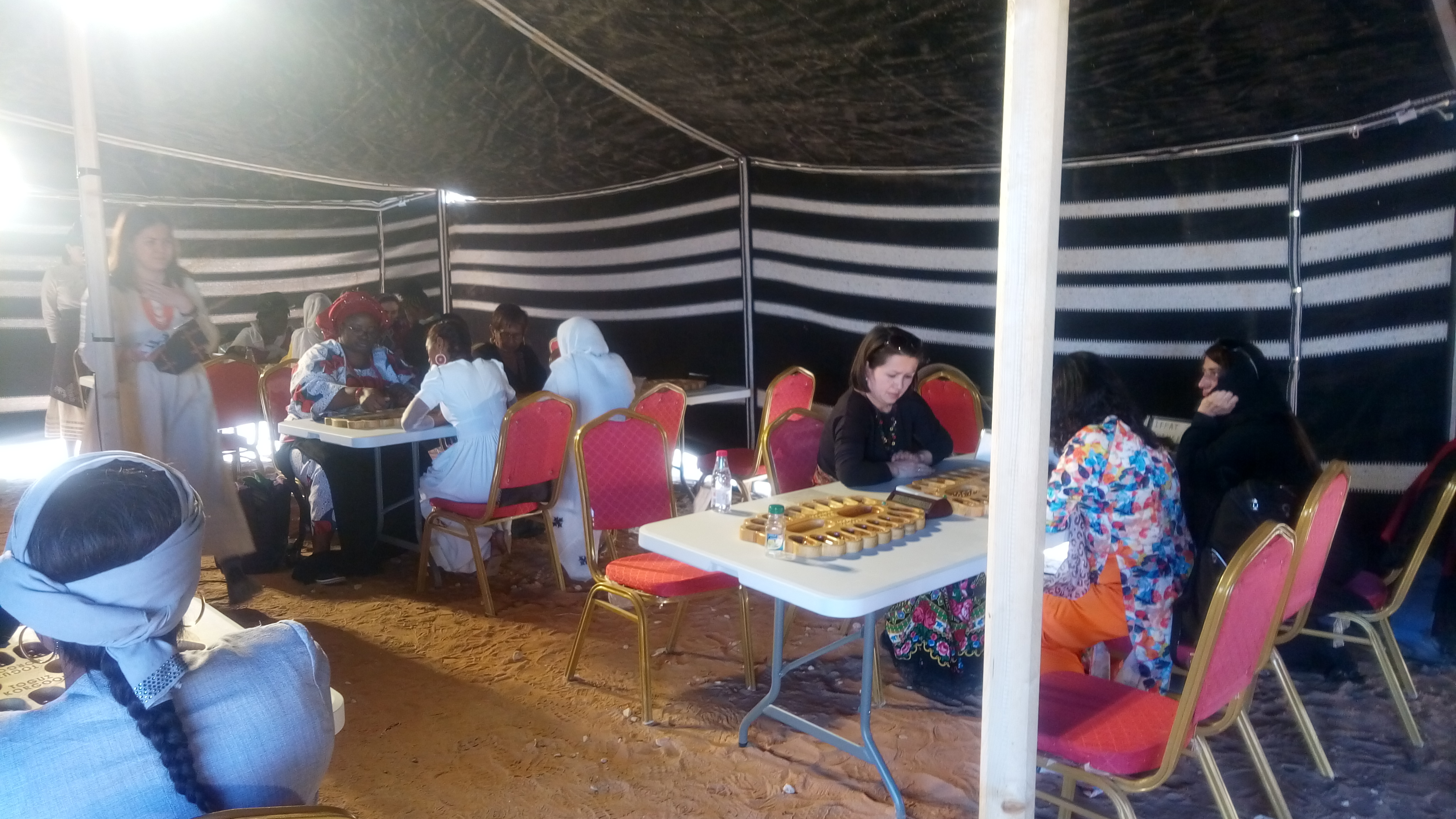 10th March, the first day of tournaments. The tent is ready. Left side men, right side women. Women should not come to men part and men to women part. Otherwise we can have problem. Of course this rule is valid even for arbiters. Some players does not have national dress. If they do not come in national dress tomorrow, they will not get financial prize. Who said yesterday Abay is possible? We are cofused. First round of Toguz tournament is finished quickly. In Oware there is first trouble. Two beginners can't agree on the rules, both say other one played wrong, both are upset and when they are trying to explain what happened, they are destroying the position on the board. I suggest that they play a new game, but they don't like it. So the winner will be decided later. We will discuss it.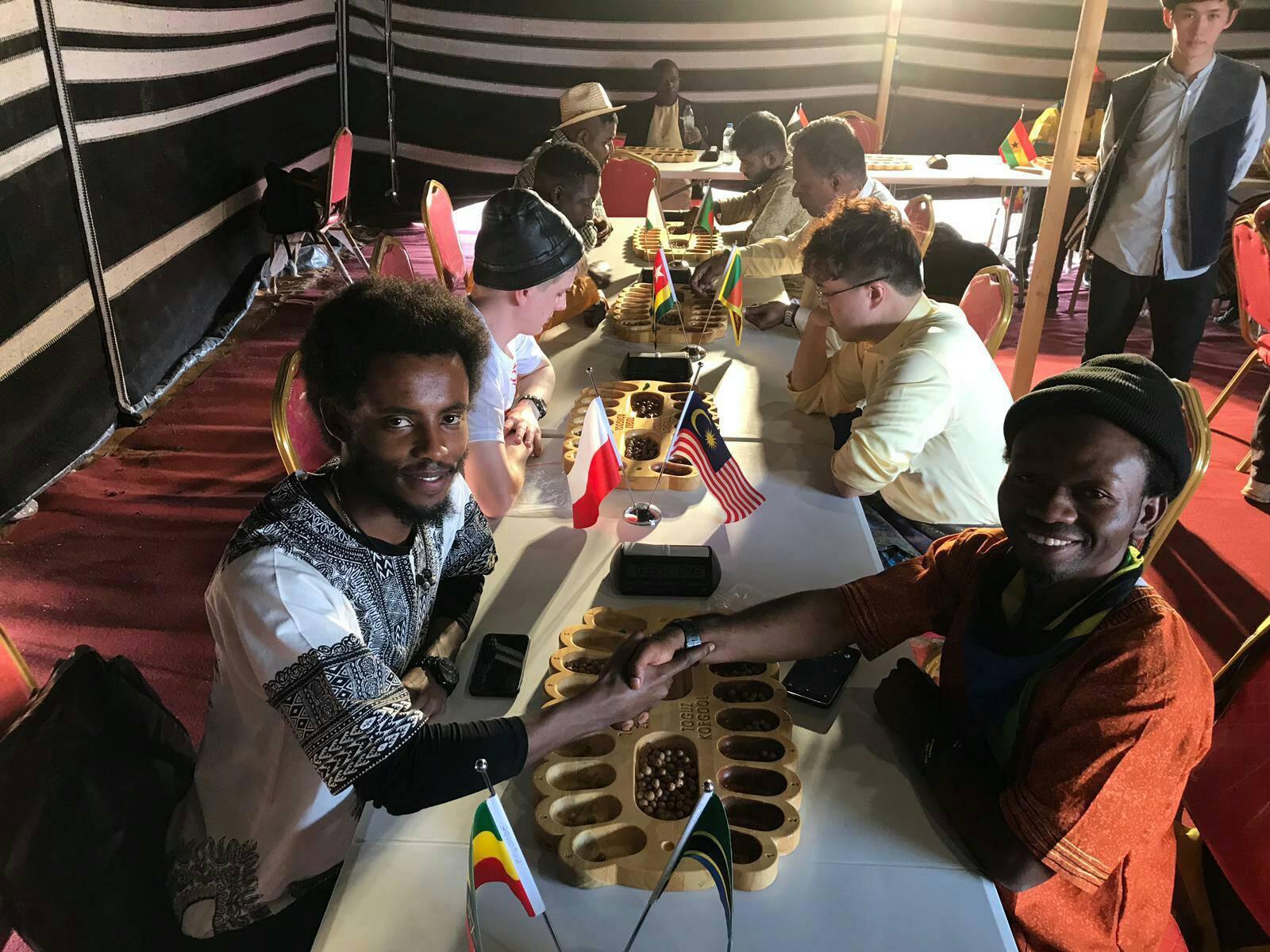 11th March, the day of big crisis. Most of the day we are solving correct clothing. I am sad, after all the difficulties and search for the optimal variant, our team clothing is still among the unrecognized. I'm going home, I'm not staying here anymore, change my ticket, I've had enough of it. After all our explanation of how things are, at the end we have some solution. David will be playing for the US team from tomorrow, as an US he can have shirt and shorts. Radka has no problem buying some clothes, so we search both the stores in Riyadh and the stalls at the festival, and finally we choose the blue flowered dress from the Mexican stall as the best and most suitable. Done. The layout of the tables in the tent changed from several rows to two horseshoes. Everyone is very hot at the beginning and very cold after sunset. A table is put into the entrance to keep players from being disturbed. But visitors are still coming in sometimes.
12th March, the day of big changes. In dining room, they added translucent washable tablecloths. Nobody is comfortable in the black tent, so we move to the yurts in Ethnovillage, yurt can be ventilated by the hole at the top and it is really better there. On the left women, on the right men. 3 + 3 yurts. In the fourth there is organizational tent, and shop. There will be one referee to guard a group of 8-12 players in each yurt. So I settle in the ladies third yurt and I am in charge of the weakest players. Sitting on the ground, although on the pillows, is not suitable for everyone and David after an hour of sitting at the game ends in the doctors' tent. For the next game he already has either a chair or a seat used for the Ordo, which is in the shape of a bone. The bus to the hotel also goes before dinner, so most people leave earlier when they have the opportunity. The next days it is the same. So basically only I have a double dinner (one in event place and one in hotel) together with few athletes from other sports.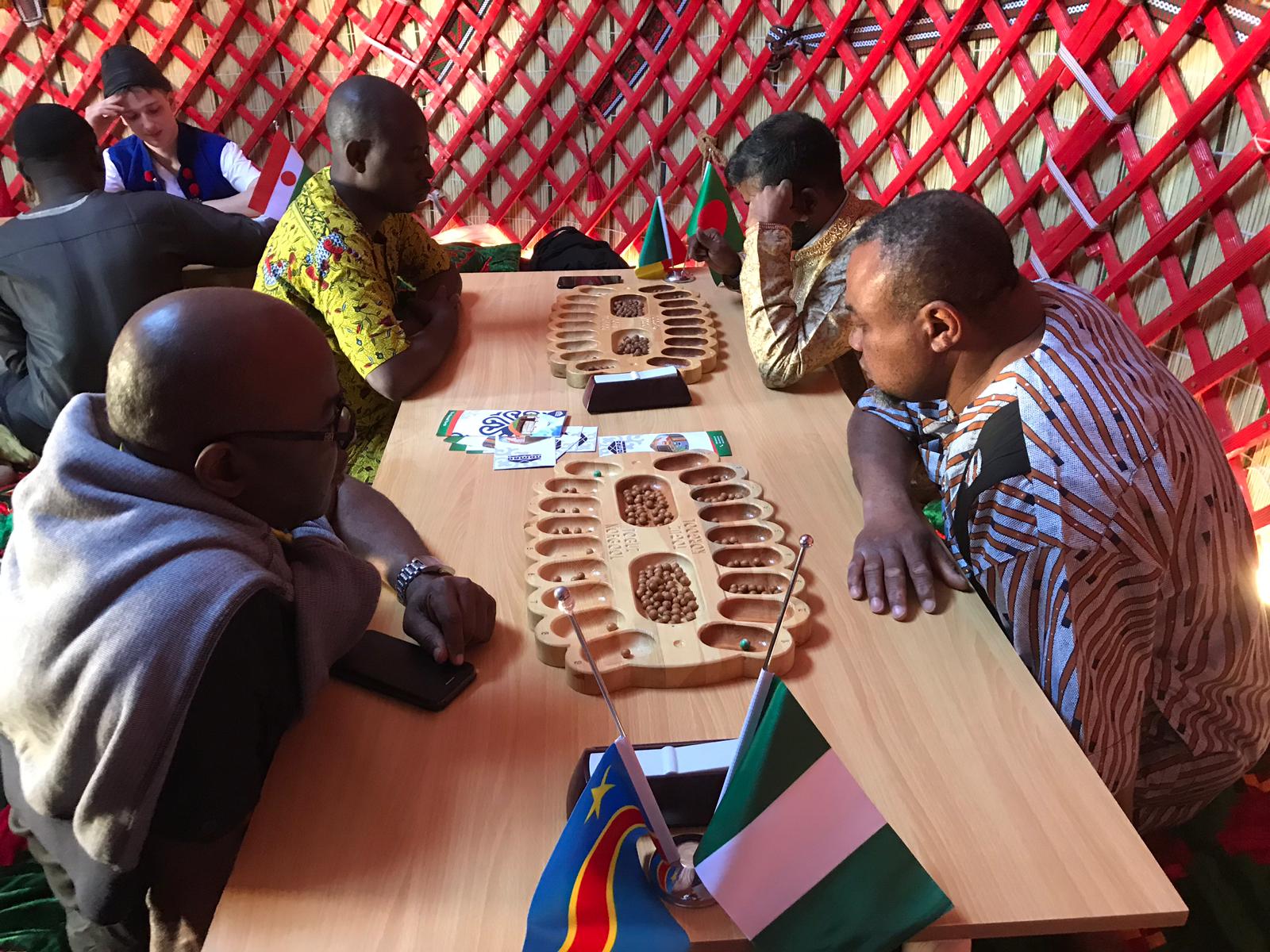 13th March - We have lots of visitors in our yurta, some are just watching from outside, asking what is happening inside, some are simply entering inside. So the main work for arbiter is to force them leave. "Please, go to the fifth yurt, you can learn the game there, here is big international competition of 35+ coutries." I am saying this maybe hundred times a day. People are different, everywhere. Some are asking, some are directly going to sit at the table. Some teenagers have never seen a black or asian women in nice costumes and they find it funny. We find funny how many men stays in front of our light-mirrors and checking position of their scarf. We hear lot of encouraging "Welcome in Saudi Arabia", mostly from those who just take a look inside yurta. In one moment I am showing some game variant to one of our players. Few seconds later, I see some local visitors sitting on the table and falling of it, when table break. Well, I must be more careful and watch, who is coming in.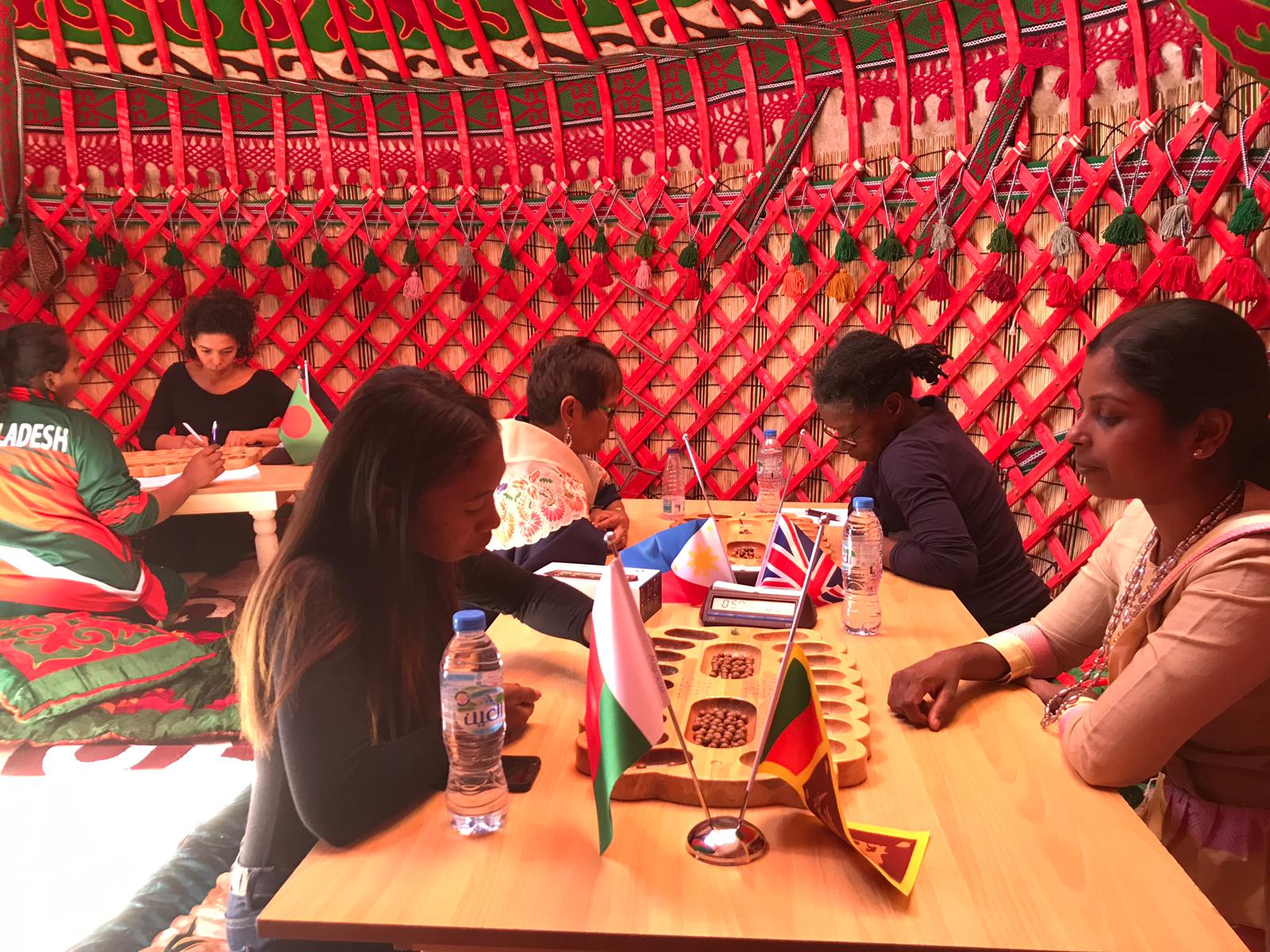 14th March - I made this day free in our program. Actually this was in first version of program, in later verisons we were thinking, if we want and can afford a break. At the end it stayed there and it was scheduled in the best moment possible. At the event place there is a sand storm, the dancers, who are living at the event place got recommendation not to go out of the tent. We are in the hotel and we play games like Dama, Othello and some others. Some people go to town and some are simply relaxing.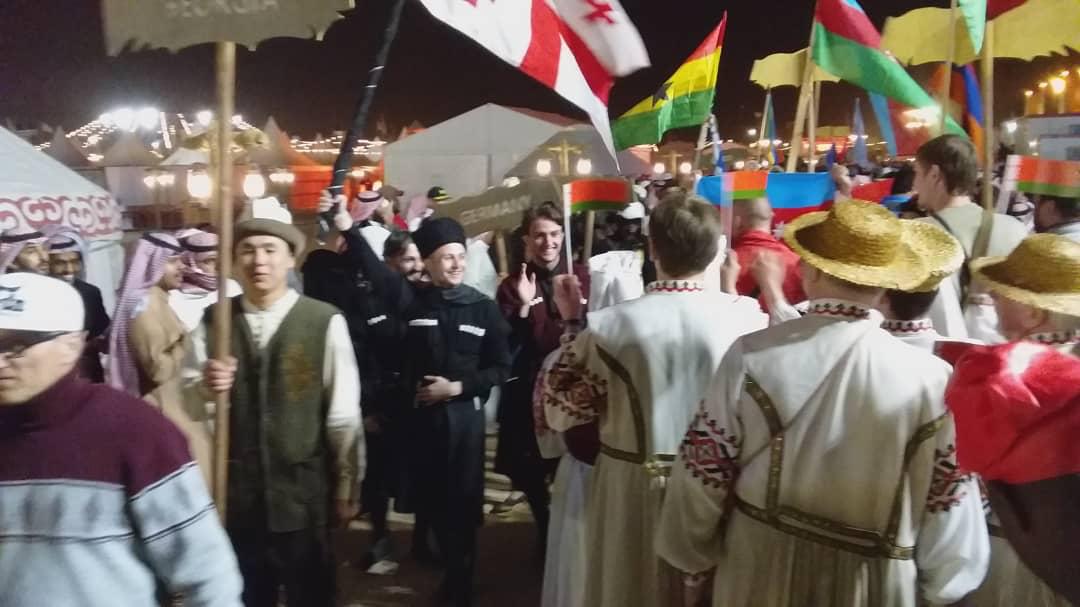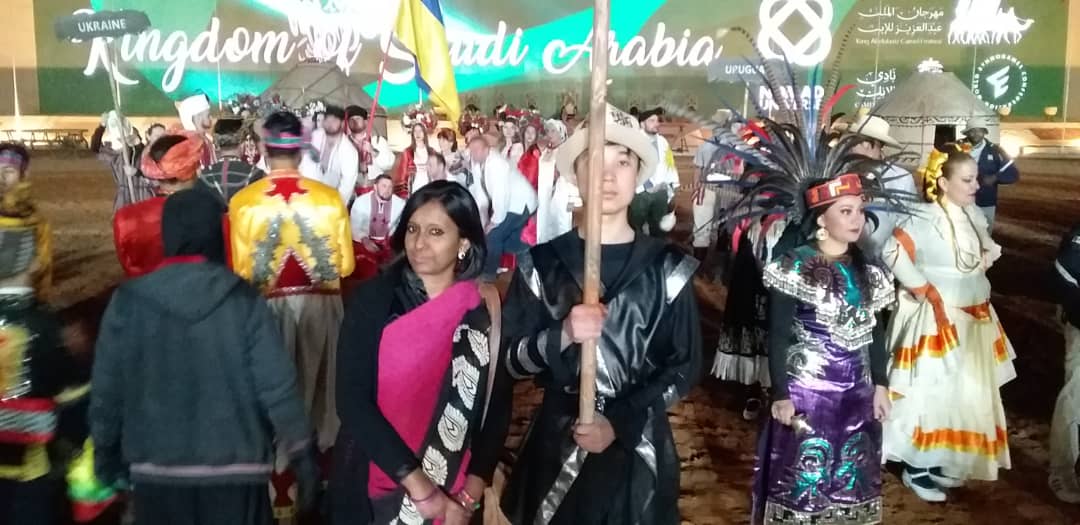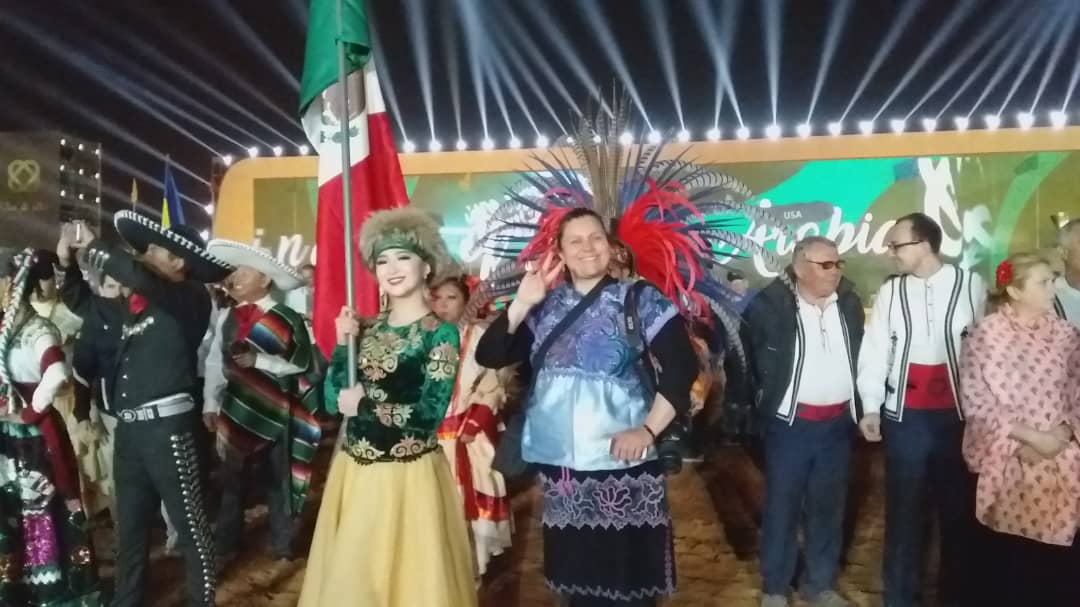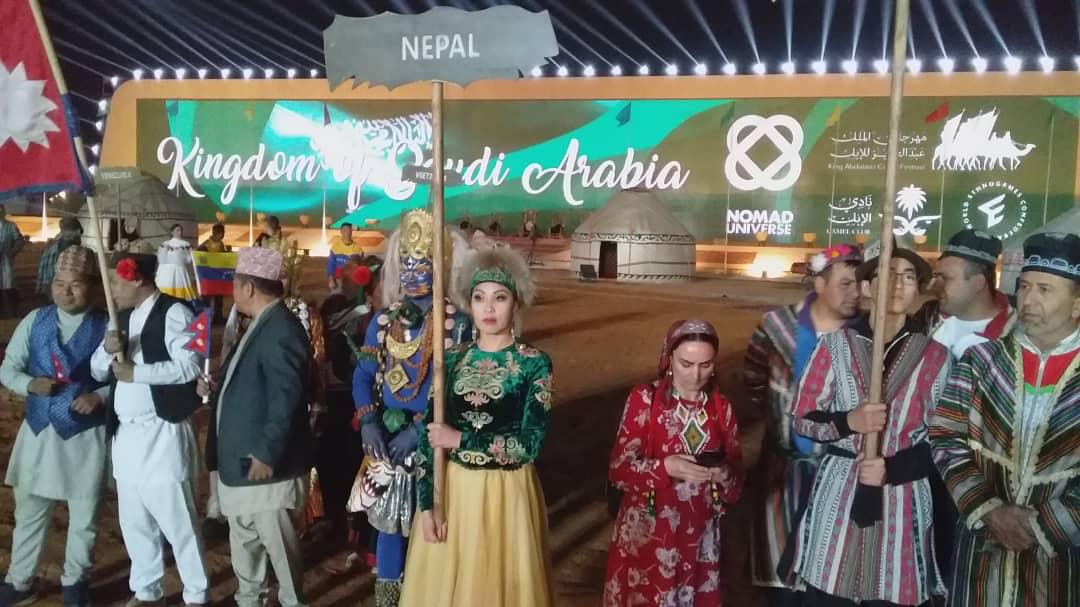 15th March, the day of opening ceremony. Yes, we are somewhere in the middle of the festival, maybe closer to the end than to begining, but who cares? Because of every day big dancing show it might be even better, that today will be quite different. All sportsmen and performers will go in flag parade, so do not forget to take your traditional national clothes. Today rounds of our tournaments must finish much earlier, but departure from the hotel is same time as previous days. Fortunately, all games are finished before time limit, so we have plenty of time to have dinner. We have to go in parade in alphabetical order of english name of our countries, the signs with country names are sorted in wrestling area, but there is not a line o models, who will carry them. It is up to us. At least five times is checked, whether we are in proper order. We are trying to guess, from which side of stadium we come, wrestling area is on its right side, but we go at the end from left side. Behind the stadium, around us, there is lot of local people too. Some are greeting us, some are trying to find out name of country we are from, some are really excited from so many foreigners. Some have probably never heard of existence of some countries, when then try to pronounce, it is dfficult and to help them with orientation, we rather also say that Bohemia is in the central Europe. Just before entering the stadium we get a Kyrgyz dancer in a nice costume to bear the country sign instead of us. We hold our big flag (hiding my backpack behind), waving, and near the end of stadium we are moving to the sand area. There we stand, until the parade is over. Sign bearers has instructions, so we just follow our one and we leave the stadium again. I ran for the rest of the baggage, locked in the yurt and then we go home. It was nice.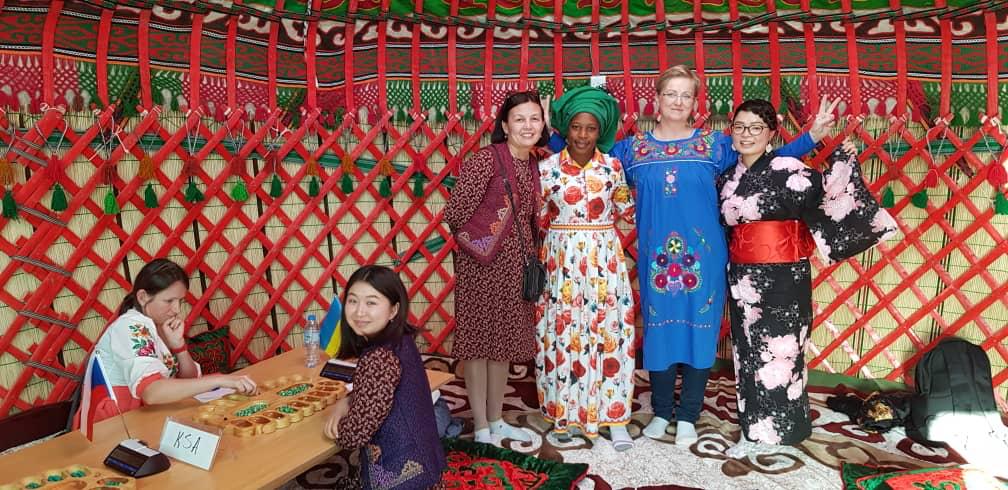 16th March. We shout Harim, Harim to every male visitors quite automaticaly. Playera are speculating, how many points they can have, if they have the chance for money prize or not. I am solving incorrectly writen points and I am trying to find out, what will happen tomorrow, as we have final rounds. Will be prize giving immediately after? I am also speculating on results and I see, that im the absolutely worse case Radka can be at the eight place. Simply some the financial prize for Czech Repubic is 100% sure.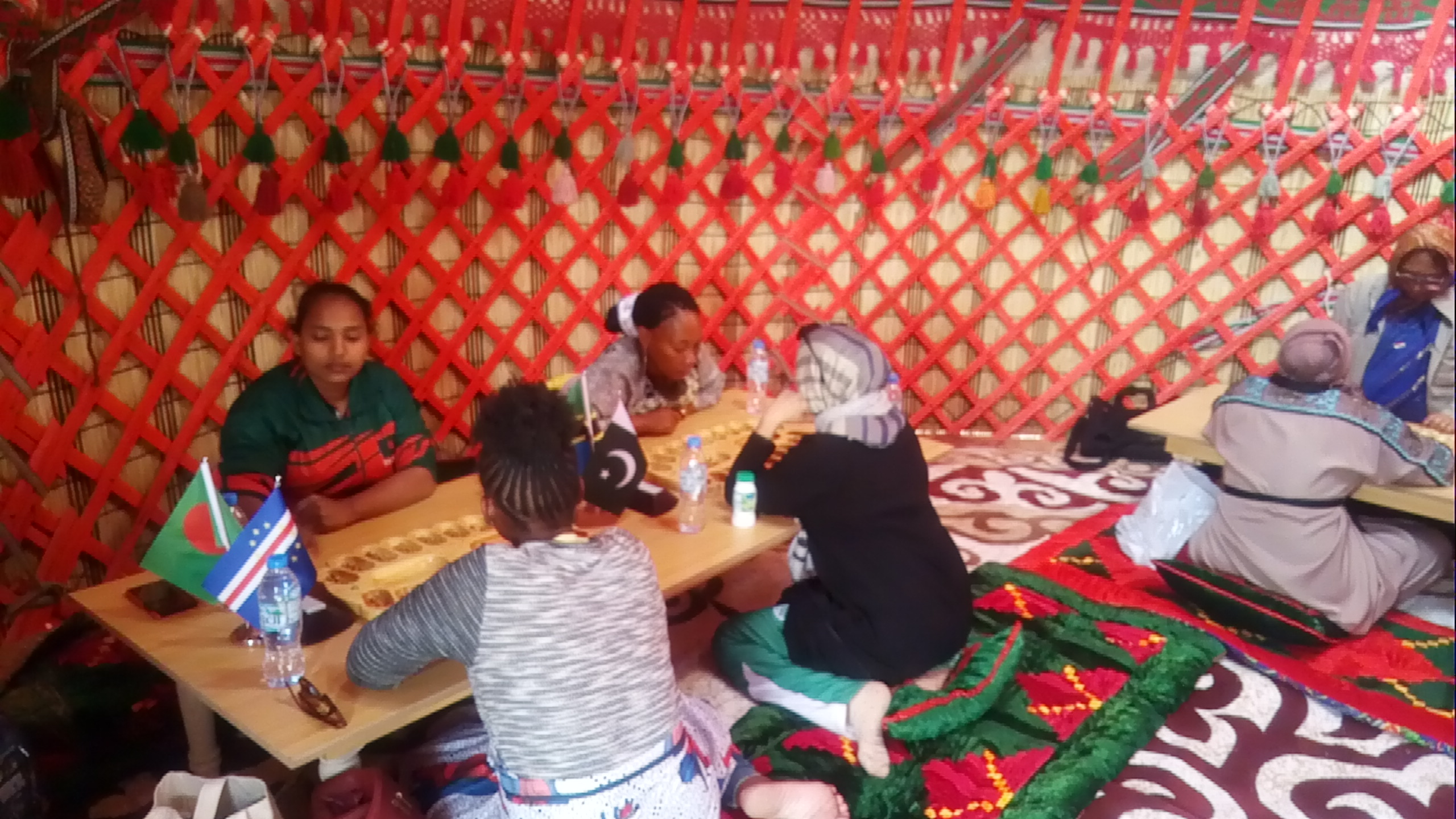 17th March, the last rounds. After finishing Oware we are announcing results. At first ladies, there is regretably not space for men anyway in the yurta, so the only men inside is Kamchybek. Both tournaments wins the Kyrgyz player, so she has to go home with two totems. Well it is not the first time in my life, when I see being first is more punishment than a nice moment. Can you imagine how difficult is taking 2 metres long stick by the plane? As expected, Radka is second in Toguz, and she made it to 4th place in Oware. David of course lost few games because of hot wheather, but never mind, he has 6th and 7th place. It is late, they will give us money tomorrow, so dear prize winners, tomorrow, come here again, nice clothes, passport and this super big certificate with you.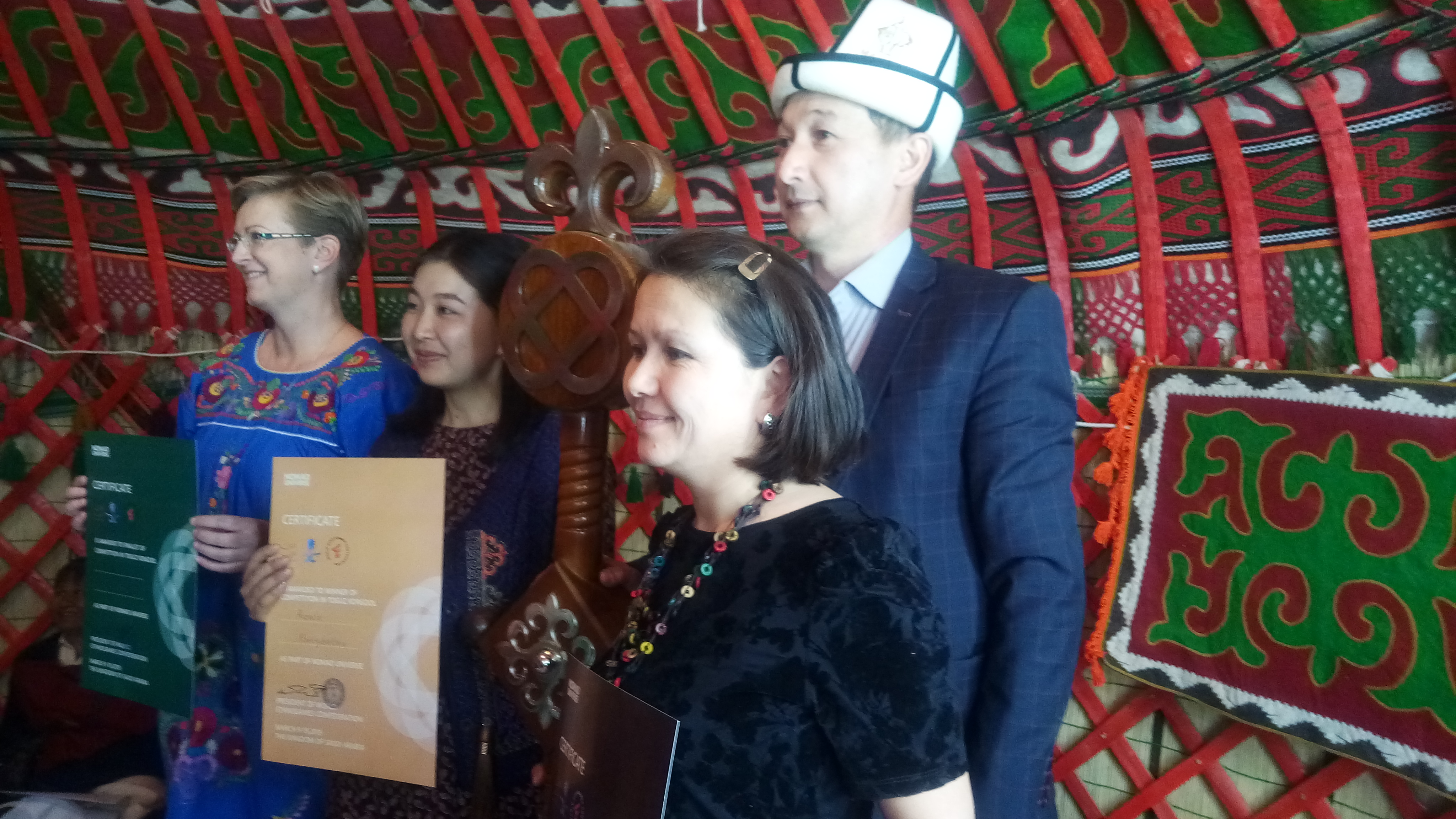 18th March, we are taking care of prize money. They will start with this at 3:30, but there is already long line, and there is about 20 of us. And just one lady, who can give the money, who speaks just russian and kyrgyz language, while our players knows mostly just english. So I am there with every one, saying them what and where to write in the forms. So we are finished sometimes around 6pm. From planned tournament in Omweso we are able to play just one round and not even completely. David and Yehor will finish their game next day in hotel.
19th March. We are trying to finish Omweso tournament, but suddenly, I need to solve things like buying game boards, and later I must go again to event place again so evething is in rush, I am glad I did packing early in the morning. I cannot see the closing ceremony, our flight is 4am, we will leave the hotel around midnight. So I just quicly do what I need and I go back by bus at 6pm to hotel. Most of us will be in the same plane, so reception is full of people and suitcases. In bus people are singing and dancing, and I am saving my hat in the last moment from another try for joke - getting small coins for singing. Music is not a problem, but why it has to be so loud? My stomach is moving... Again the giant plane, change in Dubai. This time we use the inside car services. We find our gate, I am putting David to some seat and I go to look around to find out the nearest toilet. Even when I am back in few minutes, David is not on the seat where I left him. And I do not see him. Well, he was not waiting and was going to do his search. But I do not see him even when the boarding starts, even when boarding is near the end, when we are in the line and in the plane. Where is he? He should be behind us, but his seat is empty. We are leaving in few minutes. At the end I rather say this to the staff. But I am going through the plane too, so I find him on unexpected place. So let's fly, start permited. Welcome in Prague. Festival should be repeated every year until 2030, if they keep board games in the program, some of the Czech players will be interested to come. Even with lot of difficulties, it was interesting experience. We would like to thank to organizers for nice event, new experience with live in desert and for getting many new friends.