Nice time at the World Nomad Games 2016, little time for some trip around, a slight improvement in result in the tournaments, and an unpaid money prize - all this together led to the decision to go to Bishkek before going the Astana World Championship. All the time I am thinking about one or two days in Bishkek, then getting on the plane and going to Astana, but at the end comes an offer that cannot be refused. We have something like a small Olympics at Cholpon Ata, a team tournament that only takes place every four years. If you want, you can come with us. Then we go to Astana together. At the same time, there will be a few other sports that have been at the Nomad Games, at least you can see it all ... Kamchybek writes me. So I wonder how to arrange it and finally take 14 days holiday, buy tickets for a round trip - Prague / Bishkek, Astana / Prague, arrange a lot of things and 26 August afternoon I board a plane to Bishkek. I do not fly with Turkish Airlines this time, but with cheaper Pegasus Airlines, so no video and location tracking. However, due to the shortage of time for training, It is more positive, despite the slight overweight of my baggage, I can carry a board and balls and basically I use it all the way for training. At the end, hand luggage is not measured at the airport and it is allowed to have one personal item, like small handbang - this is how I remember it from my trip to France with WizzAir, so I make sure that this also applies, because I really would not like to leave the board at home. So I enter the deck with about 11kg of load, for sure spread to 8kg hand luggage, 2.5kg in pockets + 1kg bag with boards. I have an entire triple seat with a window position just for myself and all the way I explore different openings. Food and drinks are paid on the plane, I have my supplies and I have no taste to eat at all anyway. A stopover in Turkey at Sabiha Gokcen Airport and an interesting finding that most flights are from Pegasus. I buy water for one euro - the airport is just as nice as Ataturk, toilets are available at any time (just Turkish), not like in Prague, where you have to walk through the gate not later than half an hour before departure and then you can just sit and wait for boarding. Drinks that you buy in transit can be taken aboard. The second part of the flight is already in the dark, I sit between a young pair of Kyrgyz, I take out the board and finally teach the girl the rules and play with the young man strongly unbalanced game - he knows the rules, but probably he never played a game. So he does not want to continue. After a while there is a night mode on the plane anyway, so I try to get some sleep.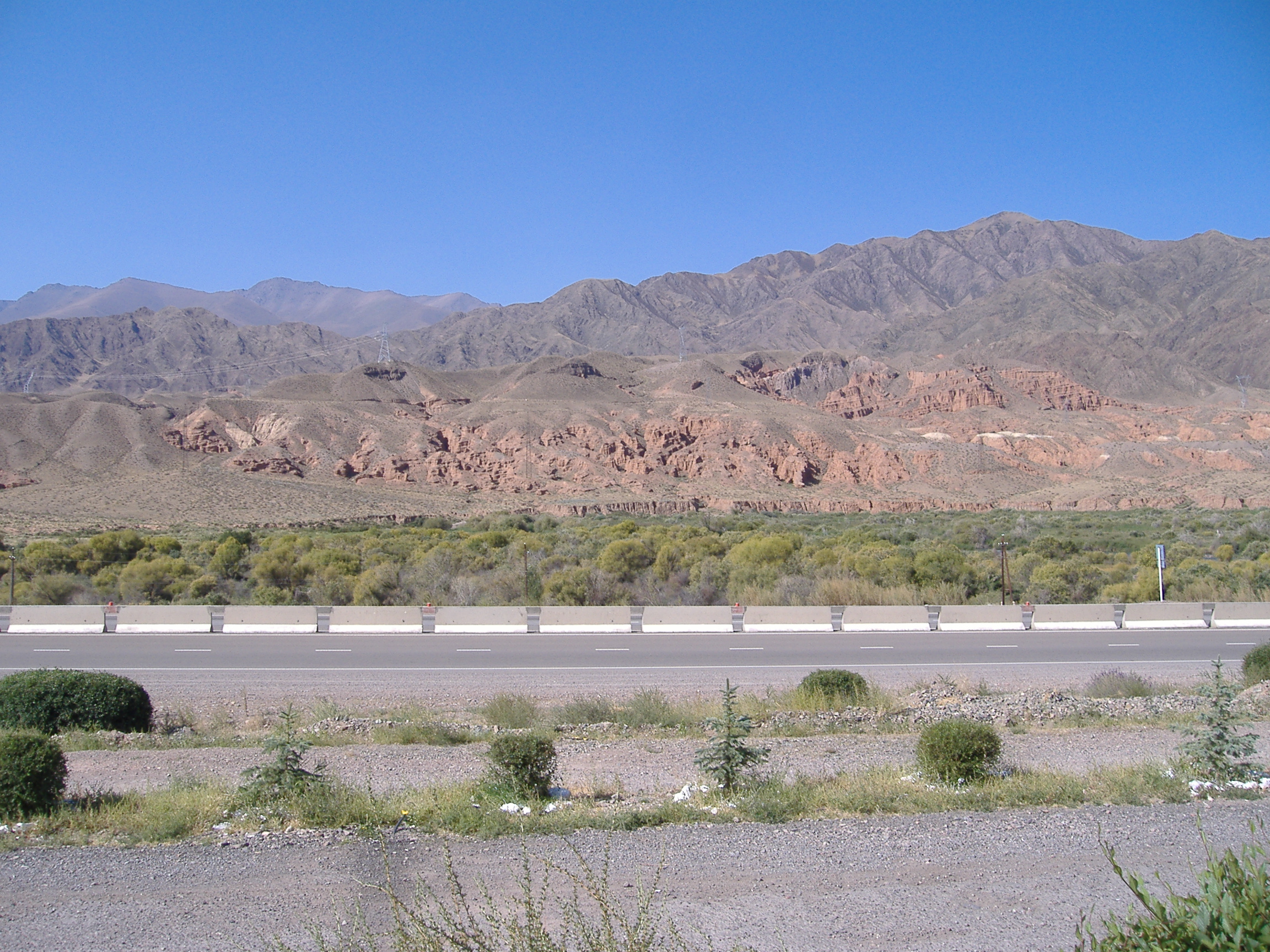 Landing at 6am in Bishkeku smooth, at the airport I have to wait for Zhildilbek, he was in Prague at Deskohraní in 2008. We planned it perfectly, I have a Kyrgyz sim card on my phone and Kamchybek writes and calls right after landing… needs to bring some box. But we have to get it first. I am in the arrival hall about an hour after landing, as expected a group of taxi drivers catches all people and offers transportation. I am looking for Zhildilbek and he is already recognizing me and heading for me. We sit in his car and drive to Bishkek. We pick up a box for Kamchybek and then go the bus station. He shows me a minibus, and that he is almost full, so he will go right away. We make arrangement with the driver that I will pay him when we stop, as I have just big banknote and he has no change. It is not even eight, and I am leaving towards Cholpon Ata. Around ten we stop - the opportunity to eat something, use toilet and get smaller banknote. I buy korzhik, that is a big sweet biscuit and water. I give money to the driver and try to discuss place to get off with him. As instructed, I call as soon as I see the Cholpon Ata sign and give phone to another passenger, which then guides the driver to my exit point. Well, Kamchybek could tell me that I should simply say the name of the hotel, and that the driver would drop me off somewhere nearby… unlike in the Czech Republic, where the bus is going from the railway station to the railway station, here you simply say where you want to get off. And you can get on near any sign saying STOP. So it is like our stop on request.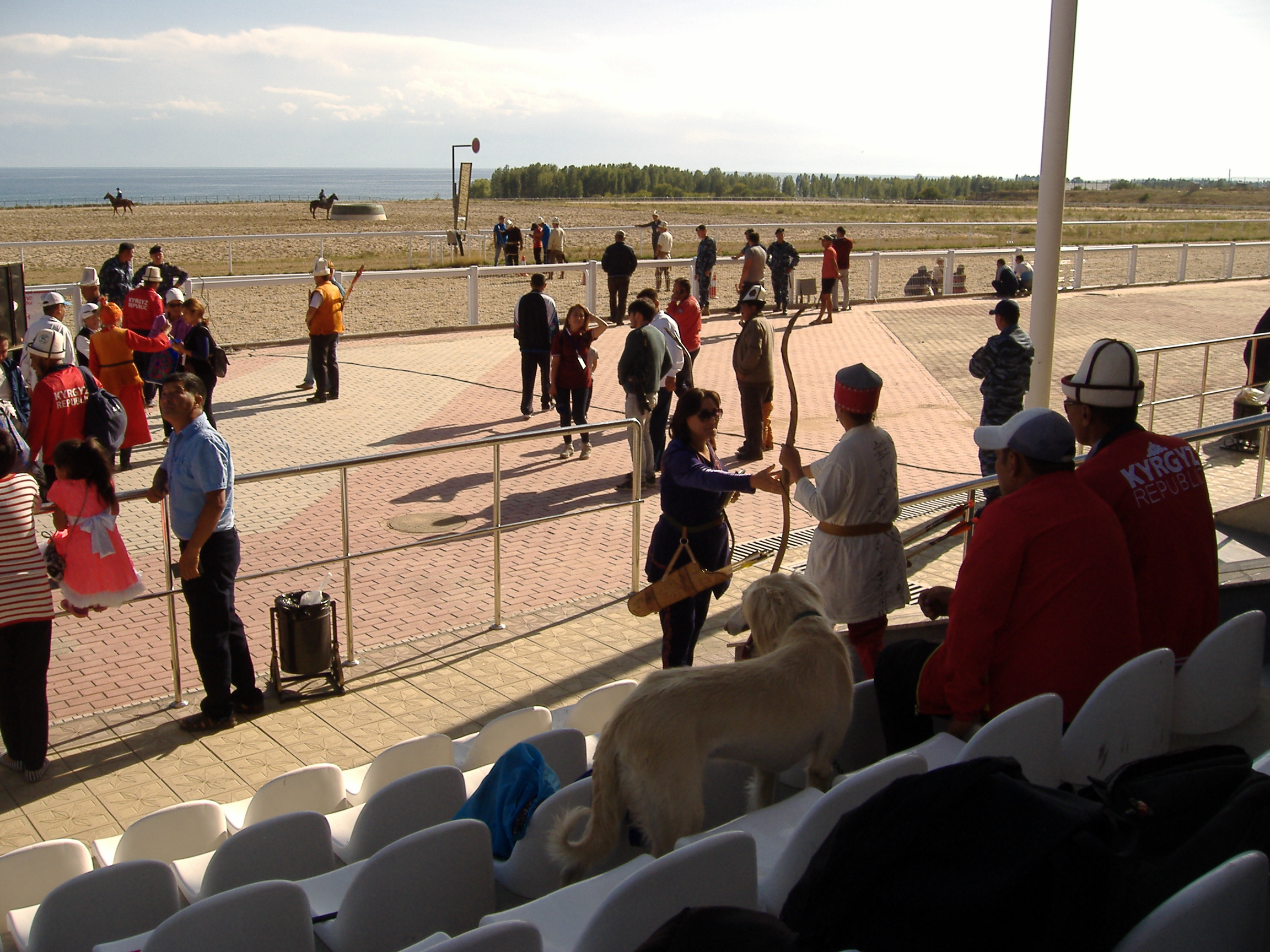 I'm going to check in, I only have about half an hour to unpack and relax before lunch. After lunch there is another round of the tournament (the tournament started before I arrived), so I go to watch it. I recognize the room, it is a theater hall where the Asian Championship was played in previous years. Just like last year's nomad games, the room is equipped with cameras, so the most interesting games on the first boards can be watched in the next room on huge monitors, without making the players nervous by watching the game. Kamchybek installs the box I did bring hem and we are all glad that it finally works. After today's round of the tournament I play two games with Bektur, and then Kamchybek takes me to the stadium, there should be greyhound races and archers, but we can only see the announcement of winners between the dogs. I have the opportunity to shoot from the bow, but I have not put enough power into it and the arrow ends far in front of the target. Well, it is nice to be there again. After dinner, I test the internet connection and go to sleep.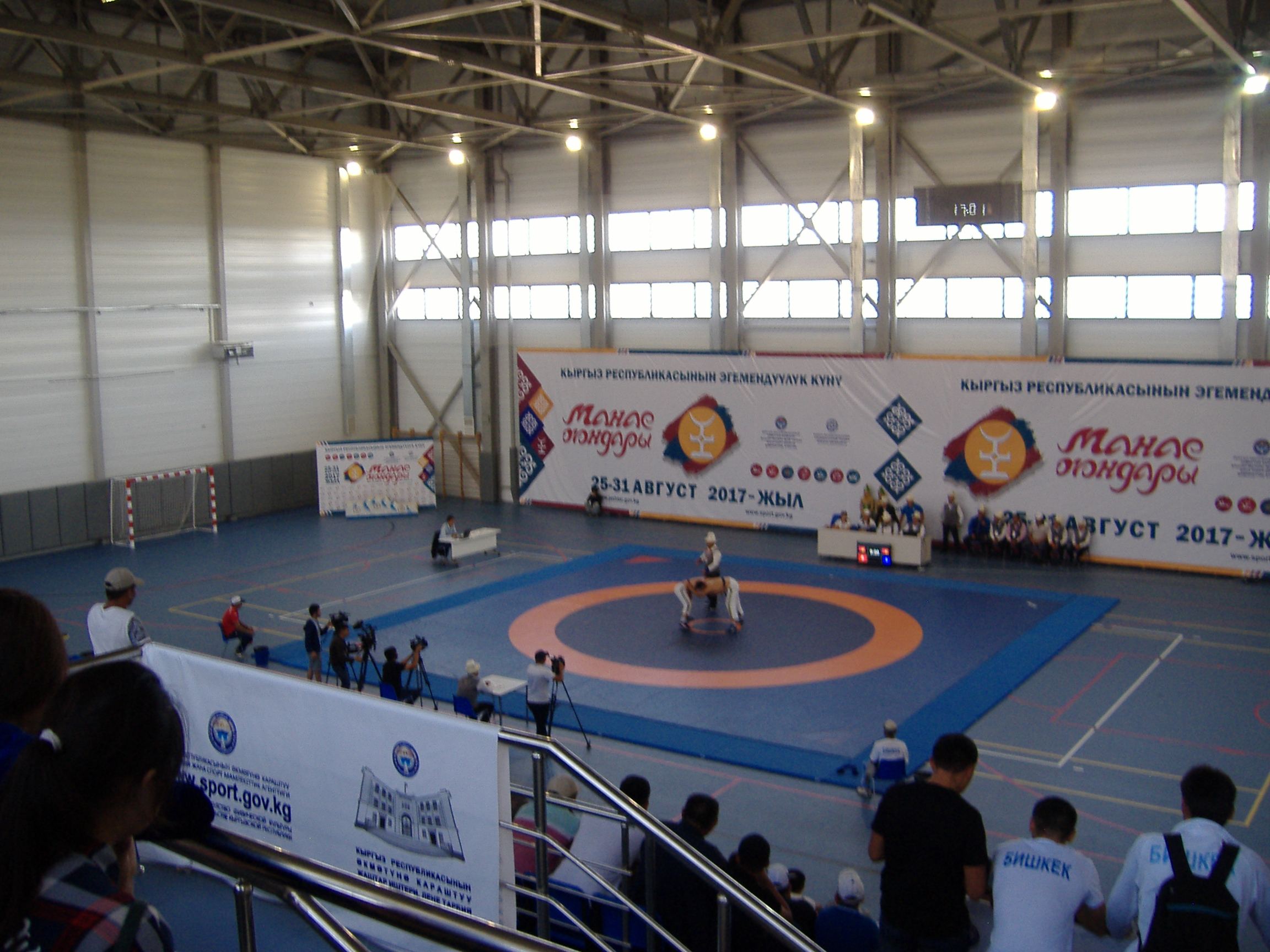 The next day I have a chance to play with the lady who says she doesn't know much, but at the end she was ninth in the tournament. I lose both games, I do not play to the fullest, I rather look if I would play on my turn the same thing that my opponent plays on me. I just overlook a lot of things. I would need a comment at least occasionally, but basically the only thing I get is advice to watch all the pits ... In the afternoon Kamchybek has some time, so he teaches me the basics of how many moves I have. But this stuff I know quite well, which makes him quite happy. However, a few new things are always found and the next day I have the promised examination. Then we go to the stadium again, this time we are going to watch belt-wrestling. On the way to the car and also at the stadium, Kamchybek still shakes hands with someone - I feel like he knows all the athletes here. Sometimes he says he was from Bishkek, he goes to my school and does this and that sport. On the way back I see a grazing cow in the middle of the main road and also a herd of sheep runs across the road. I am attracted to the antenna on the hill. Kamchybek says it is a short walk, about 15 minutes below the hill and 15 up the hill. In the evening I deal with working things, and write about succesfull landing, etc.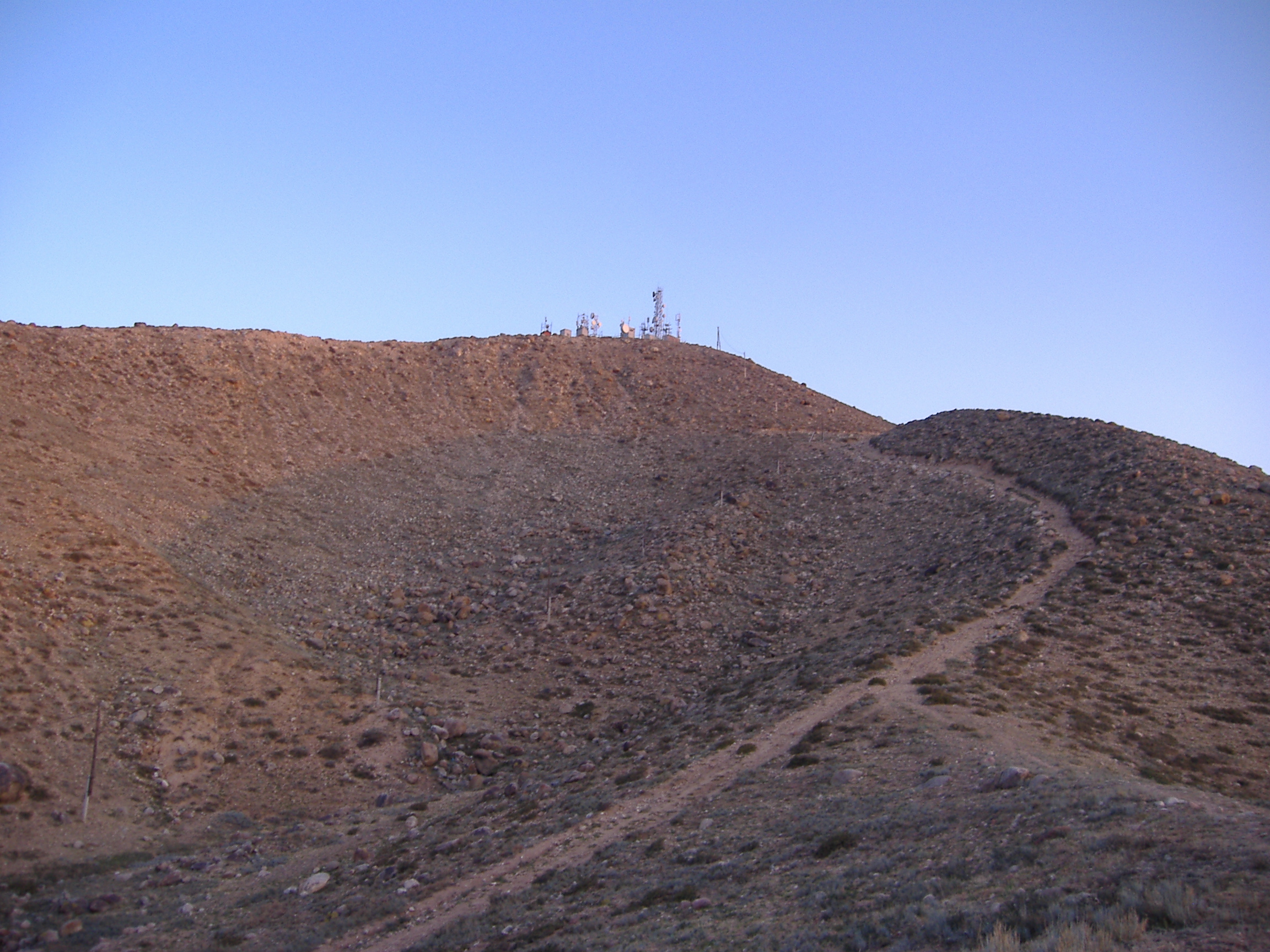 On the 29th in the morning, before 6 am, I am climbing to the antenna. On the way to the antenna I meet a cow on the way. Being naturaly afraid of anything bigger then me, I change a direction a little bit to avoid her, but I almost bump into other one. Then I see a man running down, probably the owner, so I walk around the cows and head up. It took me 30 minutes under the hill, so I shoot the sunrise from the side and then climb up. The mountains behind the hill look amazing, but it would take at least a day's hike. Maybe in a year.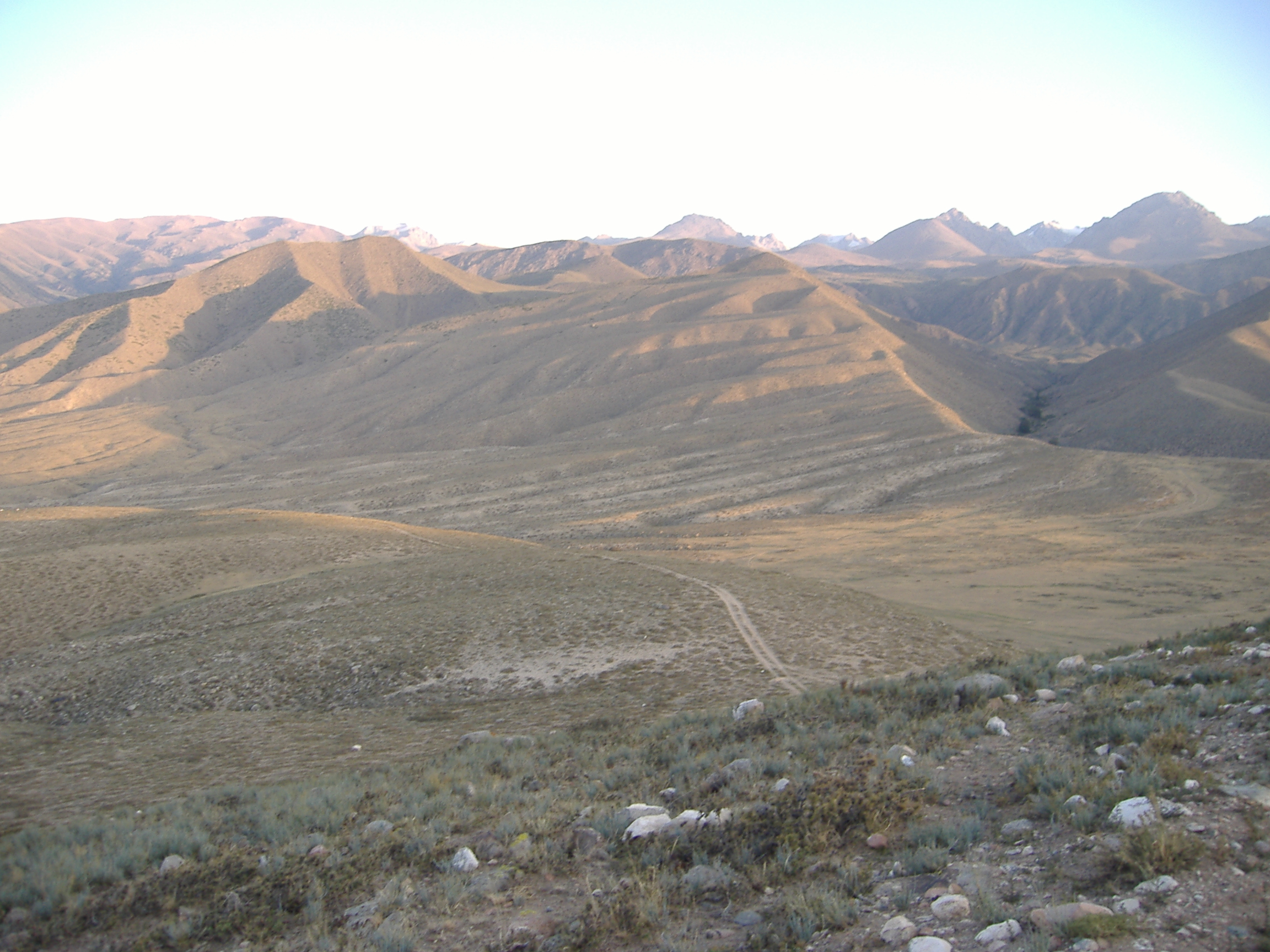 In the morning I watch the final match in Ordo. Ordo is a Kyrgyz sport for seven-member teams. It is played on the playground, where a circle with a diameter of 12m is marked. In the middle you place 70 cubes from the ram's knee and players have a knee bone from the cow, which are throwing on those ram's in order to push ram bones out from the circle. Two teams compete to blast out those bones. Time to play 2 hours. And at the end of game, the captain is trying to get one little coin outside the circle.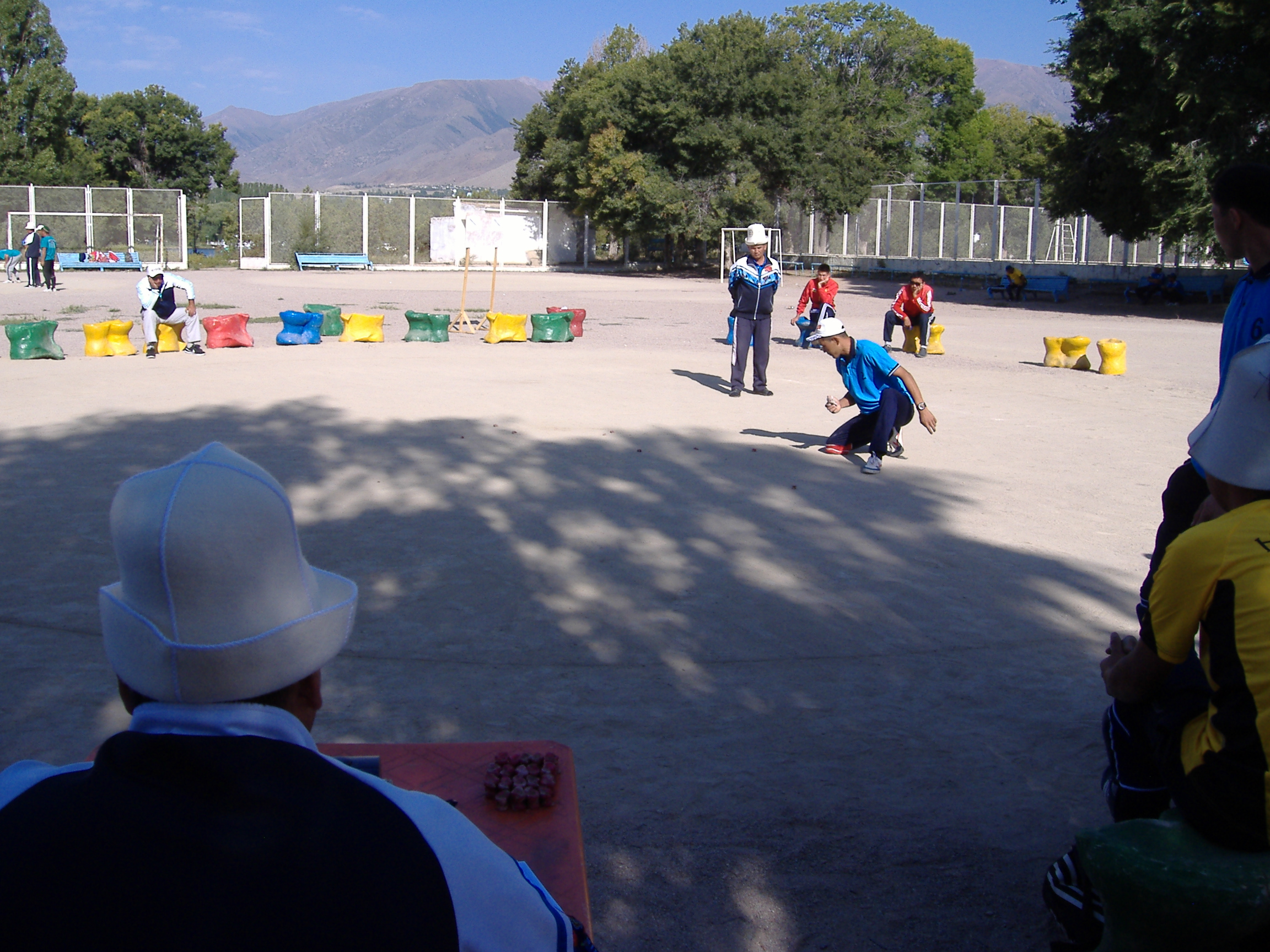 In the afternoon begins a new tournament in Toguz, knockout team competition. Girl in a white vest asked me if I can lend them my board, because they did not take enough boards for their teams. Well, the judges do not like it, so the girls have to wait for other teams to finish and borrow the board from them. In the evening we play mainly Bao, because I showed the game during the day and it looked interesting for others. Two games of toguz played with a girl from the Naryn area are not going well for me, but I taught them again Yinsh and Bao. The Internet connection does not work, so if I do not play Bao, I do my homework - how to capture 8 out of 12 and 10 out of 14. At the same time, I draw out the simpler versions (like 2 of 6 etc.) and see how this it works with and without Tuzdek.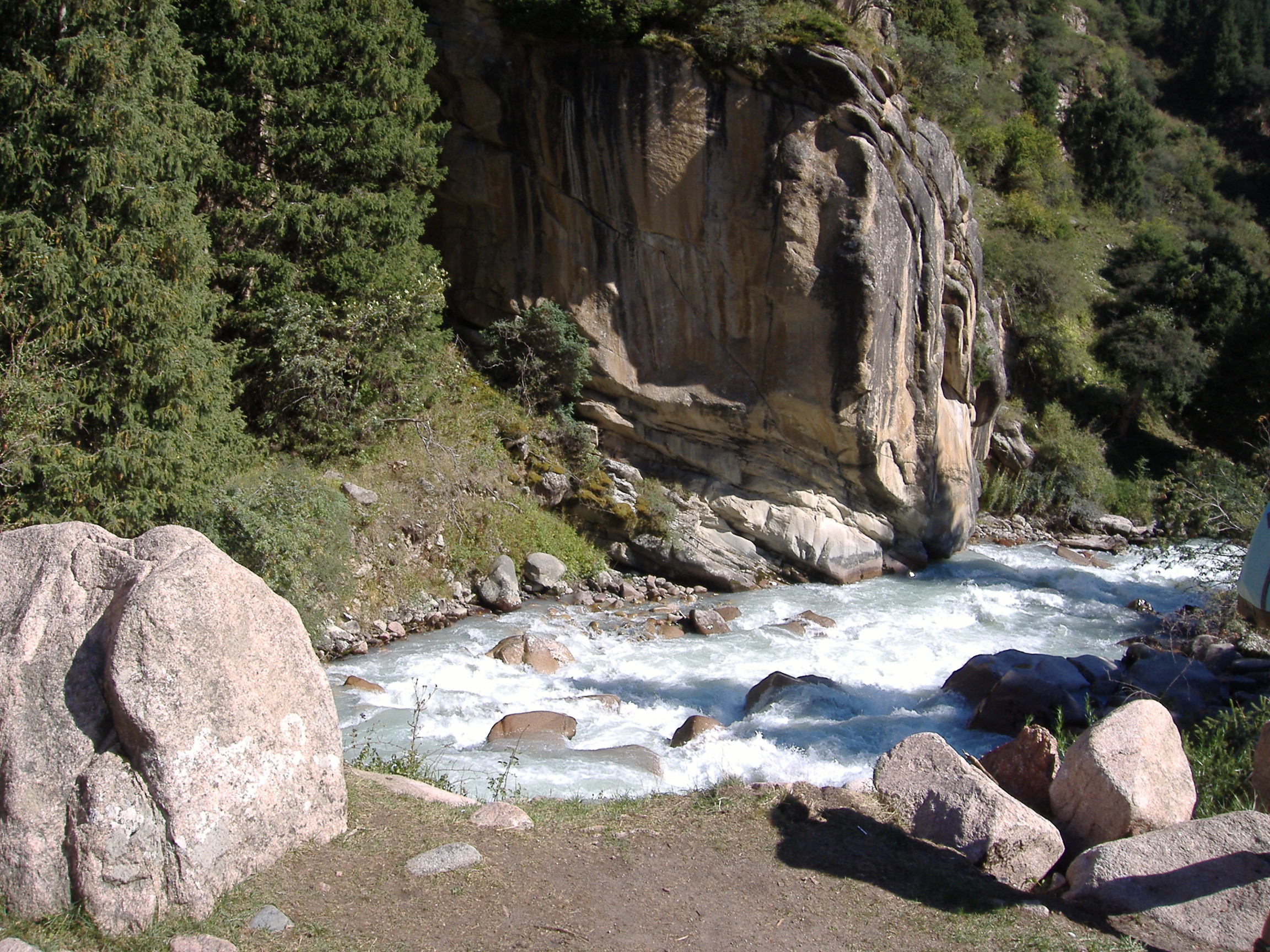 On the 30th morning I go exploring the city, and in the afternoon I go on a trip. Throughout the complex there are several travel agencies offering trips to the surrounding beauties. I choose an afternoon excursion to Grigorevskoye valley and to the hot springs. Departure at 13:30, return at 19h. At the end we leave after 2pm, but never mind. After 20 minutes we change to the second bus, which came from somewhere in the opposite direction. After some time, the road ends, and we pass through a section that is being repaired. It is not like in Czech Republic, where they repair one half and then the other. Here they fix it all at once. Suddenly no asphalt, the bus jumps up until my head hit the ceiling. The travel agent tells us some stories about the local people and places. Of course in Russian. I hardly understand or even try to understand him. We turn left to the stony road and head straight for the mountains. We stop at the honey stall. Possibility of tasting. Also the possibility to hold a falcon or eagle. It is only when I have it on my hands that I know that it is paid fun. Fortunately, it's not that much and it is worth it. We get on bus again and continue to the waterfall. Here is a break for an hour. I run as far as I can and take as many pictures as I can. I am accompanied by two boys on horseback and they still try to force me to ride a horse. At the end, why not try it, last time I rode a horse at high school. They both praise their horse and their saddle, first I look at the softer on a smaller horse, but finally sit on the other, where it looks more stable. The stability is maybe in stretched legs. I stick with all my strength, but it is a nice ride. I am just in time at the departure point, even due to the delay of a few participants managed to drag photos to the computer. We leave the valley and go to the hot spring. I have no taste or equipment for bath, fortunately I do not have to pay the entrance fee, so I try water by hand, read a story about a spring and finally go to the lake. One of the yurts offers a free place to stay. I should try one time... We arrive late for dinner, after dinner I continue working on my Toguz homework.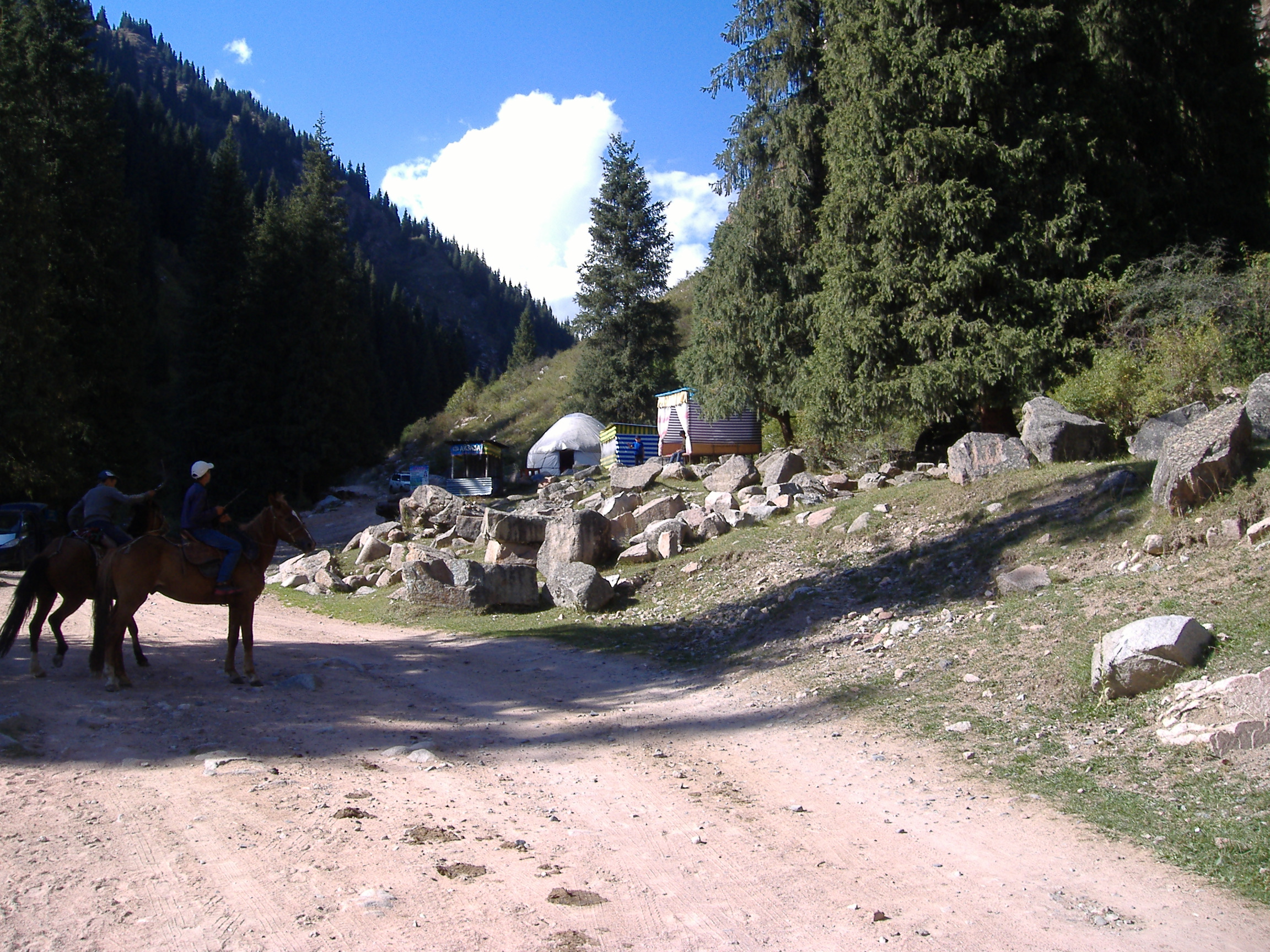 The last day of the tournament takes place at the stadium, where there is a hall for about 500 people. I use it to give diplomas for Quatino tournament, which they played in Pardubice. First it looked like someone will bring our lunch to the stadium, but in the end we go back to the hotel for lunch and then we go to the stadium again. The prize giving ceremeny is with the participation of the Minister of Education, Sport and Culture. After the ceremony we return to the hotel, pack and at 16:30 departure to Bishkek.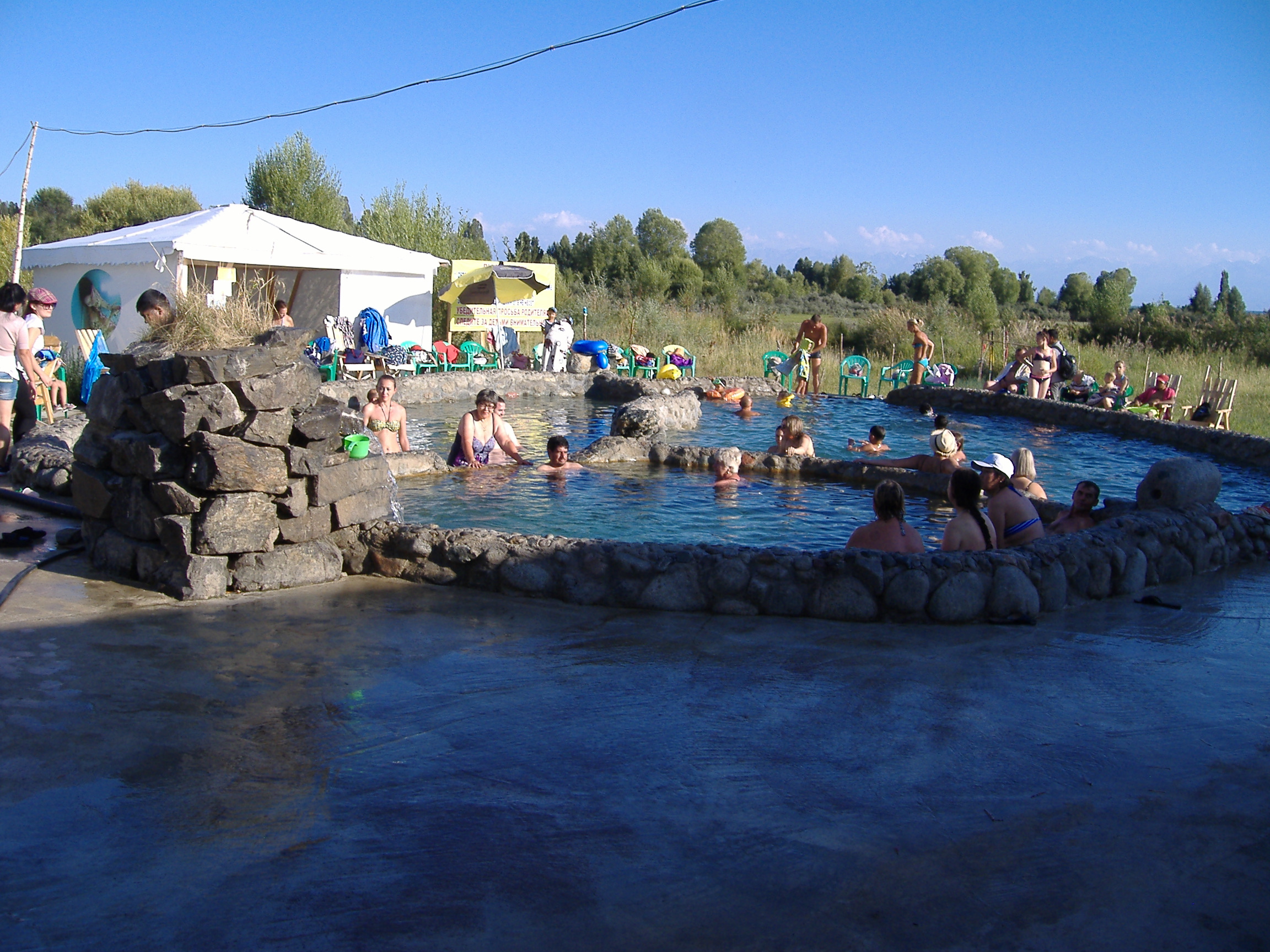 31st August is a public holiday and all hotels are full. Aydana does not answer, so there is nothing else but to sleep in Kamchybek school. I will finally try couchsurfing. Kamchybek looks somewhat unhappy that he has nothing better for me, but it suits me perfectly. School is nice. The Internet works perfectly, so I can handle a lot of working stuff. The next morning Kamchybek takes me to the market. I run from stand to stand, buy some souvenirs, a dictionary, a little hat, I just cannot decide for a vest, all of them are very nice. After two o'clock I go back to school. I buy a few things to eat and wait for the team to come. After half past seven we take the bus and head towards Kazakhstan. Still in Bishkek, we stop at some favorite kebap stand for dinner. I confirm all the ingredients, but one is chili peppers which I should avoid.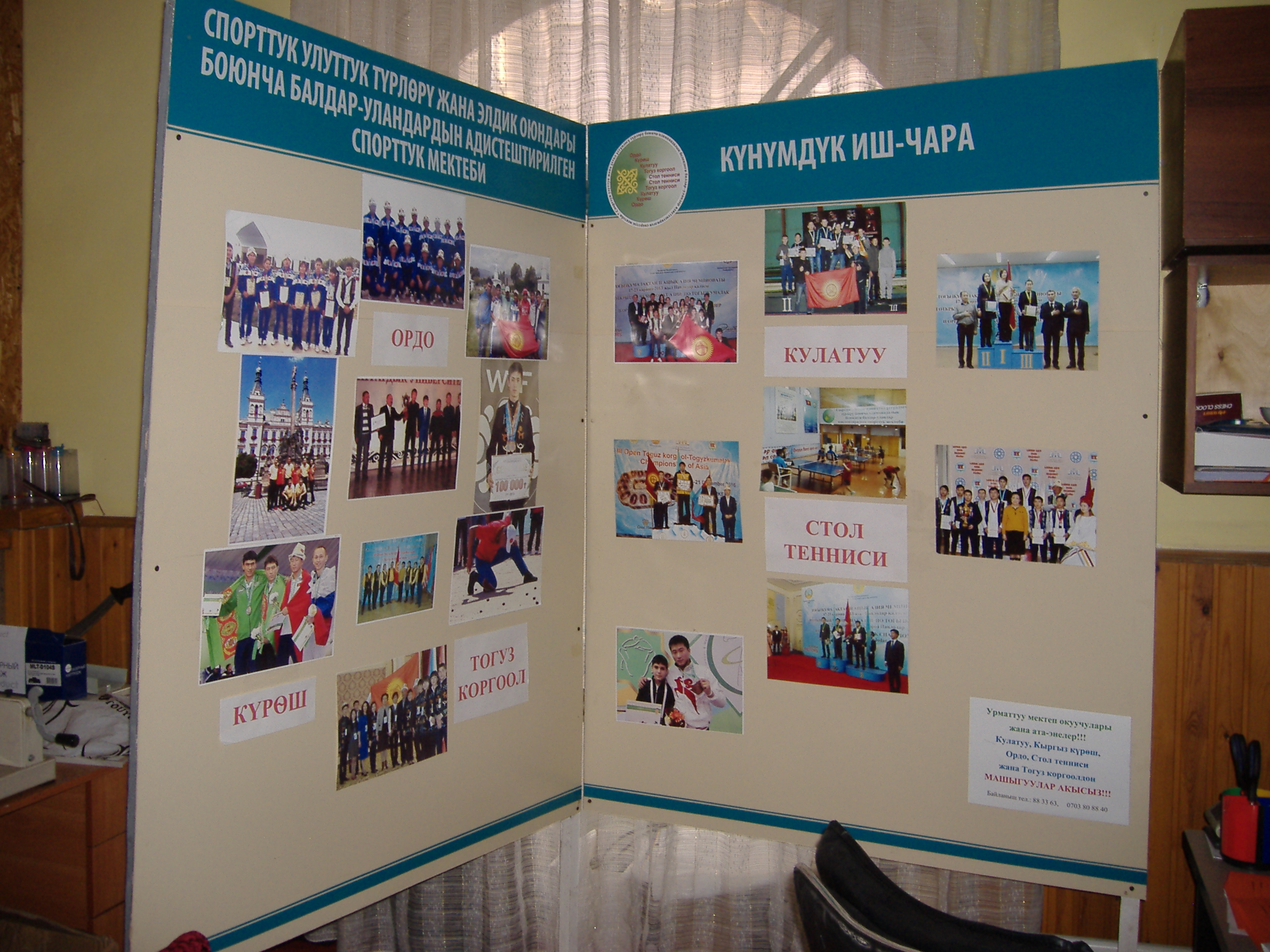 We arrive at the border. It is necessary to get off, take all baggage and walk to check. After checking we get back on our bus and soon we will arrive in Zhu city. From there we continue by train. The train is dangerously long, behind the locomotive is a wagon marked with number 26. In each wagon there are 9 coupe with four beds. Our wagon is in the middle. In front of each wagon there is a seller with a pram full of drinks, melons or other food. Buy before the ride, there is no dining cwagon on the train. I have big supplies, I do not buy anything. Departure. The train is warm enough. Obviously, it was over 30 a day ago. We get bed linen and towel. I go to sleep. Others talk for a while and still sleeping in the morning. In the morning I do not feel the best, I do not know if it was caused by the peppers or something else, but afternoon, I am fortunate quite ok. Despite the difficulties I train as I can, especially I replay games and repeat the most frequent openings.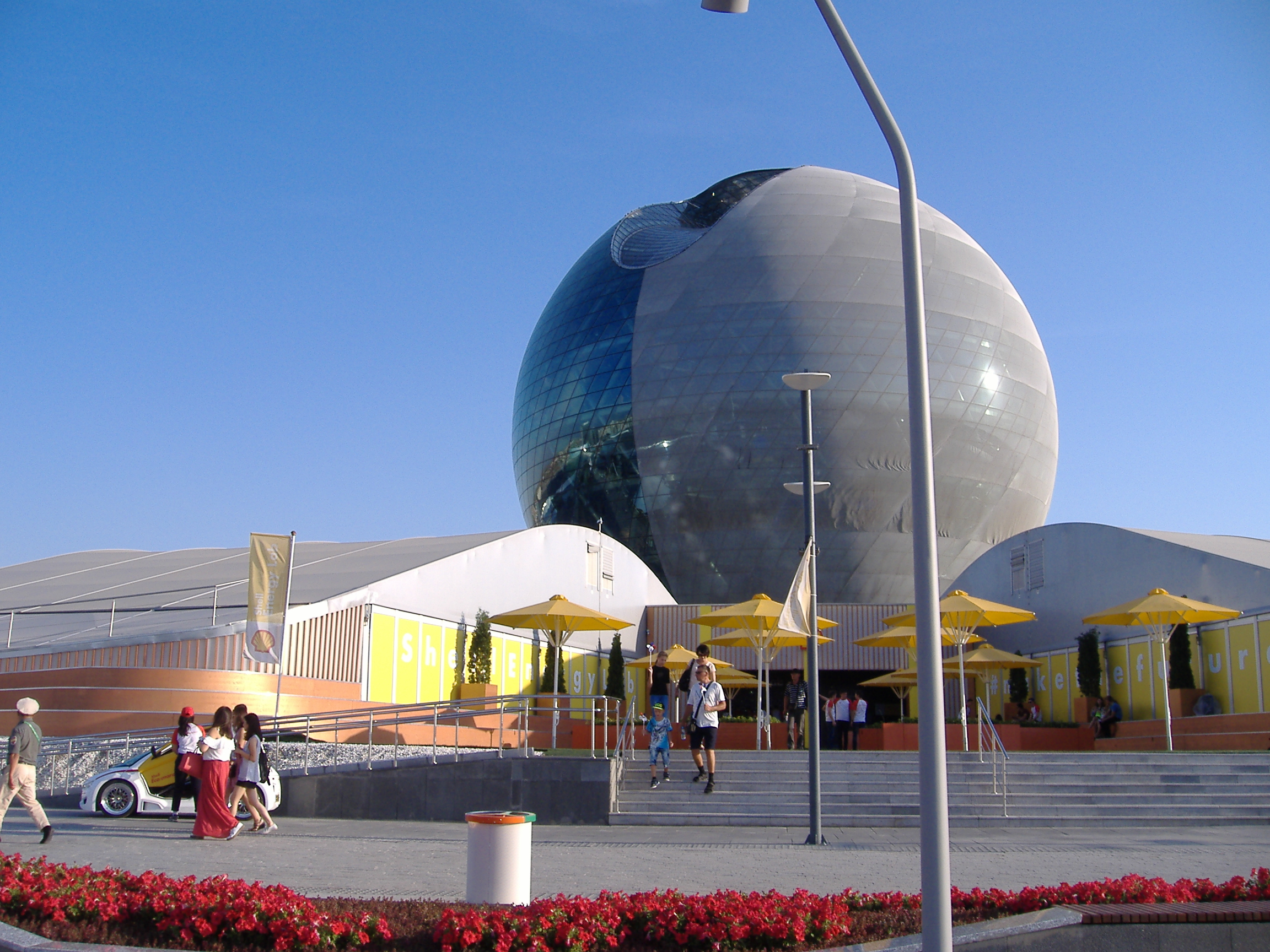 Ainur is waiting for us at Astana Station. We get on the bus and go to the hotel. I just plainly say I am disappearing at the Expo as soon as I can. The others will eventually go there too, but much later, for an evening ticket. Just before they leave, the reception calls for lunch. Well, it is no harm to eat. Soup and spaghetti disappear quickly inside me and finally I go to the Expo. There is a bus coming from the hotel. Finally inside. The very first expositions are absolutely amazing. I decide not to take pictures and just enjoy. I only have about three hours and I want to see everything. Somewhere people are waiting in line for entry, so there I do not go. The sun is leaning towards the west, I guess I really managed to see everything, it would be good to go home while it is still a little light. At the hotel reception we meet with many other players. I heard that Oskar is in trouble again, as he did last year in Kyrgyzstan. He is currently still somewhere in Germany.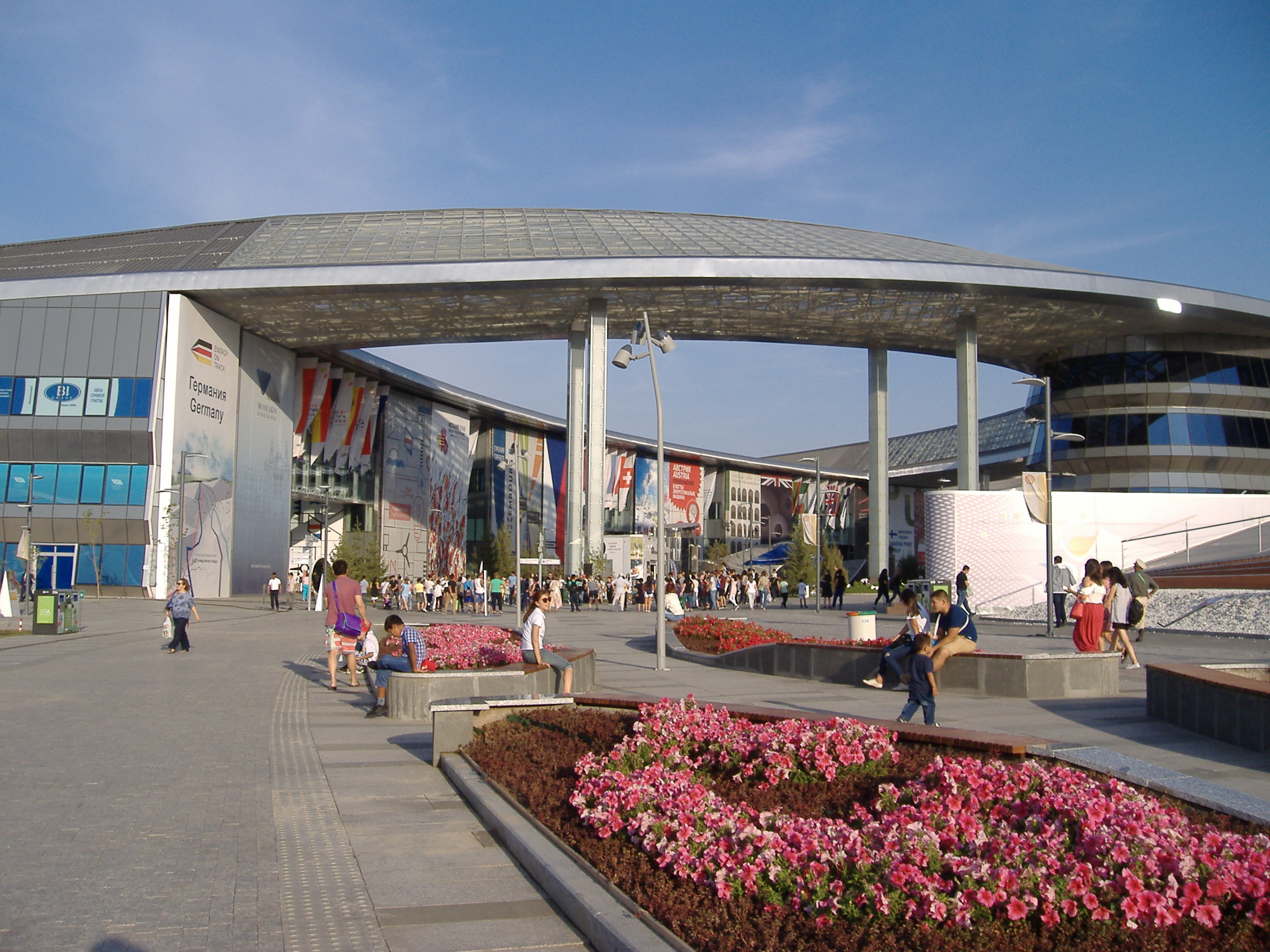 3rd September: The program has changed, at 10 just starts the first round. We will have opening ceremony tomorrow. Around six o'clock the Czech team should arrive, so I am waiting for them at the reception so they know what, when, where, how. We go for a quick breakfast, then they go to sleep a bit. The first game, unlike last year, we have not as skilled opponents and we all win. I play with Alona, a draghts master from Ukraine who is here thanks to us. Lunch, for most of my team a little sleep and afternoon games. I got Assel for second round. So after two rounds I have 1 point, the only one who has 2 is Nikita. In the evening I watch the construction of a really huge board. They say it is for tomorrow's opening ceremony.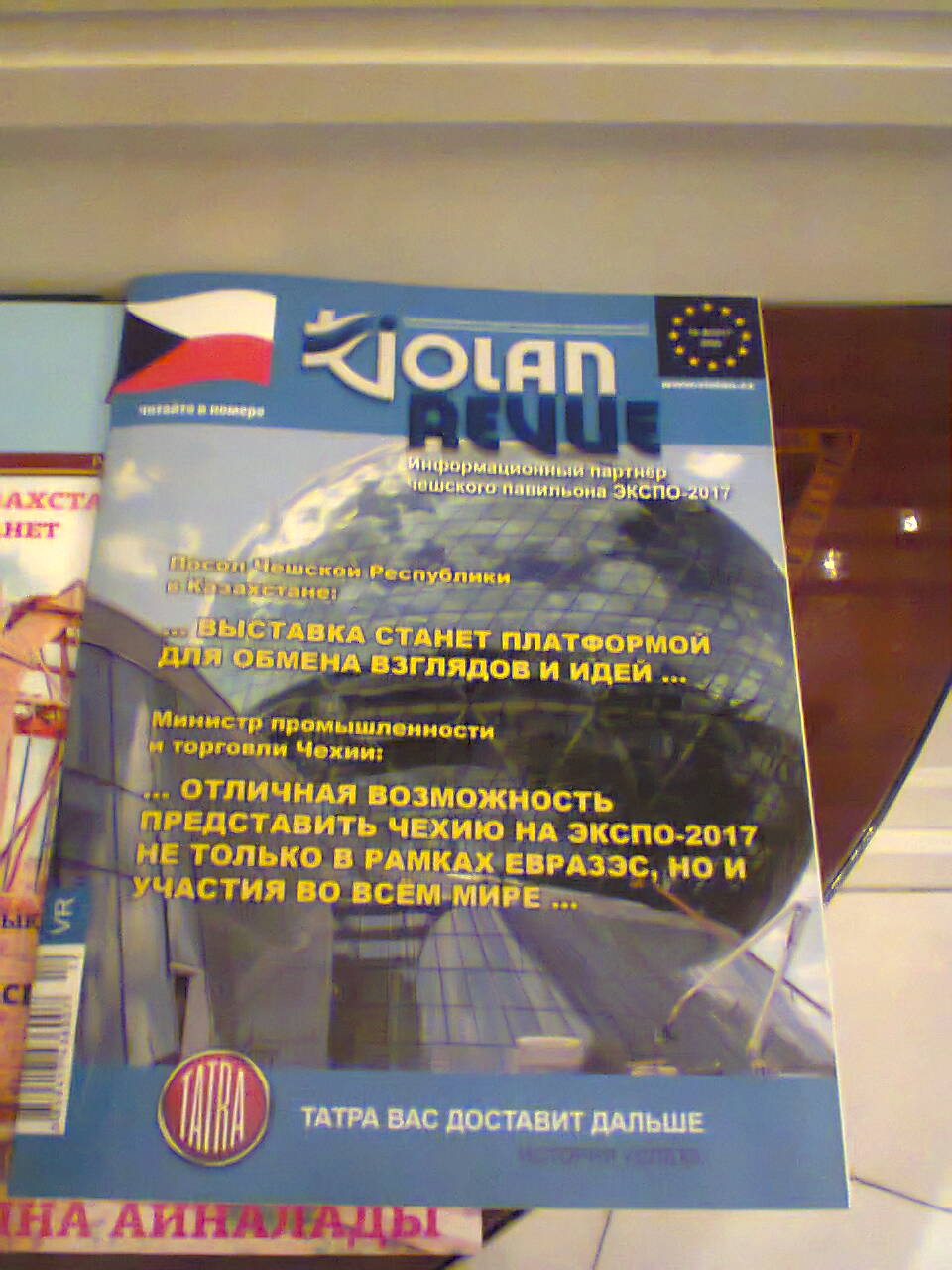 4th September I play the third round with Khuralai from Mongolia. I know she has been playing long and fairly well, but I believe I can win with her. She plays a four opening start and makes the same mistake in the third move as I did in game with Assel, which makes me quite upset. However, at one point nothing works for me and I lose. Lunch break is shorter; I join the other flag bearers, get my girl with a sign, but we don't bear the flags, they are all around the room; Dance and music show, a few speeches, quick change of chairs and tables in the hall and there is the fourth round. I play with Bageila from China. Her husband is a judge here, but she does not play well. I win fast and overwhelmingly.
5th September> For the fifth round I play with Gulzat, a Kyrgyz player who lives in Poland. At the Nomad Games she beat me with an eight opening, this time she starts with two. I really want to win this time, but it is not going well. After five rounds I have two points. Two more and I will be about the same place as in Almaty. I play the sixth round with Glenda. She is one of those who is trying to get better players for some training so that the games between kazakhs, kyrgyz and the rest of the world are at least a little equal. I consider the game a clear win for me, but it is definitely not easy. At the very end I see that she has too many balls and I have few moves. I see I can get only a draw and play it so, but Glenda does not see it, does not capture, but make other move and so I win. Uff, that was a tough game.
6th September, Last round of Toguz main tournament. I need a point. I play with Luisa from Uzbekistan and I keep the lead all the time. The fourth point is at home, I am ending in seventh place, ahead of me 2x Kazakhstan, 2x Kyrgyzstan, Khuralai and Gulzat, but the two only on secondary criteria. In the afternoon there is a blitz tournament, finally Radka comes in. But the pairing is very bad for us, we play together in the first round. In addition, in the game with Khuralai Radka claims the opponent's move and the game is played again. Radka with four points finishes in fifth place, me with three in eleventh. In the evening there is a banquet. The tournament ends with a delay, another delay is due to traffic jam. The food is fine, the music too, but I just do not feel well again. It is even worse the next morning. Instead of lunch I go to buy bread and I decide not to eat lunch and dinner for the remaining two days.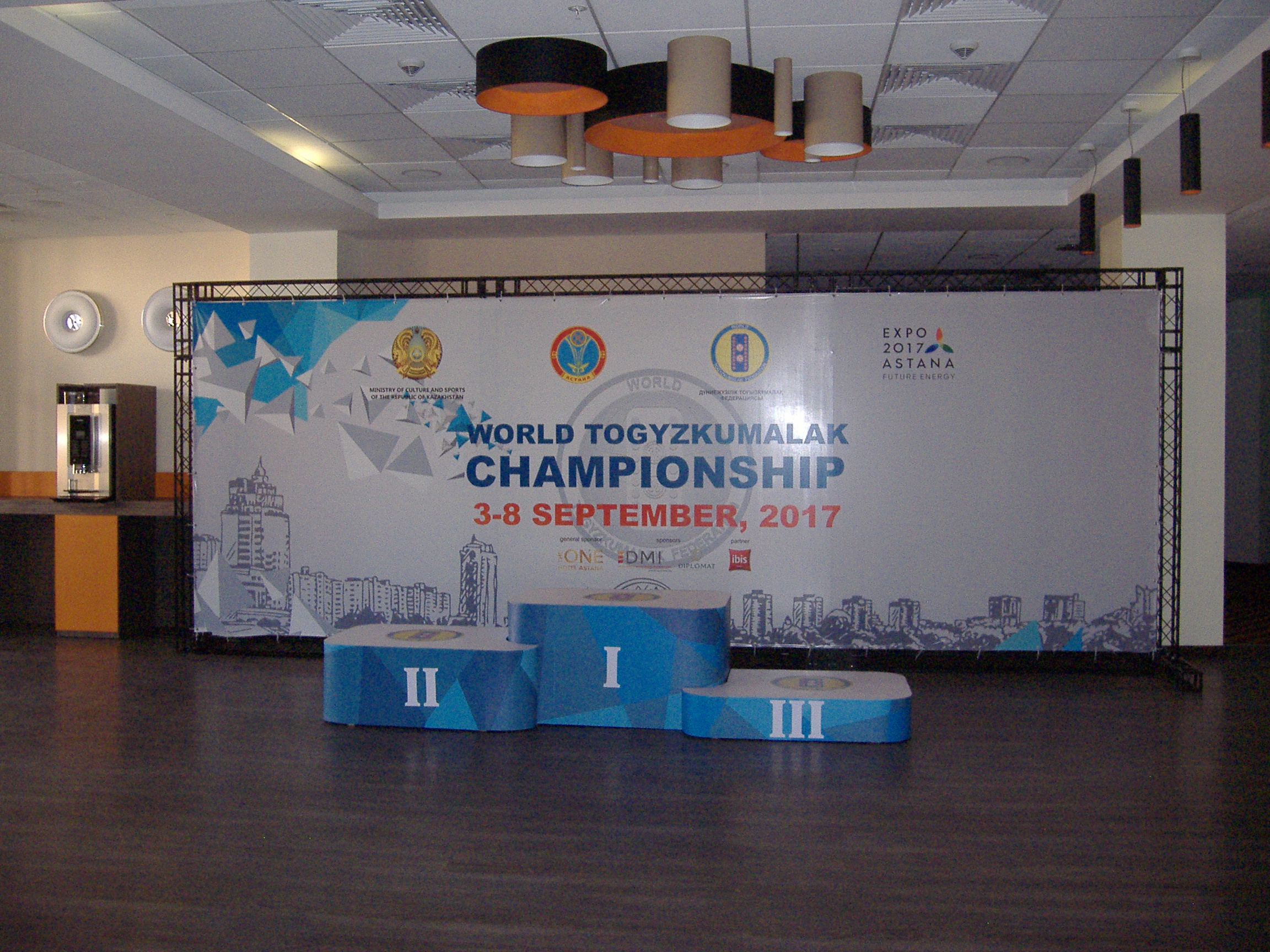 7th September we play rapid and everything is going well, Radka plays with Assel a draw and ends with four and a half points on the fifth place, I am with four points right behind her. In the afternoon there is a meeting of the World Federation. Unfortunately very short. We receive a commemorative medal for our teams and some of the representatives become members of the Federation's management and others are appointed as international judges. I also get an international referee card due to the organization of tournaments in Pardubice. This is definitely better than a medal to promote the game. In the evening there are side events in Oware and Mangala, with really unexpected number of participants - Mangala is played by 36 players.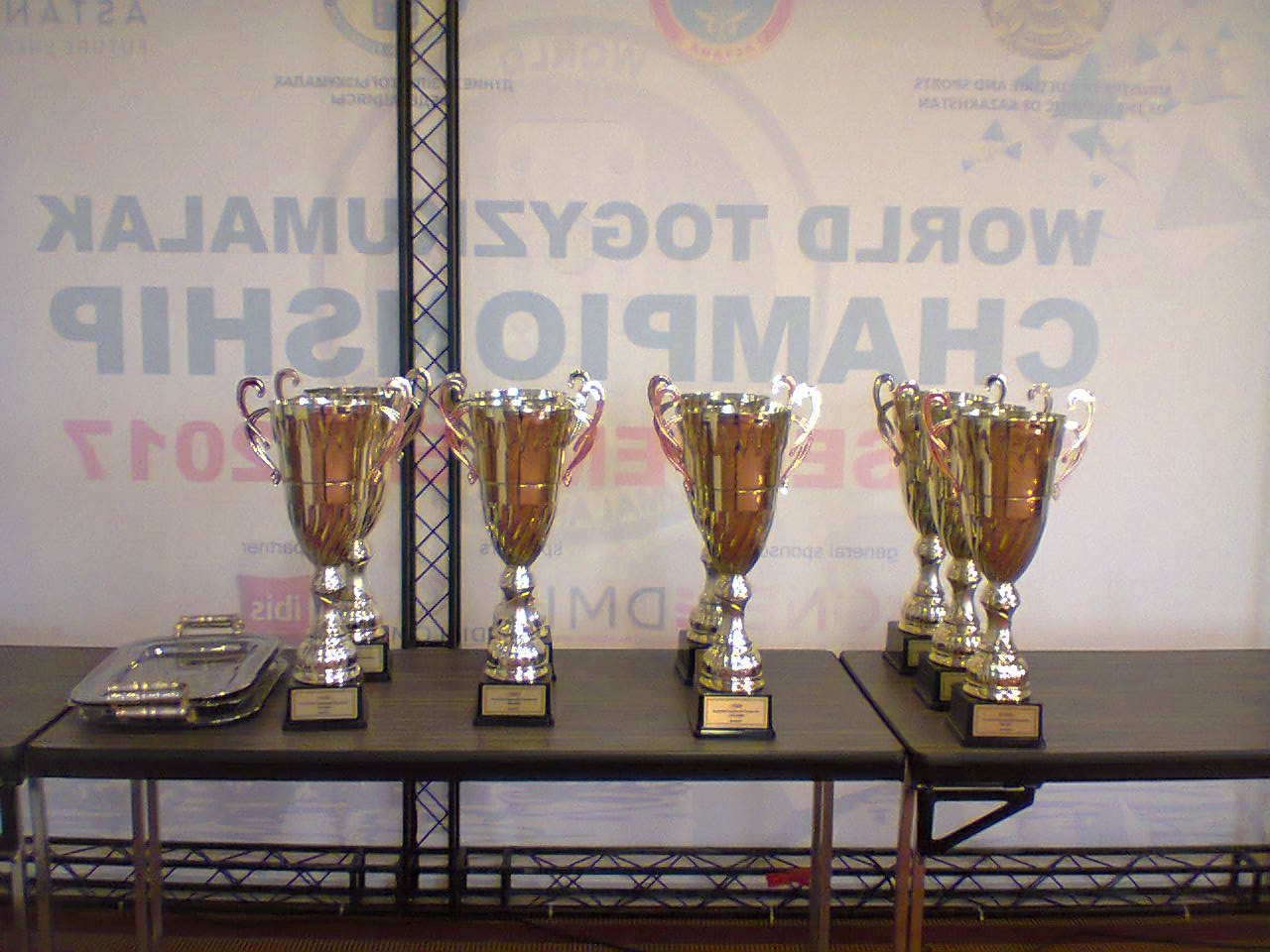 8th September, team blitz tournament. According to email correspondence, they planned 3 people in the team, but we play mixed pairs. And because the rules say that a woman can play in a male team, I form a team with Radka, and we play as a men team. We have exactly the same game results, we lose the first round with Mongolia, then we have no opponent, because there is an odd number of teams. Then we win with England, we lose to both teams of Kazakhstan, and we win with the Turkey and Uzbekistan. Four points out of seven put us in the fourth place. There are lots of funny typos in draw, but just as cheerful as Chech Republic. So we laughed a lot.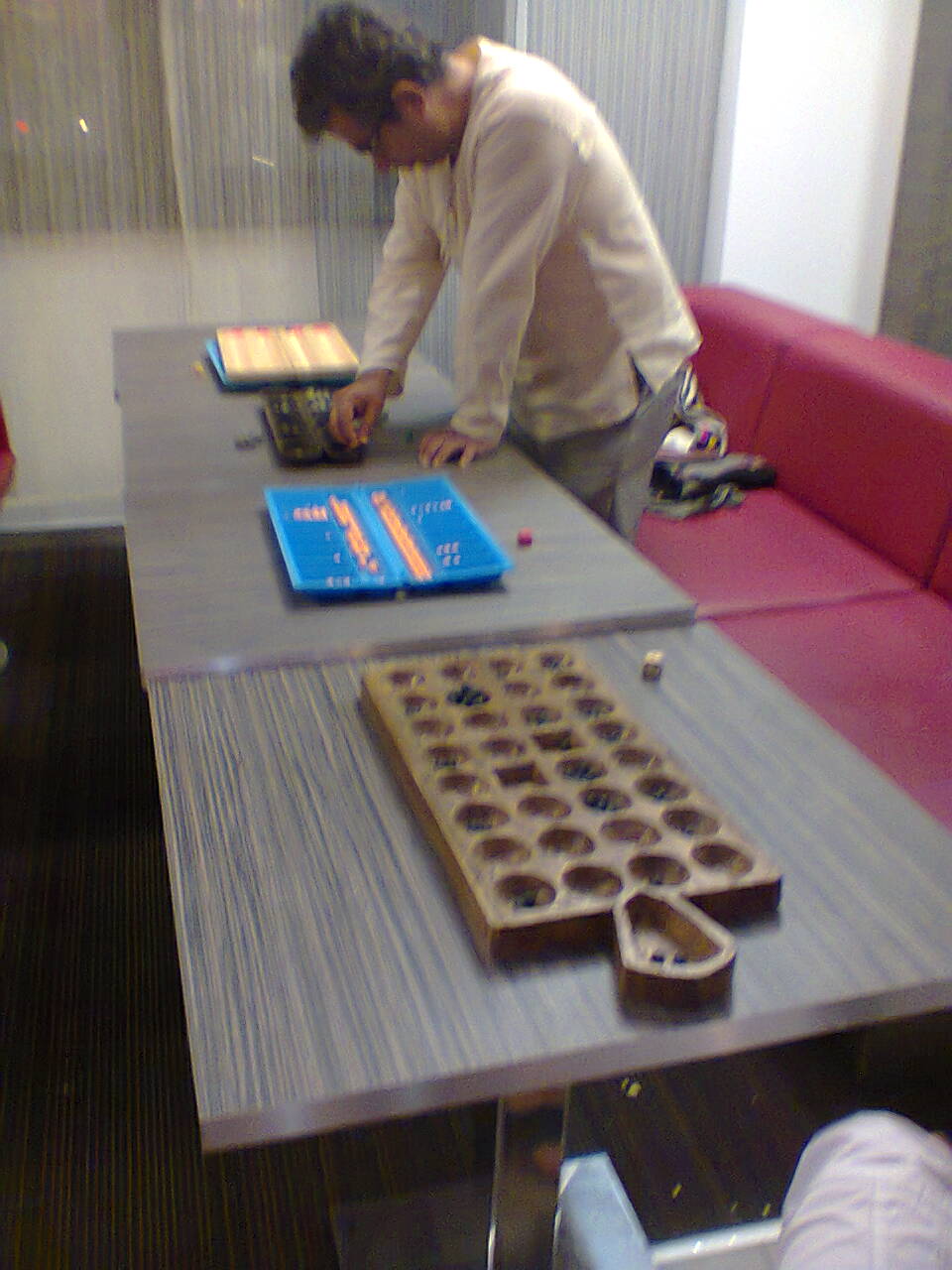 The only thing I did not do yet is a simultaneous multi game with Oskar. Well, I am going to pack. In the evening is the closing ceremony. I watch the preparations, the cups are ready even for the teams tournament, for all thee places - I am glad we are fourth, the idea that I have to transport this huge cup home, quite scares me. I don't feel like I can fit in my backpack. After the announcement of winners is a lot of photoshoots, and we slowly say goodbye. In the last hour, where most of us is ready and pack at the reception hall, we are able to play that simultaneous match. We arrange tables at the reception to play 5 games, Oware, Mangala, Hawalis, Toguz and Bao. We give a cube to each board as a sign of who is on the move. I win quite fast Mangala game, Hawalis is a draw, then Oskar wins Bao quite easily. I somehow manage to get draw in Oware, and Oskar wins Toguz by one the move. It was great, but it's just about time to take the backpack and get ready to travel to the airport. Kzrgyz team is first in row to leave the hotel. I go to the airport an hour and a half after them, another hour and a half goes another group, at the airport we meet. I survive a six-hour stopover in Minsk by talking to Gulzat and making a program for Pardubice. The airport is great when it comes to practical travel information, free water, sleeping cabins and toilets available again. We also get a snack box on the plane. Maybe I could get it in the previous flight as well, but I was sleeping deeply.
Everything was super, in two years we go to Turkey. We are looking forward to this event.